Do you want to get more exposure for your art?
Because we know that promoting your artwork and your identity as an artist may be challenging and time-consuming. But you can build an online presence and make significant professional relationships by dedicating a certain amount of time each week to promoting your art by following some of the most effective and easy-to-implement strategies for increasing exposure to your art that are outlined here.
There's no denying that getting exposure to your art can be tough. After all, there's a lot of competition out there. But don't worry, we've got you covered. In this blog post, we'll share some of the most effective and easy ways for increasing exposure for your art.
So keep on reading to know about it all.
Develop a website
The need for artists to have a web presence and a portfolio online may seem clear, but many still avoid doing so. Nowadays, it's crucial for solo businesses and creators to have their own websites; nowadays, artists require more than simply a social media platform to get increased exposure for their art.
In order to get started online, you don't have to fork over tens of thousands of dollars to a digital marketing firm to have them create your dream site. Put that money to better use by building a website in an afternoon with a free service like Wix, WordPress, or Squarespace. You can either pay a small charge to have your own domain name hosted by one of these services, or you can use one of their free services by slightly altering your domain name.
The three most essential elements of any website are the "About Me," "Contact," and "Gallery" tabs. With this, site visitors will have an easier time finding their way around.
After launching your website, it's crucial to regularly update it with fresh content like blog entries, art tutorials, and whatever else you believe might appeal to your audience.
If you want to create your own artist website you can find all the relevant information in the article below.
Creating a strong portfolio
Putting out a portfolio is the most effective approach to increase exposure for your work and get potential clients interested in working with you. You can establish a physical portfolio by printing out examples of your work, or you can create a digital portfolio on one of the many websites that are dedicated to online portfolios, such as Behance or Instagram. Both options are available to you.
It is also essential that you make your portfolio easy to access. To do this, ensure that you include links to it on your website and on any other social media profiles that you have, such as Instagram. If you want to acquire exposure for your art and for yourself as an artist, you need to have a portfolio. This is because a portfolio enables prospective companies and clients to view your work. It gives them the opportunity to get a sense of your aesthetic and the kinds of things you are capable of making.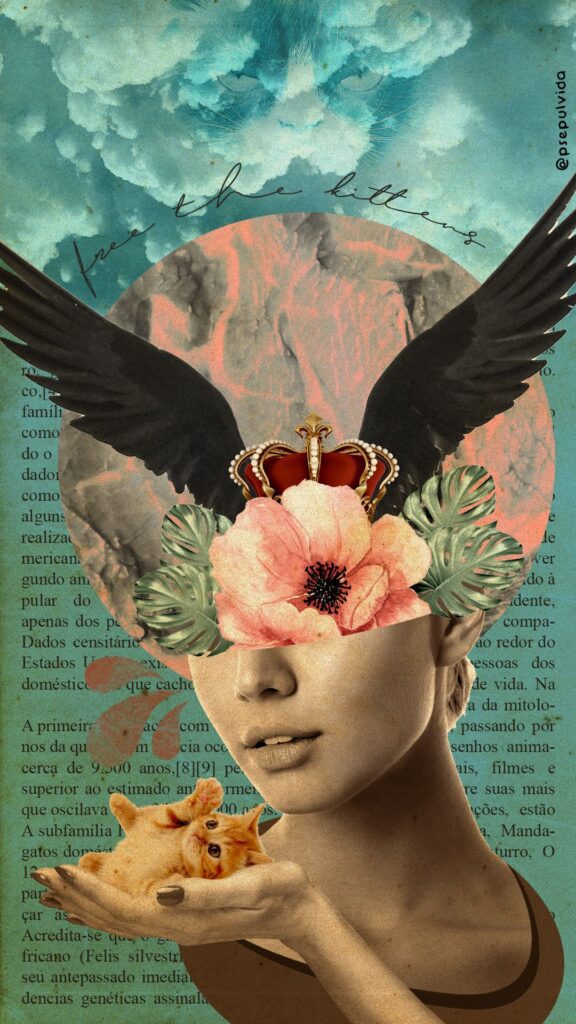 Utilizing social media
Getting exposure for yourself and your work on social media can help you reach an audience you wouldn't reach otherwise. You don't have to spend all day on Facebook or obsess over your Instagram follower count. All this means is that having a social media presence, Instagram in particular is absolutely necessary in today's world.
When using social media for your art exposure always include high-quality images of your finished works and "lifestyle" updates that give followers a closer look at you and your creative process. This will aid your fans in learning more about you and the motivations behind your work. Use hashtags, geotags, and gallery tags to raise your artwork's profile and attract more potential buyers.
Always remember to maintain an active social media presence you need to keep sharing your work, engage with your target audience, and establish your expertise in your field. Always use your name or your art's name as the social media handle to facilitate exposure and audience growth.
If you want to learn more about how to use social media to get exposure for your art you can read our article below.
Getting involved in the community
Exposure to other artists, art buyers, and industry professionals can be gained by networking. Networking is essential for professional development and can lead to new opportunities, partnerships, and even clients. You can expand your professional and personal network by attending art shows and fairs, joining professional organizations and posting on social networking sites like LinkedIn. Further, you can join groups that are concerned with your field, such as art groups.
Forums and digital artist communities are additional online venues to network with others who could appreciate your work. Facebook, Wet Canvas, Meetup, and other, specialized online forums all have their own communities of like-minded people.
You can also join our Arts to Hearts Private Facebook Group for women artists around the world and get connected with like-minded people.
Putting yourself out there through networking allows you to meet new people and explore new possibilities. If you put yourself out there, you never know who you might meet or what doors you could find open for you.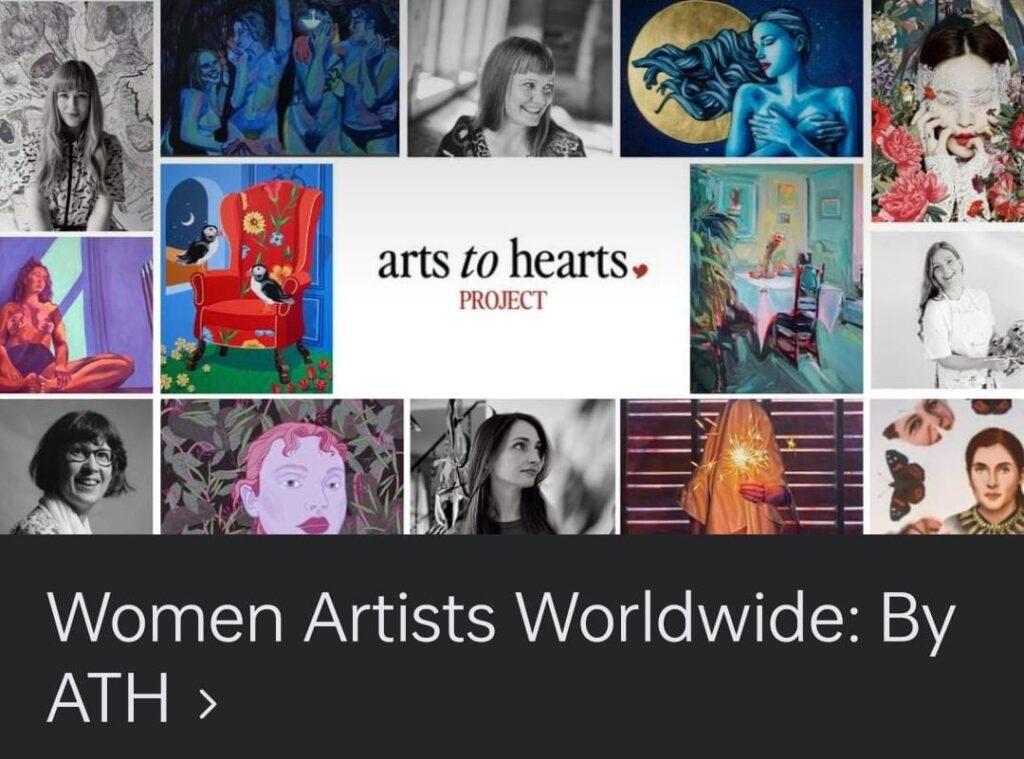 Diversify your artistic pursuit
You can get exposure to your artwork by taking your art into other mediums. For example Blogs, podcasts, and articles abound on the web. Also abundant are printed works of all kinds, including books, comics, and magazines. Why not make use of the chances presented to you and publish your work in other formats? You can either publish an essay or a book on a topic relating to your artistic pursuits. Cartoons and images for use on merchandise like t-shirts and posters are also within your capabilities. You can publish your writing in literary and artistic periodicals. You can also avail opportunities to host or appear as a guest on podcasts and other broadcasts can also be explored.
Along with this, you can also make your own merch by using your art. If you want to know how to create your own merchandise as an artist you can read the article below.
Keep in mind the value of traditional advertising
There's a trend in modern marketing to put all of one's eggs in the digital and social media basket. On the other hand, you'd be wrong to think that. To get more exposure for your art, traditional advertising strategies may be just as effective as their digital counterparts.
In the realm of the arts, there is always room for a wide variety of tried-and-true, in-person promotional strategies. Posters, business cards, and advertising in print and digital media are all useful marketing tools to have at your disposal.
If you want it for your art business we got you covered. Have a look at our Artist Brand Pack.
It is also possible to successfully combine digital and traditional marketing strategies. Including a QR code on the reverse side of your business card is an example of a hybrid marketing approach. There are a lot of individuals who would prefer just to scan a QR code to get to a website rather than type the URL into a search bar. This is especially true with younger people and people who are always on the go. Taking such precautions will help you reach the widest possible audience for your work and prevent you from alienating a potential fan base too soon.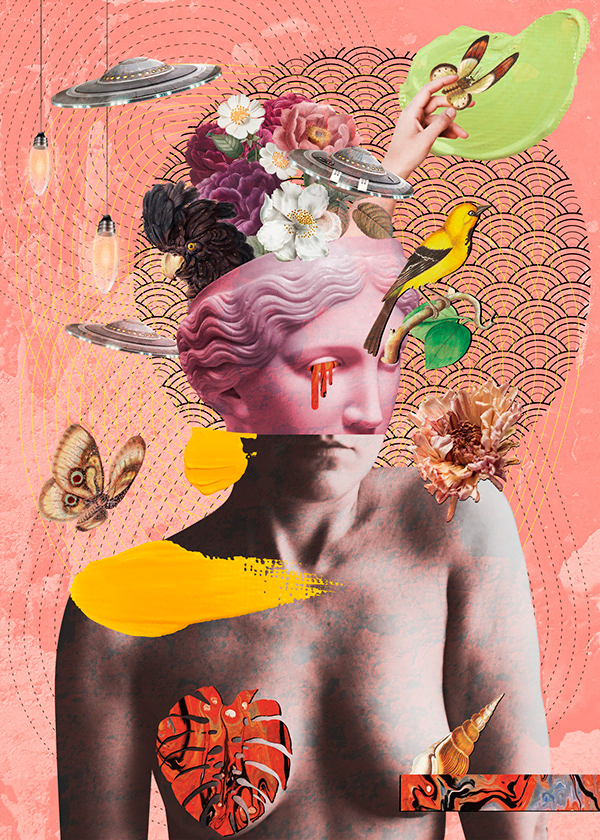 So these are just a few tips that can help you in getting exposure for your artwork. However, you must realize that nobody becomes a professional artist overnight it takes time, dedication, and hard work. so keep on striving and eventually, you will be on your way to becoming a successful professional artist.
Along with this if you are an artist who wants to sell more of your work? we have good news for you. Soon we are launching our "Artist Marketing Formula Course". with this course Learn how to market and promote your work authentically. Where to sell, how to sell to increase sales, and turn your hobby into a creative profession. Social media, email, website. Simple to-do steps are laid out for you to get into the action with confidence. So stay tuned and sign up below because we will share the details about it real soon.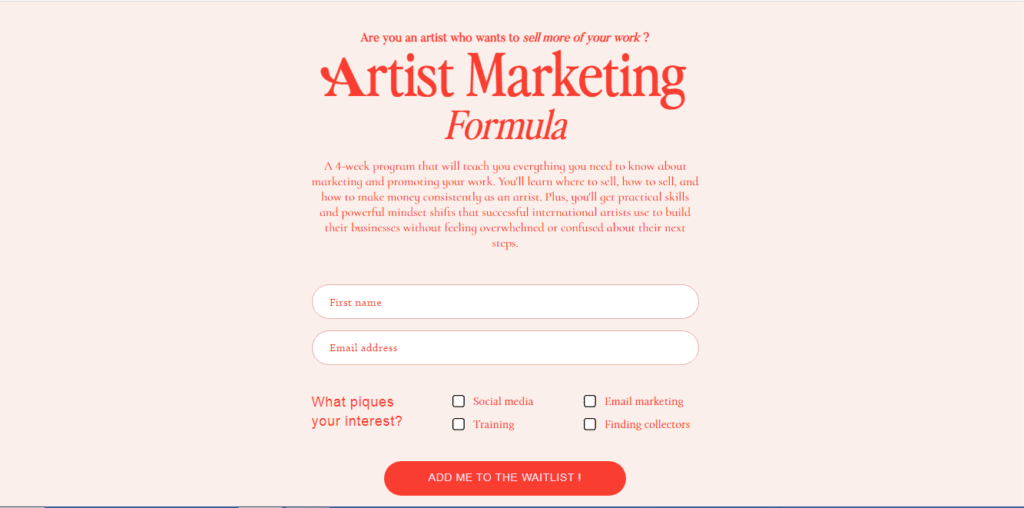 Till then have a happy weekend and I will see you with the next article real soon. so keep creating the magic that you do and goodbye.