So Barbie…. The trending stuff on the internet today and without a doubt the favorite of all. The Barbie world: full of Pinks and stunning dolls, the impeccable and well-thought world was first introduced to me as a kid in the '90s. Of course, it swept me away too and I wanted to have my own collection. Little did I know, I tried to fit into that fair, petite, and perfect zero-figure world of Barbie. But reality struck and I made my own world with my own definition of Barbie.
And Here I am today of course not a kid anymore 🙂 and writing about this cliche sensation which has definitely evolved over time with the introduction of Barbie in colors and shapes. So I would say Barbie is what we make out of it. It is our own world, defining our rules, setting our boundaries, and painting our world. And today at Arts to Hearts we are sharing the works of such artists who have defined Barbie on their own terms.
In this article, we share the works of 6 artists who have re-imagined and re-defined the term 'Barbie' with their outstanding artwork. Read on to explore more about the artists.
1. Keerthana S Kumar
First up we have Keerthana, a woman of color. Keerthana always loved painting women's portraits experiencing and expressing emotions. Pop culture, fauvism, and symbolism inspire her work. Her art evolved from experiences of color biases and gender prejudices that affected her self-perception. As a woman of color, she faced issues because of being dark-skinned within her racial and ethnic groups. Gender role expectations seemed irrational, and she felt it was only an impediment to free will. Brought up in Chennai, a conservative city in India, she did not see any representations of her in media, social life, or within the family who had turned big dreams into reality. Due to her unconventional mindset, she questioned the conditioning, urging herself to make a difference in her world. Only in her early twenties did her world open, and she started seeing her role models, who are now playing a part in her painting inspirations.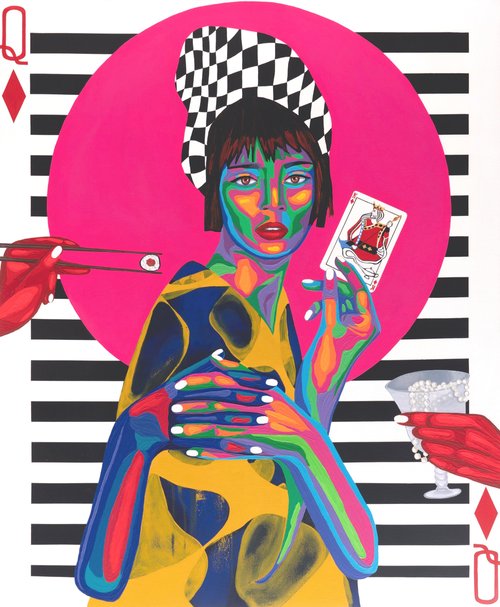 Read more about the artist on her Website and Instagram.
2. Beau Dunn
In her multimedia practice, Beau Dunn examines the dark underbelly of American materialism; her sculptures, neons, photographs, and paintings filter our image-obsessed culture through the lens of childhood innocence. Barbie dolls are a recurring motif. Dunn has also made enlarged replicas of condom packaging and wry signs that read "need $$$ for Boob Job" and "NEED MONEY FOR BIRKIN." Dunn received her BA from Pepperdine University in 2011 and has exhibited in Los Angeles, Miami, New York, and London. Her work has been included in institutional shows at the Frederick R. Weisman Museum of Art and the Los Angeles County Museum of Art. Dunn has also worked as an actress, model, and entrepreneur—she founded the fashion brand Beau's Babes.
Read more about the artist on her Instagram.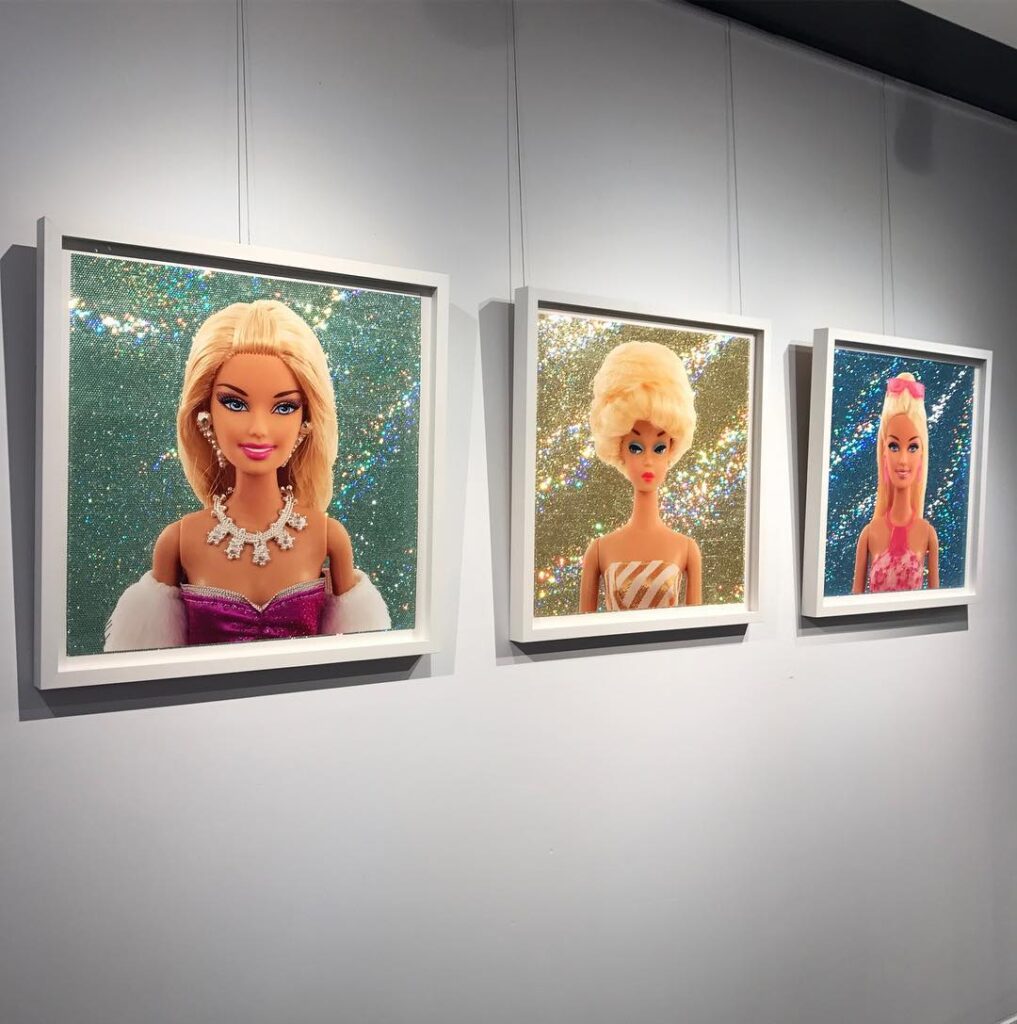 3. Anne Siems
Born and raised in Berlin, now living and creating in Seattle, Anne Siems is internationally known for her ethereal paintings exploring the human spirit. Anne graduated from the University of the South under a Fulbright Scholarship and completed her MFA at Berlin's Hochschule der Kunste. Her work exhibits widely across North America and is held in collections spanning the globe. Anne's paintings radiate with eloquence and mastery—a testament to her range as an artist.
Anne Siems explains her work:
My work has moved from semi-abstract, room-filling plant and insect drawings, to paintings of detailed botanical and anatomical imagery on waxed paper bags, to my current work of young women and children on wood panel. The thread here being my fascination and awe of life on this planet and the connectedness I feel to all, but find hard to describe in words.
Read more about the artist on her Website and Instagram.
4. Miss Van
'Miss Van ( also known as Vanessa Alice ) started wall painting at the age of 20, in 1993, initiating the feminine movement in Street Art. Originating from Toulouse, France, and having spent most of her artistic life in Barcelona, Miss Van has traveled the world painting her instantly recognizable women on the streets, as well as on canvas. She has exhibited extensively for decades worldwide in Europe, the USA, and Asia.
Miss Van's recent artistic pursuits have taken her to Los Angeles, Miami, New York, San Francisco, the UK, and Europe, which hallmarks a recent return to street art, after several years spent solely painting in the studio, charging her new works with increased depth, emotion and elevated romantic darkness and delicacy. Her iconic sultry female characters reappear in sensual yet dark animal masks and evolving environments.
In a gauzy romantic composition, they carry a surreal quality of burlesque, resonating with a beautiful synergy of rawness, softness, and emotion. Miss Van is celebrating over 25 years of painting'. Miss Van adds,
"I'm evolving and growing up with my paintings. It's the only way, when you paint with emotions and feelings. I'm trying to be true with myself."
Read more about the artist on her Website and Instagram.
5. Serpil Mavi Üstün
Mavi Üstün's approach to Portraiture is exemplary of the shift of the genre's focus from pure representation to the narration of feelings. Through her delicate representations of figures immersed in moments of introspection, Mavi Üstün prompts the viewer to empathize with her subjects and question the condition of human beings in today's culture. Serpil Mavi Üstün's work investigates the loneliness of the individual in contemporary society. Her canvases depict men and women carrying out mundane activities in picturesque scenarios: walking through the city, sipping coffee, buying flowers, etc. Mavi Üstün presents us with the personal stories of fragile, perturbed, melancholic heroes, and hints towards the concept of solitude.
In these fleeting scenes that the artist depicts, her subjects display some personal eccentricities, also appearing to use a less direct style of communication. At times, these personas make us think that they are taking a sort of pleasure in creating drama. They seem indifferent, and distant in situations or atmospheres that are generally considered to be joyful. The artist is in fact particularly interested in exploring the personal conflict we deal with in everyday life, showcasing how easy it is to sabotage our own happiness in situations that seem idyllic to the external eye.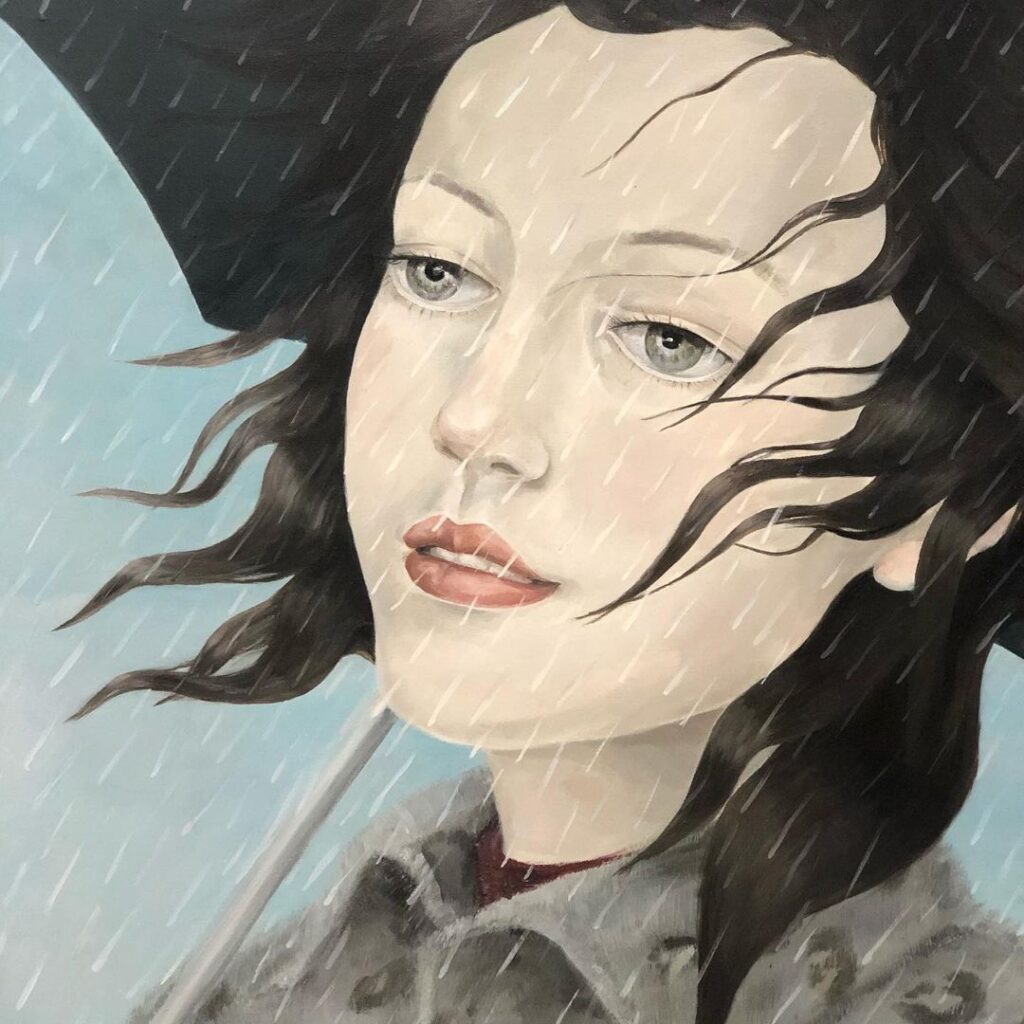 For Mavi Üstün, it is in these contrasting feelings that reside the agony of the individual who feels trapped and oppressed by the social system. The protagonists of Mavi Üstün's work also symbolize those who strive to fight back and react to the difficult circumstances that surround us. Mavi Üstün's focus is thus not storytelling, but rather the subjects themselves, captured in a fragment of their lives which reflects trouble – the rest of the context is left to the viewer to interpret.
Read more about the artist on her Instagram.
6. Katharina Arndt
The focus of her artistic work (painting, drawing, neon writing) is the observation of digital communication behavior and the visualization of the aesthetics of mass consumption in the digital age.
For her, the symbol of this is the topic 'surface' – socially, culturally, and materially. In the hyper-real and at the same time immaterial online world, visual appearance alone dominates – us and the products that we are supposed to buy
Every day we stroke the shiny screen of our smartphone countless times, the bodies are hairless, the corners are round, and the sunglasses are mirrored. The smooth appears as a metaphor for lack of resistance, eternal youth, as artificial, uncritical, superficial, and conformist. In tension with this is the individual, his feelings, and his behavior.
Katherine transfers this theme formally and in terms of content to painting. I work on artificial supports such as PVC foil, varnished paper, and plexiglass with glossy acrylic paint and varnish pens. Fast, reduced, almost childlike, motifs and medium function as an artistic mirror of the quantity and speed of perceived scenes.
The figures in her pictures often wear sunglasses, are glued to their mobile phones, and have headphones on. They are socially highly active and at the same time socially isolated, e.g. B. the young man on the beach ("Walk the Dog"): He is so busy, almost stressed, that he is not aware of anything around him. The same applies to the couple in the café ("The Couple"), who are together and yet also communicate digitally with others.
Katherine sees her works as psychograms of a positivistic consumer society that tries to escape from its own transience.