"I am a multidisciplinary artist. My practice spans painting, paper cuts and metal installations.
I create portraits that embody the psyche and emotion of women and with that the intrinsic layers of history and politics. The journey of a woman is encapsulated. There are many uniting themes in women's lives.
Whatever culture or race, from childhood to womanhood the female body goes through physical rites of passage whether public or private, ceremonial or not and all that entails in terms of body politics and sexualisation. However, in these portraits we do not see the body itself, instead heads and hands are disembodied and the female gaze – or more often a stare, holding the viewer – is bold and sometimes accusatory. But also looking out into the world, gazing outward instead of inward. Expressive hands cautiously creep in, wringing one another, touching or cupping a face, gnawing at a nail nervously, giving away the anxiety or unease felt within.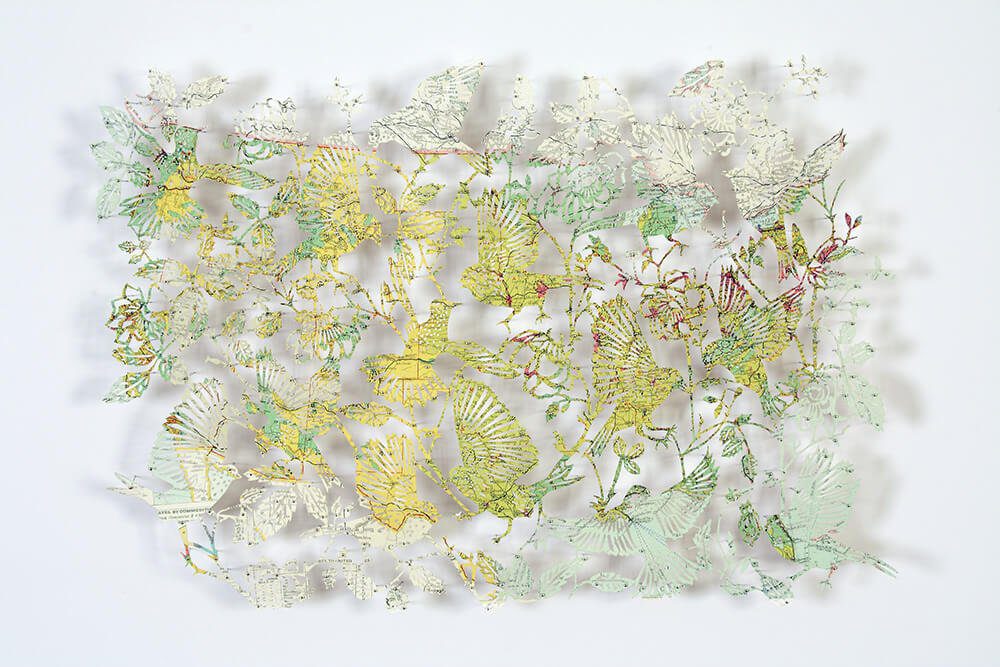 These portraits are a way of unmasking these women, capturing what lies beneath, exorcising and expressing the interior beings in her portraits which also are an expression of herself, her journey as a woman and that lived experience.
I create these portraits using gouache, acrylic ink and paint on canvas and paper.
I also create entomological installations of flora and fauna from imagined locations, taking inspiration from nature and the environment. My birds, insects and flowers transcend borders and pass freely between countries with scant regard for rules of immigration or the effects of biodiversity. These works are created using vintage maps and atlases.
I grew up in Lincolnshire and have been living and working in London for over 30 years.
My work has been exhibited widely in galleries around the world including: Manchester Art Gallery, UK; London Transport Museum,UK; Diehl Gallery, Jackson Hole, Wyoming, USA; TAG Fine Arts, London, UK; Flow Gallery, London, UK; CODA, Apeldorn, The Netherlands; Royal Academy Summer Exhibition, London, UK; Gallery S Bensimon, Paris France."
Follow Claire:
www.clairebrewster.com
Charuka Arora, Founder of Arts To Hearts Project
Arts To Hearts Project
https://artstoheartsproject.com/
www.instagram.com/artstoheartsproject/
AUTOMATED TRANSCRIPTS
00:00.00
charukaarora
Hello claire.
00:01.10
Claire
I took Tiorra does that hang pronoun your name cherukah Sorry I Good a good very well. Yes, just.
00:13.62
charukaarora
It's charraka. Yes, no problem. How are you? thank you so much for coming to the podcast and I'm so excited to have you here.
00:31.94
Claire
Thank you for having me I'm excited to be here too.
00:45.42
charukaarora
Okay, before we get into a conversation clear. Can you introduce yourself to people who are listening and tell us who you are what you do where you come from and anything that seems valid.
01:01.94
Claire
That well my name's cla brester I'm I'm a London based London uk- based multimedia artist I think I call myself these days because I work I'm probably most known for paper cuts that I've been making for twenty plus years but I also work.
01:17.14
charukaarora
Um, and.
01:35.40
charukaarora
Um, yeah.
01:40.46
Claire
In metal and then more recently in paint making some painted women and then most recently doing abstract work. So yeah I kind of cover a lot of bases. But I think it's for me, It's really important to feel.
01:59.96
charukaarora
Um, yes.
02:15.40
Claire
Your creative practice that you can experiment and try different things and feel free. There's a lot of pressure to fit in and you know you can only do None thing because that's what people know will like and I think those creatives that just but it's not really satisfying and I think we're always looking to try and experiment and I don't think yeah I'm very much in ah, believing and not limiting yourself to None thing and.
03:01.76
charukaarora
I love that I love that and especially coming from you thirty years thirty years of making the work that's a really long time twenty oh twenty years of making the work that's a really long time. Both of them.
03:14.62
Claire
Twenty Twenty not twenty not None ah yes yeah I mean the I mean it I to be honest, it feels like it is 5 minutes so but um, but then when I count the years I'm like oh yeah, the hits 20 plus so yeah I mean.
03:37.66
charukaarora
How does it Healed. Um.
04:03.18
Claire
I Feel incredibly proud of what I've achieved in in that time I feel like my um yeah, it's It's an honor to be able to be a full time artist and and I've been fulltime for Nine nine years. So that's you know that's kind of amazing. Yeah, it's still pinch myself that I get.
04:10.14
charukaarora
Yes.
04:27.80
charukaarora
Brown.
04:42.80
Claire
Do this every day I think yeah, you never take it for granted when you're working in the creative fields because it's just yeah.
04:54.66
charukaarora
It yeah I think you all I don't know I'm going to ask this question to you because of course you'll be ahead. Um, like you know this constant fear as I think we as creators have like um, a lot of us have had this fear like. I have this today, especially when it comes to our own creativity. Especially even as our jobs as artists like if this is going to be all our life I think the fear of losing it also have you had that what does it feel like after these 20 years
05:53.52
Claire
Oh constant I mean yeah, there' is always always because it's not. It's not like it's a job. No one pays you monthly to do what you do I mean everything is self-generated so you have to you know, find ways to so yeah that that I mean that's a constant fear I guess.
06:14.62
charukaarora
Um, yes.
06:33.12
Claire
But I try not to I mean some days that fear takes over some days. It doesn't I think I try not to live in that fear because it's not really helpful. Um I don't know if there's an easy answer apart from just doing a lot I mean I meditate I do journaling I do all sorts of things to sort of.
06:50.20
charukaarora
Now.
07:10.16
Claire
Keep myself in a space of not being fearful too much. But yeah, that comes up and I don't think it ever goes away. But I think I wouldn't change that I mean I think that's part of the fund I mean when I've worked full time jobs and jobs that I really hated and yeah I was really.
07:14.56
charukaarora
Recnet.
07:47.96
Claire
Were really boring and it's It's very unsatisfying to go and to do something every day that is ah it doesn't inspire you and so you know getting to do what I do every day even the hard bits even when all the boring bits and not ever. It's not everything's wildly exciting doing accounts is.
08:02.78
charukaarora
Yes.
08:26.72
Claire
Who who loves that but when it's for yourself. It's always different because it's for yourself and you're doing accounts for money that you have earned so you know that that I I think tried to constantly celebrate and you know if you get if you.
08:40.72
charukaarora
Um, yeah, yeah. Um I Love that.
09:03.60
Claire
Ah, every every everyone goes into that place of fear sometimes that you can't avoid it and sometimes he's just got to allow it and just go with it for a little bit I think you can't stay there though you have to find ways to to but bring yourself out because you can't create and.
09:08.36
charukaarora
Um, yeah, that's relieving to you.
09:29.70
charukaarora
Um, yeah, yeah deal with yeah yes.
09:42.44
Claire
It's all creative. You know, Creative baking work is creative but also doing the marketing the selling finding opportunities. It's all it's all a creative process and if you're living in that you know fear based state then you um, you can't.
10:22.44
charukaarora
Um, that's true.
10:21.70
Claire
Creative and and and that's like our tool. That's our you know superpower isn't it. We we have to so you have to find ways. Whatever works for you Whether it's meditation walks in nature. You know there's all the things you just have to find what works for you I Think as an individual.
10:39.10
charukaarora
Is. Love that? Yeah yeah, yes, okay down with something. Did you always think did you always think of you know that did you always think of becoming an artist. Um, how did you grow up.
10:59.36
Claire
So keep you on track.
11:20.80
Claire
Um, I mean I I mean when I when I grew up I think my strongest desire was to be a ballerina or an international show jump per um, ah Ballard that I mean I was obsessed by horses for for quite a long time.
11:24.88
charukaarora
Um.
11:36.74
charukaarora
Wow.
11:53.20
charukaarora
It.
11:56.18
Claire
I mean I don't ride anymore but I really need to take it off again because I do love horses. Um I but what I mean 53 nearly 54 so in the seventy s and eighty s that the concept of being a full-time artist wasn't really anything that you and this did I mean it was it seemed like something that only.
12:21.80
charukaarora
Yes, yes.
12:35.60
charukaarora
Um, yeah.
12:35.40
Claire
Basically white men could probably do and also old old people or you know I Never really I mean I always wanted to do art and art was the only thing I mean ah Beyond horses art was the only other thing that I was really interested in I mean that's school at Home. You know I was always drawing and painting something. So I mean I think yeah I kind of wanted to be an artist but I didn't know how to articulate that and even going to art school I mean I studied Textiles constructed textiless textile specifically tapestry weaving possibly the most useful degree you can get um.
13:37.28
charukaarora
Um, oh Wow really.
13:53.80
Claire
And even I mean it took me when um, till kind of like my mid 30 s before I mean I had a long break from making work or I didn't really make a lot of work when I graduated and I've worked abroad. yeah yeah I graduated and then I kind of went.
14:15.38
charukaarora
Um, but you did graduate in art school textile.
14:28.80
Claire
Textiles yeah that I traveled a bit I went and I lived abroad for a couple of years and worked in offices and it it. It took me yeah to my late mid to late twenty s to start making work again and then it wasn't till my kind of 30 s mid to late thirty s that I sort of really started taking it seriously and.
15:02.40
charukaarora
Um, yeah.
15:06.32
Claire
Sort of coincided with the internet becoming a place where artists could find their space and social media becoming a thing and like blogging and all of those things kind of happened I guess around that sort of time.
15:15.12
charukaarora
Um, he is yeah.
15:39.30
Claire
So then you know the the internet has been like the gift to artists frequent.
15:52.22
charukaarora
That's true I Think yeah I mean I I don't think um, this would have been possible. This conversation would have been possible. Had it not been for the internet and social media for sure.
16:09.68
Claire
No well, you wouldn't know about me I wouldn't know about you without that I mean you know we with I mean magazines were literally The only way you could find out about people. So unless you were a well artist.
16:21.22
charukaarora
Ah, yes, absolutely.
16:36.22
charukaarora
Um, people.
16:42.44
Claire
So you know designers it was magazines or Tv so it was a very there was like as and so many gatekeepers in order for you to get into said magazines. You know back back in the day so it were it was very difficult to get into those things.
16:57.18
charukaarora
Um, but ah, yeah, yes, absolutely.
17:17.80
Claire
Whereas now we can create our own magazines you can create your own podcasts. You know we can create our own communitiesities like you do and so the gatekeepers don't cut. You know we're ah our own gatekeepers now.
17:23.44
charukaarora
Yes, yes.
17:40.78
charukaarora
But tell me something while like we all know a lot of struggles that we as this age of none age century artists face like in the time so of social media of internet. You know we know a lot of things that working a lot of things on that are not working but. I'm really interested in knowing like how would you I mean taking the plunge of being an artist at that point when it was harder than ever because the gateways was so few they were so hard guided like you know, got it and very little opportunity taking. Um, a jump and a bill like you know committing to being an artist. How scary was that for you and how was your experience in those years of you you know trying to take off.
19:23.52
Claire
I don't I didn't really think about it being scary I just I reached a point I guess a like of you know, sort of crisis of a relationship ended I kind of bought moved out bought ah flat and was at the point where I had to.
19:48.26
charukaarora
Her.
20:00.42
Claire
Do something it was either I thought about doing a psychology degree or I was gonna do I needed to work on my art more seriously and full. You know, figure away I mean it took some years for it to be full time but to figure a way to do something with that. So it was probably more out of desperation than anything. But.
20:22.60
charukaarora
Um, yeah. Yeah.
20:38.40
Claire
At the time I Just I mean there's always been open calls. So I just applied for anything and everything I mean I'm back then a lot of the times you had to send in slides. Um I mean thank God for digital photography. Um, but I literally just send everything things to everybody and anybody um.
20:53.18
charukaarora
Um, yeah, yeah.
21:15.96
Claire
You know, sort of I guess I was kind of naive. Ah, but in that naivety I was fearless because I didn't I didn't have anything to lose I mean I had a full time time job. So you know my bills were covered I wasn't really that risk wasn't there but I I also knew that I needed something else. So.
21:27.32
charukaarora
Yes I mean.
21:38.94
charukaarora
Um, yeah. Yeah.
21:55.38
Claire
And some ways it's sort of harder now because I kind of know more so there is more fear and that as I and trying to go back to that feeling of that that naivete of just thinking you know, um I don't if I'm allowed to swear but fuck it.
22:04.24
charukaarora
Yeah.
22:25.72
charukaarora
Yeah I think when you don't know what you're going for. It's easier still to go for it than you know the better you go into that journey and the struggles that um may come and you may face it I think that psychologyly is a little harder than for yeah.
22:32.64
Claire
But so.
22:55.54
Claire
Yeah, yeah, when you don't know when you're just doing it anyway and you're just a bit desperate because you you know you want something and you don't but so you're just trying anything nothing yet. You don't really.
23:04.28
charukaarora
Yeah, yeah.
23:24.24
charukaarora
Um, yeah.
23:23.24
Claire
You don't know the struggles You don't know anything because you're just doing it and so yeah and it's if that it's sort of harded out because yeah, there's the fear.. There's what yeah that because I've done so many more things and yeah, tried to keep that mindset of just do it Anyway. I think is Is. Heart Heart One of the hardest things. But I think that's like vital to just think just send ah send your work off anyway. And yeah, you get loads of projections of course but you never know who's going to see your work and you never know even if you get rejected for a thing.
24:26.20
charukaarora
You know? yeah.
24:39.68
charukaarora
Um, yeah, it's still 1 step ahead. Yeah.
24:39.22
Claire
Someone's still seeing your work. It's still passed by someone's eyes and yeah and you never know where that person might jury something again and they might remember you or you know you apply it on time and and just the physical act of getting your stuff together to send out. Is you know.
25:11.60
charukaarora
Yeah, yeah, amazing. Okay, um, did you have um, any cult like any influences. Especially I think at that time while you decided to be an artist. Um.
25:16.80
Claire
Ah, good thing. Let's say.
25:46.96
charukaarora
Did you have anyone to look up to or you know any creative influences in your own family that also encouraged your um your creative person. It's how was family Also at that point I think a lot of people still don't believe being an artist is like a valid job. Um I Can't even imagine how would that be when you decided.
26:28.14
Claire
Um, I mean I think it was sort of all right? Well I still had a full time job I mean I think they're sort of supportive I mean they're supportive and more more so now because you know they've seen that I can support myself. Um, yes I mean.
26:40.56
charukaarora
Yeah.
26:52.72
charukaarora
Um, yeah now. But this is also twenty years later
27:06.26
Claire
I Guess yeah I mean I'm I'm not a parent myself but I can understand that obviously parents are fearful of their children's kind of like crazy ideas that they're gonna go do stuff but I guess I was always quite determined so they kind of.
27:14.38
charukaarora
Um, yeah.
27:41.56
Claire
Supportive to an extent I mean there is a I don't really have a creative mentor in my family and no one was particular I mean my grandma my termal grandmother used to buy me art materials when I was a kid so she was quite sort of I guess in that some ways sort of helpful. Um.
27:48.52
charukaarora
No.
28:00.82
charukaarora
Um, hello.
28:19.62
Claire
I Don't know where the desire to be an artist came from to be honest and I think artists are kind of born not made and I think it's just something within within you and I think it's for some people it comes out young some people it comes out later in life. But I think it's It's sort of always there and.
28:30.14
charukaarora
Um, yeah.
28:42.50
charukaarora
Led.
28:55.80
Claire
Yeah, there's just something about the joy of making art that it's like an addiction isn't it really? you can't stop at.
29:00.88
charukaarora
I Know yeah I think a few days ago like a few days away from a studio I feel like I've start feeling breathless. Ah um I think sometimes also like.
29:18.78
Claire
Yeah.
29:31.92
charukaarora
The different lifestyles I think every job has a very different lifestyle habit that you put inulcate that may compliment and I feel like as an artist. Um, what I really enjoy is the of course making the work and everything with the creative life. Whatever it takes and the habits and everything be.
29:35.30
Claire
More.
30:10.96
charukaarora
To be a better creative I think I Really enjoy that entire process like I like to have these meaningful thoughts I like to keep questioning I like to keep digging I don't want to pass something and just pass it and never think about it again like. Want to look at this theme for a None times and then keep asking why how and then I like you know we as artists. We're all these like dreamers and some way we're always very inquisite inquisitive about something.
31:13.38
Claire
Yeah I think I think yeah, it goes with the territory that you have to be kind of inquisitive and always looking I think it's that thing of always looking isn't it and kind of like wondering how and why is that made what what? what is it and why does that work and the colors and the shapes and.
31:48.46
charukaarora
Um, yeah, um.
31:52.34
Claire
Yeah I mean I think I think the yeah I mean I think it's taken me a while but I feel like especially during kind of like the last couple of years I feel like I've got my kind of best sort of routine that I've ever had right now of kind of things that I do to start my day to make me feel good and.
32:14.88
charukaarora
Um, ah, really like let's let's all the dog about that.
32:31.76
Claire
Well so I start the day kind of with a bit of journaling I wake up quite early. 6 am m because I don't know I just sort wake up and then I ah journal and then I meditate and then I do ah I don't if you've heard of eft tapping. It's like sort of energy. Yeah, okay so I do a bit of that.
33:02.72
charukaarora
Yes, yes.
33:10.94
Claire
Then I work out and then have my breakfast and start work So that's like every note is at home. Luckily currently, it's at home. So it's quite easy for me to sort of do all of that stuff without having to leave the house. But um.
33:20.76
charukaarora
Where is your studio. Okay, so.
33:45.64
Claire
Ah, yeah I feel like right now that really, it's working for me quite well to have that it's like a really so and I do it every day seven days a week I don't even think about it I'm mean unless I'm away then I might not do all of it. But um, yeah I feel like you know everyone I think.
33:51.58
charukaarora
Um, yeah, you love the.
34:07.80
charukaarora
Um.
34:19.90
Claire
Getting that morning routine or your own you know in whatever shape or form it works for you as an individual just makes so much difference. Ah yeah.
34:21.80
charukaarora
Yes, absolutely yes, hundred percent so much I think it makes life so much more better and meaningful I I don't have it right now I used to I I've had a. Ah I found a routine that really really works for me I really like but when life takes over for the past one and a half month I've been living in suitcases and I feel like a mess because I think that's that's None thing that impacts who I am my work and it makes me who I am that that's like a structure.
35:12.26
Claire
Um, yeah.
35:31.80
charukaarora
Um, for my own likelihood that I need to for my own sanity and I really enjoy that part for sure. Okay, tell me something good.
35:39.82
Claire
Yeah now I just say for your sanity for me if I don't do flight that stuff. Yeah I said be very quickly. You go a bit like oppressed at yeah.
36:01.82
charukaarora
Yeah I get it. Okay, tell me something you just mentioned like you always like you everywhere on your website. You just said it yourself multidisciplinary artist I think a lot of artist even today. Um. Get to overwhelmed with this idea of fitting into a box. You need to have a niche you have to have style you have to have medians and you know all of that. Um I know that you've covered like you said your paper cuts are very popular. You do installations. You also do abstract you've just started.
37:13.86
Claire
Yeah.
37:16.12
charukaarora
I mean recently there's an addition of abstract but your portraits your painted ladies first let's start from a what's your work. Ah what your work is about and let's also go into a journey about how you started navigating. Um. These different works like you know, um, and and I think how we expanded these categories like these different style forms and that define you who you are today.
38:14.34
Claire
Um, I mean the paper cuts I Guess I mean there's a lot. Ah I mean that I think the overarching food theme about my work is about sort of materials and like stretching materials into doing things that maybe they shouldn't be doing and sort of playing with them. And then also within that there's sort of like a mining of emotion of like feelings and I'm always trying to find a sense of Freedom So which is kind of where the birds and the paper cuts coming because it's sort that they're quite free animals so that so they kind of.
39:20.16
charukaarora
Yes, molata.
39:32.56
Claire
I mean prior to making the paper cuts I'd always done painting and collages and mixed media work and then somehow I kind of fell into making paper cuts and solidly for about twenty something years and I just made the paper cards I didn't do anything else. Um, 2016
39:53.80
charukaarora
Um, Lao um.
40:10.78
Claire
I Had a solo show in a gallery in the Us Um, and which was really amazing and you know that I suddenly wasn't able to go to the opening but they were you know that it was really amazing, but it also slightly broke me and after it I just.
40:44.14
charukaarora
Who.
40:50.10
Claire
Had this I was kind of exhausted and and and ah simultaneously unbeknownst to me at that moment I was kind of going through the perimenoppause which is sort of what happens to women pre to menopauuseing and I didn't really I didn't know.
41:16.42
charukaarora
Yeah, yeah.
41:29.66
charukaarora
Um, not good.
41:28.96
Claire
Really what that was about at that point and I just got this urge to paint like I just came oh yeah, it just came to be that I need to and so I would sit watching Tv in the evening with with some small kind of a four size.
41:40.28
charukaarora
Oh back again.
42:01.56
Claire
Um, a 3 size kind of cardboard and I did its collages and um, many of kind of women and painted on top of them using a cooler inks and stuff and it was just sort of some things that I'd had ah inks and things that I'd kind of had I guess for 20 years because I hadn't really used them that were still working and I just kind of did that and then it sort of. It it sort of opened up a sort of you know when you open up a kind of crack and it gets kind of wider and wider and you kind of can't close it again and um so I kind of just that they became bigger and bigger and I started making bigger campuses.
42:47.56
charukaarora
Yes, yeah.
43:18.60
Claire
That were sort of these collages of women and um and they were really fun and I was really enjoying it and then I kind of hit a wall in kind of end of 2019 where I just or I didn't really know where where um oh sorry.
43:54.16
charukaarora
No.
43:57.18
Claire
I wanted them to go and I kind of um, yeah, which is when I started working with Anne well a beginning of None let like okay so literally just I think I started talking to um I think I heard her on. Um.
44:11.00
charukaarora
Um, yes, that's I think that's how I found your work.
44:38.20
charukaarora
Yes, yes, create podcast. Yeah will yes she did.
44:37.20
Claire
Um, cats podcast the um art queens create. Yeah that I think ah and she mentioned on that that she did mentoring and I was like oh um, so I kind of emailed her and and um I guess that was maybe beginning of 2020 and i. So yet literally beginning of March just before lockdown kind of happened before covid twenty hit. Um I kind of started working with Anne um, and so that and she was like well you know take everything away take all the crutches away take all your the collages. Take everything away and see kind of what happens. Um, and then yeah, obviously that was kind of terrifying because I don't know what's going to happen and initially there I did some abstract work and then these kind of women started appearing and and.
46:06.74
charukaarora
Physical.
46:21.40
charukaarora
Yes.
46:31.66
Claire
It was like quite a love hate relationship for me with them to be honest I kind of and was sort of loving them and I was generally hating them I found them would be I found them really difficult to make um, but actually it was also really good. It was like a really brilliant.
46:36.56
charukaarora
Um, okay I totally like them now.
47:06.96
Claire
I mean I did that all the way through 2020 so that was like a really good kind of like solid tight thing to do in lockdown when you haven't really got anything else to do I mean and I was selling paper cots and also did some commissions luckily at that point so I've kind of always. Maintained the None things um side and side mostly the paper cuts I work to commission now. So that and though I still work with the same gallery in the usdl gallery in us and they're having a ship for having some of my work.
47:43.58
charukaarora
Side and side.
48:17.38
Claire
And July in the show. So you know I kind of do both I feel like they're the two sides of my personality. The so ying and Ying and Yang and and so yeah, this kind of like I just they took took over my life. The woman for a while so that went through.
48:31.28
charukaarora
Okay, yeah.
48:56.40
Claire
And then I hit another wall in sort of end of None till we were into 2021 where I was just I couldn't make them any better. It's like you know and you cut you're just doing the same thing but they're not progressing and you don't know where to take them and then I signed up for um.
49:15.14
charukaarora
Um, yeah, yeah, what? so.
49:35.86
Claire
It's an alternative art school based in in London called Terps um, and they do they do 3 courses. They do um, an onsite where you have a studio within and then they do offsite which is what I signed up for where you have your own studio. Um, and then they have a um.
49:40.00
charukaarora
Okay, okay.
50:05.80
charukaarora
Um, okay.
50:15.38
Claire
Online so the way obviously you just do it from anywhere in the world. Um, and so it's it's a peer mentoring program. So you basically you have a mentor and then you have ah it's it's like 40 students and then you have like a part of like None to None people and you kind of like get a mentor have have a mentor and and then some guest mentors and it's all. Purely painting and it's just always talking about painting and and I had my none session with my mentor and yeah, the women kind of went away and and then I started kind of doing this abstract thing and and they sort of even though they're not.
51:16.80
charukaarora
The.
51:29.60
Claire
Sort of coming from a similar place but it's like it's it's trying finding a way to kind of be free and I've just been deriving my newsletter today about being a bad girl and it's like this idea of kind of like the paper got ah very much about sort of fitting in and being.
51:31.60
charukaarora
Um, yeah, yeah.
51:54.98
charukaarora
Oh how.
52:06.60
Claire
Sort of normal and then this painting is like me just going. Yeah, it's just gonna be who I want to be and and this sort of coincides with you know the permenpause Menopause this moment of a woman's life. It's where and no one really tells you this that? yeah.
52:14.98
charukaarora
Um.
52:29.58
charukaarora
Um, yeah.
52:44.74
Claire
A lot of it was really shit I'm not going to lie I went through quite a major depression but at the same time when you come out of it. It's like really liberating and freeing and suddenly you just feel that you can do whatever you like anymore.
52:51.52
charukaarora
Who.
53:15.80
charukaarora
Um, you know.
53:17.38
Claire
And note, the expectations are kind of gone of who you and yeah that and there there was I'd like my mentor was a a woman um paint amazing painter called Geraldine Twain who is ah I think similar age to me and so we have these amazing discussions about this. Idea of you know this kind of what's it like to be so freer and how you open up yourself to all these things. Um, so yeah, that's the sort of journey and then in amongst that I also make some paper some metal.
54:12.30
charukaarora
Yeah.
54:27.22
charukaarora
Yeah, yeah, yeah, oh so what? you've transitioned into these I think a lot of artists today also are afraid.
54:29.90
Claire
Versions of my boards but some sort of installations and things like that. So yeah.
55:02.40
charukaarora
Of um, a lot of times we feel like oh we're jumping from None place to another one you know in this scope of experimentation. A lot of us feel lost and I think especially with the external pressure of honing to None style or like you know, keep. Keep working on None thing and you know, um, how how have you dealt with this? Um, especially when you are let's say sorry when you are, you're way ahead in your career I feel like when you are um. Young in um draw and you still have time. You're still very open to experimentation I think the risk is less I feel like ah because we feel like you know we're still starting. But when you have moved ahead in your career of it. You have moved forward, you still know what works and I think like you know when you. Knew your paper cuts cuts were well doing well they're still doing well. But then the urge of taking a risk of doing something different and then going for that. How does that feel.
57:13.84
Claire
Oh terrifying I mean I spent most of the time in us. But in a state of fear and and and horror of what am I doing this is crazy. But at the same time I just couldn't not do it I mean you know it's like there was an an impulse and and I just think you have to follow those feelings and um, the temptation obviously to burn down the house is strong is that I'm never making it on the paper cut. But obviously that I don't. Think that's really what I want to do. But I think I just reach to point I couldn't not do it and I could have I could have ignored that feeling. But I think it would have made me very I would have been very unhappy and living the creative life is nothing if not you know about kind of.
58:26.90
charukaarora
Um, yeah, happy.
58:47.40
charukaarora
Um, if and if doesn't yeah yeah, my job. Yeah and being happy. Yeah, but at least you'll be more stabized. You'll have all of those buildings and be unhappy still makes sense.
58:53.40
Claire
It doesn't make you happy why you do? What am I doing as well go and do a job that you know what be sad like yeah, exactly? Yeah, so you might as well just and I Yeah I mean that there is you know if you get. I Can't think of the phrase. But if you have a desire you know it's like the universe is it's there for a reason you know there's not.. It's not I think you know you kind of have to follow it and see where it goes and then it's like you know pulling a string on a sweater isn't It's like you got to Unravel it to to see what what comes out at the end and it's like something different.
59:40.72
charukaarora
So yeah.
59:54.72
charukaarora
Um, yeah.
01:00:13.00
Claire
And I just I think it's unrealistic and been for me either um to a but to expect people to be the same the whole of their lives and I think what you want in your twenty s thirty foot 50 s sixty s and beyond is kind of different and you know if you're a mother or you know a parent or.
01:00:28.00
charukaarora
Yes, absolutely.
01:00:52.26
Claire
You know, whatever changes you make you know we are all making changes all the time and I got quite sure where the idea that you can't ever change your creative practice comes from I mean it's and it it.
01:01:00.24
charukaarora
Um, yeah.
01:01:13.22
charukaarora
I think.
01:01:17.68
Claire
We all have it and it's like a I think it's fear or something I'm not really sure. It's like a story or.
01:01:23.16
charukaarora
I Think Also how I don't even know how we buy into this because um, most of us for us our work our life and our work are not separate and they're very intertwined and um.
01:01:45.38
Claire
No.
01:01:56.16
charukaarora
Work hand in hand anything that affects into a work comes into a work affects into our life and anything that happens into our lives also goes into our work and if I think um 20 thelare in Twenty S is the colalare in thirty s and thelare in 50 s I'm sure there are 3 different classs who've had. Um, different ways of looking at things you know we change people with time and that's for sure going to affect who like affect who we are. It's going to show into a work and if you're not doing that then I feel like are we even being true to ourselves too to our work because.
01:02:42.78
Claire
Um, well.
01:03:11.50
charukaarora
I Think that's why we signed up for being an artist.
01:03:12.66
Claire
Yeah, definitely I mean it's like I mean you change your hair you change your makeup you change your clothes I mean now that wear the same clothes I wore or makeup I wore when I was in my twenty s I mean I'd look it would be weird. So why? why? yeah I think it's a fear-based thing that you have to kind of.
01:03:21.90
charukaarora
Um, he has. Um, yeah.
01:03:47.24
Claire
If you some work is popular. You have to kind of keep making it but why can't the new work. You may be just as popular or maybe it's even more popular I think I think it's it's um, yeah, and it's like why we signed up for this. It's to explore our creativity and I think it's amazing that people make.
01:03:59.16
charukaarora
Um, yes, yeah.
01:04:24.56
Claire
Paintings one day and the sculpture the next or you know that you but you know you where with you know we have that ability to to do different things and they come from different places and yeah, you have but you feel differently when you're at different ages and you need different ways to express yourself I think.
01:04:35.28
charukaarora
Um, yes, yeah.
01:04:50.10
charukaarora
I love that? I love that yeah what is absolutely what is it 1 thing now not that you feel this I can feel your energy right now.
01:04:57.78
Claire
Think that's like super important really and I don't think we should be afraid.
01:05:26.40
charukaarora
But is that 1 thing that you're now looking forward into you know, clear into a fifty s and I think what I'm really trying to look forward is um, what's exciting you now as an artist you've been doing this for a long time and I think.
01:05:48.52
Claire
Um.
01:06:02.80
charukaarora
Um, to keep that spark up. It's spite of the time that you spent it and also becoming more fearless. Um, how I what's what's exciting you now.
01:06:24.98
Claire
Um, I mean the paintings that I'm doing now are kind of exciting me I mean they're kind of being able to kind of play with paint and and experimenting just fiddling around and seeing what happens and. Not really having a massive plan I mean the pain to abstract work that I do or there's no plan to it. It's literally I just sit there with a canvas and start with something and it goes somewhere and I don't know where it's going to go from start to finish and that I kind of like I like but.
01:07:18.60
charukaarora
Oh ah, is it like going back in time and being like ah I think sometimes when we become good at something at a lot of us hit a point where we want to become back to stage where we learn like you know that I think that curiosity of how to do things and. Challenge ourselves like for me as as a creative I Love challenges like I need to I need to be bad at something or I need not to know something completely so that I commit to a process of you know, discovering things and looking things in a new way.
01:08:24.52
Claire
Yeah I think play. Yeah playing I think that that action of sort of playing and that sort of freedom just to say well it doesn't matter and let's see what happens I think that yeah I think that's really exciting and I just think I think.
01:08:40.96
charukaarora
Um, the end.
01:08:55.21
Claire
Yeah, just the having the freedom like giving yourself the freedom I mean obviously it's terrifying at the same time kind of overriding that or or maybe not overriding it like surfing that fear as well. A little bit I think is is.
01:09:03.40
charukaarora
Um, be.
01:09:20.74
charukaarora
Um, yeah.
01:09:28.70
Claire
And maybe that's something I probably wouldn't have done when I was a bit younger. Um I don't know where things are going to go and it's sort of okay and I think I think it's I don't.
01:09:34.43
charukaarora
Um, yeah.
01:09:48.60
charukaarora
Yeah, oh well I love that I Love this sentence I Love this I think more of us needs to like a lot of more more and more I including myself. We need to say that like you know I don't know where things are going but I but that's okay I think we have this habit of.
01:10:17.92
Claire
Yeah I don't think anyone's got anything ever figured out I think that's like 1 of the myths of life that you look at your parents when you're a kid and think they know what they're doing they. That's they they have no idea. No one has any idea we're all just.
01:10:26.60
charukaarora
Thinking that we all have this figured out.
01:10:41.58
charukaarora
Um, and and they caught it as no, if.
01:10:54.34
Claire
Making it up as we go along and some people are just more convincing at that than others and I think what when you start looking looking at the world in that way, you figure? Well I could just I might as well just do what I want to do anyway because everyone else is yeah, doesn't really know I think yeah, it's it's easy to get caught up in that trap really of kind of feeling like.
01:11:04.14
charukaarora
Um, yes and he has yeah.
01:11:28.80
charukaarora
You know.
01:11:34.80
Claire
You need to know we never know and who knows what kind of ball the world's gonna I mean you know the last two years of thought was anything. We have no idea what's coming on so we might you might as well just get on and do your thing. Regardless.
01:11:43.84
charukaarora
Um, yeah, absolutely. Absolutely.
01:12:02.78
charukaarora
Yeah, amazing. Thank you so much claire. It was so fun talking I have a fun rapid fire and I just feel so warm and cozy and honestly supported after talking to you and I'm sure.
01:12:30.38
Claire
Ah, oh.
01:12:38.32
charukaarora
People who are listening to this episode would feel the same because I think um, knowing the fact that a lot of things that maybe I'm feeling all people you know of who are listening maybe Fearing. We are all in different stages of our lives knowing that someone who's ahead of us. In time in career in in all ways, um, either has gone through something similar or um is in the same place and it doesn't matter I think that's also I think that's also you know it it makes you feel better that. Um, it's okay, it's normal. Um, and that we that we're all together in it then being alone in it I think that makes a huge difference.
01:14:04.72
Claire
Yeah, and I think you know communities I mean part of the reason I started doing the turps course was for the community The you know that you're being and I think because as artists we can be quite alone I mean you know.
01:14:20.50
charukaarora
Um, yes, yes yes, and yeah.
01:14:33.72
Claire
Can't I can't make my work with other people around I have to be alone so you can spend a lot of time alone. So I think you know communities like yours and and you know all those things that they're they're massively important and I think I always shied away when I was younger from joining things and now you know.
01:14:53.96
charukaarora
Yes, that's true. Yeah I think I would also I I'm still not like I'm still young I would say but I think a couple of years even till.
01:15:07.34
Claire
Working Ah now I figured out that actually joining things is good.
01:15:32.62
charukaarora
Couple of years. Um, before like ago I would still be very shy of you know, being a part of something or maybe starting something as such as this and slowly I saw a change and I think a lot has has to do with how the past two years with me.
01:16:04.24
Claire
Um.
01:16:09.46
charukaarora
Um, also a few times like a couple of years before that and I saw them I think I just experienced the change when you do things together and um the opposite brings the community and the support no matter what you're doing when you have people around you who are as passionate as aligned. And feel that to see things the way that you do I think it's so much more worth the journey than anything else. Okay, so are you ready for the rapid fire. Okay, None None 3 here. We go.
01:16:53.24
Claire
Yeah, definitely amen to that.
01:17:08.60
Claire
I Am indeed.
01:17:24.76
charukaarora
1 thing you want to convey through your work in the arts.
01:17:27.88
Claire
Um, oh gosh that is that is okay to be different and free.
01:17:34.54
charukaarora
Um I love that you've already done that today. What's that 1 word that describes you the best.
01:17:53.20
Claire
Oh my god up to ah 1 word word. Um I don't know creative I can't think we're anything better.
01:18:03.58
charukaarora
None word anything. None word. Absolutely if you could have a studio anywhere in the world where would it be.
01:18:33.62
Claire
Oh it'd be within like a 10 minute walking distance from where I live now.
01:18:48.56
charukaarora
Ah, again, your biggest source of inspiration.
01:18:55.80
Claire
Um, oh God I Guess it's like my to an internal emotions.
01:19:11.10
charukaarora
Absolutely Who's the favorite woman artist from any point of time.
01:19:24.62
Claire
Ah, favorite woman artist now I'm gonna now I can't think of anything I can think very few Ah ah and I like to think of not somewhere really obvious. Um, okay I'm.
01:19:39.22
charukaarora
Um, any point of time I know this one gets a lot of a lot of people I know that I would have been there.
01:20:03.48
Claire
Gonna say time something that I've seen recently? Um, ah, but she's got a big show and in London at the day I'm gonna say Cornelia Parker
01:20:22.92
charukaarora
Oh smart. Yeah, that's nice. Okay, if you were to meet younger claire today. What advice would you give her.
01:20:40.80
Claire
To just fucking get on with it and be happier and you're really beautiful and don't let anyone tell you and.
01:20:58.88
charukaarora
Oh you, That's you are you look? So so lovely today. Also that's lovely advice. Okay shout out to an artist who you are currently loving on social media.
01:21:25.52
Claire
Ah, obviously can't remember anyone either. Um I can't remember everybody named. Um.
01:21:57.94
charukaarora
A okay I'm going to find her out and link in the show notes. Oh Wow is it? What's it's called perfect. So.
01:22:01.10
Claire
Okay, I'll say my friend Gillian Nipe she does a podcast as well. Ah art fictions.
01:22:31.58
charukaarora
Anyone who's interested I link podcasts as well. Okay, 1 last question. Oh no no I have another one. Um, this is a little more than 1 word. Can you share one of your favorite memory as not is something anything that made you feel special.
01:22:44.16
Claire
Okay.
01:23:11.20
charukaarora
And something you hold very close to yourself that you feel grateful to be an artist anything any moment. Any experience.
01:23:20.60
Claire
Um, the first museum show that I had it in when I had had in Manchester and the Uk when I got to make a big installate. Well I did a big installation in and was installed it and then through that I ended up on blue peter the tv show.
01:23:53.44
charukaarora
Oh yeah, oh yes I saw that that's you've done such amazing things. Yes, yes, absolutely okay, 1 last question which is um as a creative creator as an artist.
01:24:00.16
Claire
That was pretty special.
01:24:30.36
charukaarora
But's step. 1 piece of advice that you'll give to anyone who's coming behind you. So anyone who's listening to this episode that you would have wished when you would have gotten.
01:24:44.48
Claire
The same Mr. your clat as fucking. Do it just don't be afraid to share your voice it matters I think I mean and support. Yeah, find a supportive network just share share share because whatever you've got is good Don yeah and keep.
01:24:59.26
charukaarora
I as.
01:25:22.90
Claire
Keep a long bit of not 1 but long bit of advice keep and keep going don't give up never stop.
01:25:33.16
charukaarora
Yes I Love that advice I think um I think what what I take away from our conversation is also it does not matter where we are in our lives in our career. A lot of our feelings will still those fears will still be there I mean. Only the momentum the risk and things like that may move. But um, you've done so much but a lot of those feelings are still there and in spite of those you've done so much and I'm sure you'll do so many more so it only makes. Me look forward to things that I know that there's fear sitting next to me but I know that you got through it. So maybe I will and so many others who were listening to this episode. We All will yeah.
01:27:05.92
Claire
Val that Elizabeth Gilbert says never let fear drive the car and I think keep that because it's so easy. You suddenly find that you're sitting in the passenger sheet and see and feel is driving you driving you along. And yeah, don't let fear take over.
01:27:22.42
charukaarora
Yes. Yes I Love that I think that's like a whole book for I Think for all of us I Love I Love that Book. It's like ah it's like um, it's like a guiding light. Yes, yes.
01:27:42.78
Claire
Its and yeah, yes, exactly it's like a warm bath and that's yeah, it sort of soothes you but also tells you to get your shit together and just keep doing it I mean I think yeah, the fear never goes away. It's just different fears.
01:28:07.34
charukaarora
Yes, he has and.
01:28:20.32
Claire
But and all the same ones come around in different suits I think they yeah I think whatever age youever you are it still you're still. There's always it's always there to but you just have to just do it anyway.
01:28:27.42
charukaarora
Um, and it.
01:28:42.68
charukaarora
Lovely. Okay before I let you go I Just want to ask you do you have anything that's coming up that you can share with us you we can support you with and we can people find you support you and keep in touch with you.
01:29:13.70
Claire
Um, well I have some work in a show in in the l gallery in Wyoming if and if anyone's there in that park if anyone that I think that's a beginning of July that's some paper cuts um paintings I think I might have something in November but not.
01:29:27.54
charukaarora
Um, if anyone's around they can yes okay.
01:29:51.54
Claire
Sure yet. But um, they can find me on Instagram at Claire Underscorerewster Website Clarester Dot Com share say hi I'm around you can email me from a website join my newsletter always happy to do that? Yes, yeah, and now that Instagram is.
01:30:09.86
charukaarora
Um, yeah, yes, John that's important. That's a part yes on our own. Yes, or god.
01:30:30.88
Claire
Gone weird. We all need to focus on our our other marketing test. So yes I was just writing my newsletter while I was waiting for this I see.
01:30:45.38
charukaarora
That's I I've been working on transitioning my website and I need to get my things together I need to I think after this episode I'm going to go back to Audible Playback Big magic because I think I need that nutch right now.
01:30:58.20
Claire
Um, yeah.
01:31:13.42
Claire
Yes, yeah I have that on yes's on repeat that and a few other books when you need a kick pick me up something? Yeah, always Elizabeth field that Gilbert.
01:31:22.20
charukaarora
Um, say.
01:31:32.12
charukaarora
Oh yes I Love another one that I really love ah before I say Goodbyes um to a thought the creative habit I Love that book. Yes, and also art and fear.
01:31:49.54
Claire
Oh I read that years ago is that on audible. Okay I need to get that. But I don't I don't know awesome too. Oh that would yes.
01:32:08.34
charukaarora
Who's that by art and furious by Janes. Um I Love that book the word of art and art for fear both of them. Yes, yeah, and art and it is not amazing. Really nice, amazing. But.
01:32:24.48
Claire
Ah, yeah, war of oh him. Yes, okay I know the war of art. Yeah, um I haven't read that. Yeah oh God Yes, yes, definitely there. Okay, bull it that would be really good. Yeah, could always I can a book club.
01:32:41.30
charukaarora
All on Honorable I Love listening to books and podcasts I'll send you I'll send some more to you. We should do like a I think you've given me a great Yes I think um I'll I'll ping to a lot of um I will ask in a community and we'll comine a. List of Audible books especially because I can't read I know all all of artists who have a hard time reading and that would be so much fun like Ill I'll do that.
01:33:19.50
Claire
Um, um, yeah, yeah, yeah, definitely always good to have a good source of inspirational books to keep you going.
01:33:41.72
charukaarora
Ah, yes, yes, and I think the joy of also discussing and doing them together is amazing. Perfect So everyone who's listening to this episode. Well thank you for tuning in if you want to find all the links claire has mentioned her work.
01:33:49.98
Claire
Yeah, definitely.
01:34:16.40
charukaarora
You'll also find out um links to a show and we'll keep you informed about all the events that are upcoming for her. Make sure you visit. Um, the website show notes and you can find all the links and you make sure you connect with follow and supportla and work and.. Thank you so much for tuning in and thank you so much claire for your time and I feel so good talking to you I I Really I'm really grateful for this conversation. Thank you I You bye.
01:35:07.76
Claire
I'm really grateful too. It was really good. Thank you so much for having me bye.
CATEGORIES: