Do you remember how hard it was for artists to show their uniqueness before the internet? It was like trying to find a tiny needle in a big pile of hay. Artists were limited to traditional galleries, and they had to rely on what art critics said about their work.
But things have changed now! Social media has made a big difference for artists with social media, you have a great way to display your creativity and share your unique ideas with the world. It's like having a virtual art gallery where you can be in charge.
With just a few taps on your smartphone screen, your artworks can reach thousands, even millions, of eyes using social platforms like Instagram, Twitter, and TikTok. Your individuality, which was once hidden, can now shine in the online community.
But you know how tough the competition is on all those social media platforms, right? It's like a constant battle for attention! But guess what? There's this new app called Threads that's changing the game. Yeah, it's not as big as the others, but that's the beauty of it!
With Threads, you get a more personal and intimate experience. It's all about genuine connections and meaningful interactions. So, in this crowded digital world, Threads is like a breath of fresh air, giving you a place where you truly belong.
In today's article of Art business and marketing ideas we will explore how artists can use Threads to their advantage. From sharing their working process to building a community, how artists can use Threads to engage with their followers, promote their work, and use threads for their benefit.
But before that, here's an outlook on threads
What is Threads?
The maker of Facebook, Instagram, and WhatsApp has just released a new app called Threads. People can engage in real-time conversations on the platform, which has a feed of mostly text-based messages similar to Twitter (but users can also add photographs and videos).
The posts to Threads are limited to 500 characters. You can respond to, repost, and quote the posts of others, just as on Twitter. Moreover, the app also incorporates Instagram's current interface and functionality, allowing users to share posts from Threads directly to Instagram Stories.
The app makers stated that the platform aims to create an accessible and welcoming public space for conversation.
"We want to take the best parts of Instagram and build a new experience around text, ideas, and talking about what's on your mind."
The app is built with speed and convenience in mind. You can capture and share your special moments in just a couple of taps. One of the coolest features of Threads is the "Status" feature. It lets your friends know what you're up to.
Now, let's bust that myth about Instagram and Threads. It's been a bit of a rumor that if you deactivate your Threads account, your Instagram gets deleted too. But hey, don't worry, that's not the case at all! Both apps are independent, and deactivating Threads won't mess with your Instagram account in any way.
Now if you haven't signed up for your threads account yet or are willing to sign up, you can do it through your Instagram accounts. You can customize your bio specifically for Threads while keeping your login, password, and account name the same. Furthermore, importing the list of accounts followed on Instagram directly to Threads makes it incredibly convenient for users to start using the app.
How can Artists use Threads for Their Benefit?
Threads being new and not well-known yet is actually a great thing for artists. Unlike those busy and overwhelming platforms, here, you won't get lost in the crowd. You can stand out and be one of the first to make your mark on this fresh digital space.
Your art and ideas will get more attention from people who are excited to discover new content. It's like being a trailblazer in an unexplored territory where your creativity can truly shine!
Once you have that space for you, you can use threads in ways and build a loyal fan base that supports your art wholeheartedly.
Engage the Audience by showing them not only your Art but the Process
Threads provide artists a dedicated space to show their artwork and creative projects. You can use the app's camera mode, to capture and instantly share photos and videos of your work. This feature allows artists to provide real-time updates on their work, share visual stories, and offer sneak peeks of upcoming projects.
You can continually post your content to maintain your followers' interest and generate anticipation.
Have Meaningful Conversations
You can use the threads' messaging capabilities allow to engage in meaningful conversations with their followers and fellow artists. You can receive feedback, answer questions, and even collaborate on projects through direct messages.
The app's emphasis on privacy and close connections creates a conducive environment for conversations, enabling artists to establish a genuine conversation with the audience.
Update About Your Upcoming Events and Sales
Imagine having a spotlight all to yourself, where your art takes center stage without getting buried under all those posts. Threads gives you precisely that – a chance to shine brightly and proudly show your talent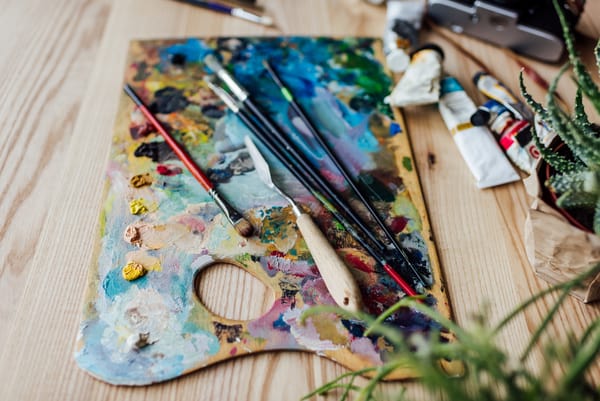 You can use threads for promoting your events directly to a targeted audience. Using the app's status updates and stories, you can generate buzz, share event details, and showcase their work to their Close Friends list.
You can leverage Threads to communicate exclusive offers, discounts, or limited-time sales to your followers, creating a sense of urgency and driving engagement.
Start Networking
Threads can allow artists to collaborate and network with their peers. Through direct messages and group chats, artists can exchange ideas, share resources, and collaborate on creative projects. This collaborative environment fosters mutual growth and inspires artists to explore new artistic horizons.
If you need any ideas on how you can make connections in the art world. You can Listen to Lucy Lucy on How Do You Make Connections In The Art World?.
Use Threads As Your New Source of Inspiration
Threads can also be a source of inspiration for artists. By following other artists or art-related accounts on Threads, artists can discover new styles, techniques, and trends. They can gather inspiration from fellow creatives and engage in conversations to exchange ideas.
You can seek feedback on your work by sharing it with your Close Friends list. Constructive criticism and supportive comments from a trusted circle can help you refine your skills and gain valuable insights on your journey.
Use the Storytelling Features
Threads offer storytelling features, such as stories and captions, that you can use to enhance your narrative. Keep sharing your artwork's story, process, and inspiration driving their artistic vision. By crafting compelling stories, you can captivate your audience and foster a deeper appreciation for their work. 
Additionally, you can captions to provide context, convey emotions, or convey a message related to your art. Using these storytelling features helps artists connect with their audience more personally and emotionally.
The Best Part- Istagram Integration
As Instagram develops Threads, it seamlessly integrates with the main Instagram platform. You can cross-promote your Threads content on your Instagram profile, directing your Instagram followers to join you on Threads for exclusive content and behind-the-scenes updates. By using this integration, you can expand your reach, attract new followers, and enhance your online presence without much effort.
Though the app is new and doesn't have much to offer yet, you can use this as an opportunity to connect with your audience.
You have the golden opportunity to claim your space, connect with the audience, strengthen your online presence, build a loyal community, and establish connections with your supporters. Embracing the app's features and utilizing them effectively in your favour.
So, don't hesitate to join Threads and unlock its potential for artistic growth and success.
A strong online presence is essential for artists and art businesses in the digital era. You can easily and affordably create professional-looking promotional materials using Canva, which can help expand your audience and boost interaction.
And we have wonderful news if you're eager to discover and grasp Canva's practicality for your creative business! The Canva course "The Canva Design Lab," created especially for artists, will soon launch, and the Arts to Hearts Project is excited to share this news. We've opened a waiting list for this fantastic opportunity, so don't miss out! Sign up for our waitlist below to start this amazing creative journey.

By signing up for this course you can not only save time and money by incorporating Canva for your art marketing, but you can also improve the impression of your business and gain a greater following on social apps. Why then wait? Take your art business to the next level by starting to explore Canva right away!
So, this is all from my side and I will see you next week with some more useful articles that can benefit you in sustaining your art business.
Take care!