About the Artist
Cara Croke is an artist and art historian native to the suburbs of Philadelphia. She earned her BFA magna cum laude from Moore College of Art and Design and her MA with honors from the University of Essex, United Kingdom. Her studio practice primarily focuses her lived emotions, the maternal experience and intangible nostalgia.
Artist Statement
"Storytelling is intrinsic in my family rituals. The stories of loved ones, whom I have never met, or tales from my parents' youth have been woven into the fabric of my life. I find myself telling these stories to my own children about people and places they have never met or will never see. While these ancestors are no longer physical beings, the stories I have heard countless times have created very real people in my mind.
My work explores the idea of how storytelling has created visual landscapes in my mind. I combine the use of family photographs of the people or occasions that I have been told about to create physical landscapes for them to exist within. I also depict the emotions of pivotal moments of my life specifically grief, loss, love and new life expressed through the use of watercolor paint, gold leaf and photography. The use of watercolor is intrinsically important to express the fluid nature of the emotional journey. I choose colors that carry important emotional significance and are representative of my lived experience."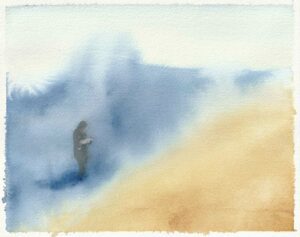 What is your "Dreamland" ?
My 'Dreamland' is creating abstract landscapes for the memories of my loved ones to exist. When viewing my work, these landscapes are often described as dreamscapes. There is ambiguity of destination through the use of watercolor paint juxtaposed with the hard lines of photography. These disparities create a dreamlike quality within my work.
Find the Artist on:
www.caracroke.com