About the Artist
Samantha Reynolds is a Long Beach based artist. Drawing from memories, dreams, the mystical and odd a mixture of various items and textures weave themselves into her work. Samantha graduated from California State University Long Beach with a BFA in Drawing and Painting in 2018. She has since done scenic painting for various theatrical productions and teaches private art lessons.
Artist Statement
My work reconstructs fragmented, fading memories and captures moments of longing through a combination of paint, fabric, collage, glass and other found objects. Whether it's a vague memory, a fleeting moment or feeling of yearning, my crows nest of materials integrated into my work offer a tactile experience grounded in a sense of unplaceable familiarity.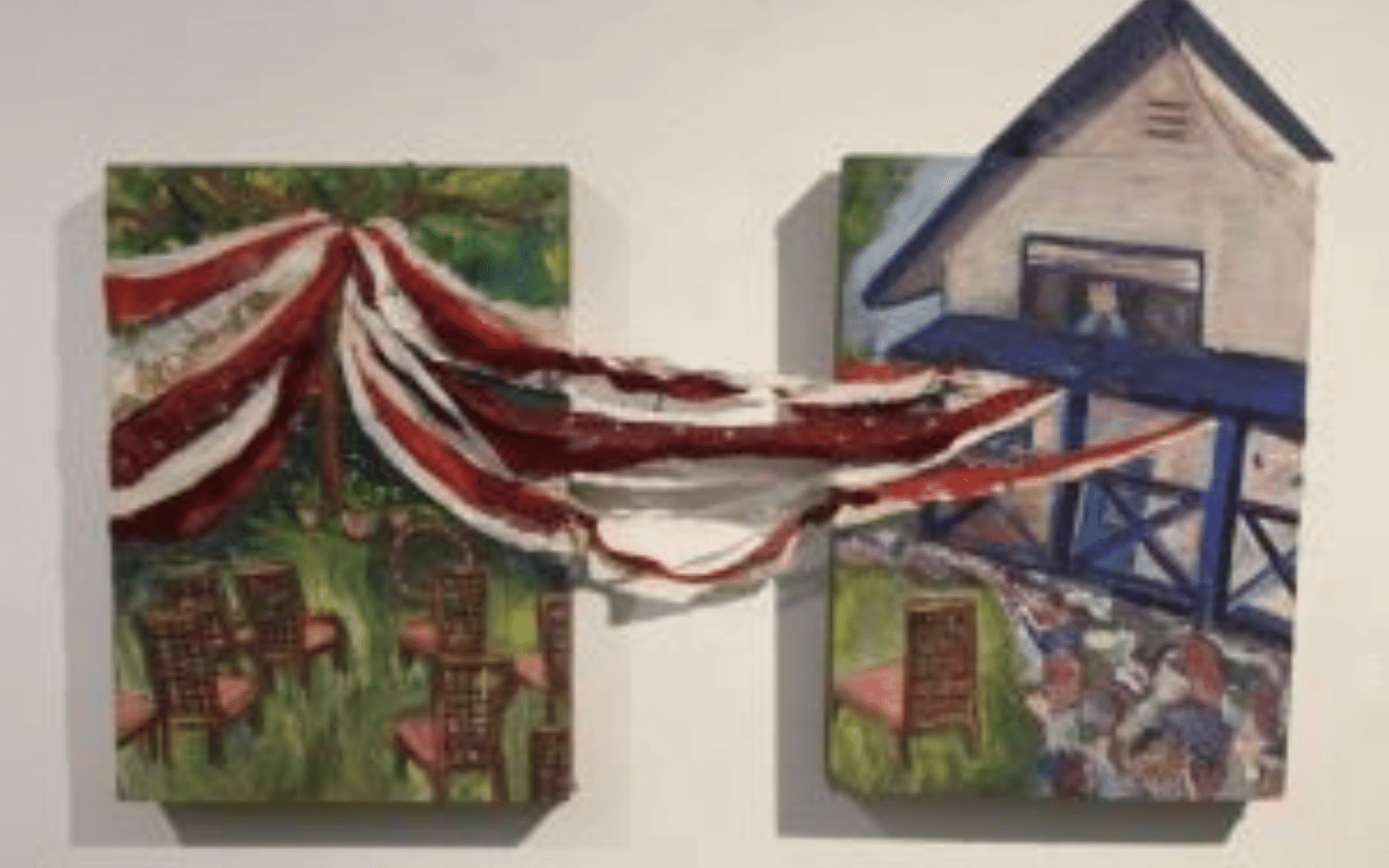 What is your "Dreamland" ?
Dreamland is a place where the here and there can meet. It's a landscape where my buried fears and sorrows and most coveted hopes are allowed to be. Though rooted in memories, dreams and fantasy my current work has stemmed from the recent and traumatic experience of my the loss of my Grandmother after watching her decline for years. A strong and stable figure my entire life, she taught me how to sew, encouraged my interests and offered wisdom without judgement. An artist herself, her beautiful quilts and batiks inspired and encouraged me to pursue my own career as an artist. A person who only showed me love and warmth I tried to hard to show in return when she started losing control over her mind and body. I longed for a time that would no longer be with the realization that my Grandmother would not be the same as she once was. Anger at people who I trusted to do right, who choose instead to act on jealously and hate. Their actions fractured an already broken family to the point where I spiraled into complete darkness and could not even create for a period of time. In the last months of her life I looked for joy in the few good moments that remained despite the reality and fear that there would be a future without my beloved grandmother. Those last moments were filled with heartache but remain my greatest treasure.
The Grandmother I never knew was said to be a talented seamstress as well. Stories are told that she never needed a pattern and could make anything. She recently began visit my dreams this past year and though I don't remember details it brought me comfort. Stories of my mothers' Pueblo and of my maternal Grandmother feel like a distant memory of a dream. Taking place so far away in a completely different world than the one I experienced where elements of the mysticism and magic that existed in their souls seeped into every aspect of every stories I was told.
Two Grandmothers, one who's presence in our world was fading and one who had been absent in this world for some time started to appear in a place in between their world and ours- the place where we dream. And now that the Grandmother I knew my entire life has moved on her spirit will still guide me through my life, my decisions, and my dreams. Now I understand that my maternal grandmother came to my dreams to bring me comfort with the knowledge that even though they are gone, I'll see both of my Grandmother's again in the realm of my dreams.
Find the Artist on: