About the Artist
Leah Guzman is a professional artist and Board Certified Art Therapist. Leah is a mixed media painter whose style is contemporary, symbolic, and spirited in nature.
Her mission is to offer the gift of creativity to others as a way to heal and manifest their most authentic self and best life. She provides online art therapy sessions supporting creative individuals dealing with anxiety, depression, and PTSD. Her signature course, Art of Healing and Manifesting, teaches the tools to align your energy to attract desires. She incorporates a holistic approach to up-level every area of your life. Her most recent best seller book is, "Essential Art Therapy Exercises".
Artist Statement
This series of paintings are about connecting to a higher power (also known as Source). As you connect you can call in your desires. This is about listening to your intuition and tapping into the power. I personally love dreaming big about my art and life. Whenever I am in alignment I receive signs from the Universe, such as the rainbow. The painting "Enlightened by the Storm" is about experiencing things in life that we didn't necessarily want yet there is a lesson to be learned from the experience. Once you learn the lesson, enlightenment and rainbows appear. I also like to follow the moon phases with rituals of releasing and calling in my desires.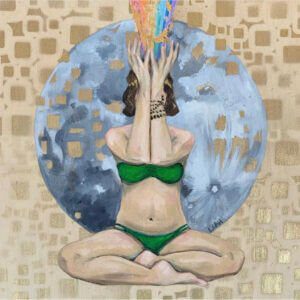 What is your "Dreamland" ?"Dreamland" is about having a big vision (dream) and taking the steps everyday towards my desire. For me, I like to meditate and ask for guidance. It's during this time I get downloads and the next best steps for my journey. Ultimately, my dream is to have a positive, powerful impact in the world with my art therapy practice and my art.
Find the Artist on: