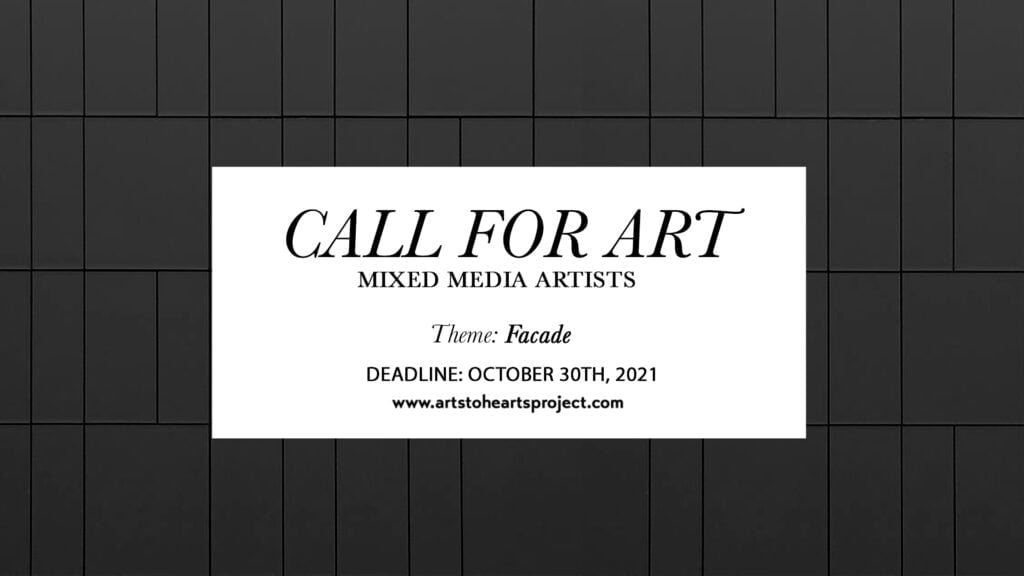 Theme:
A facade means the face or the front of something. Just like the face of humankind, the
physical and the non physical facades we all carry all along our lives.
For some, their facades are for expression and for some it's for protection.
Some wear them like another skin. And, some carry it with the weight of their being.
But, In-between everything their is this continuous attempt of creating something.
A surface. A story.
An experience. An experiment.
A creation.
With this call for art, We are looking to take a peek into these physical & non physical
facades of your being via art, aesthetics's and storytelling.
About the Guest Curator:
Erika b Hess is a painter recognized for her use and interest in color. Her work has been exhibited nationally including Prince Street Gallery in NYC, Last Projects in Los Angles, CA, and Boston Center for the Arts in Boston, MA. In 2017, she had two solo exhibitions, "The Line Between the Past and the Present," at Musa Collective, Allston MA and "Viewing Light," at Newton Free Library, Newton, MA. Her work has been featured in various publications including, Poets and Artists, Fresh Paint, Charles River Journal and Post Industrial Complex, a book released by the Museum of Contemporary Art Detroit. Her work was selected by John Seed to be featured in, "Fifty Memorable Artists 2015". She has served on panels such as Cleveland Institute of Art's, "Feminism Now: Exposing the Truth", Boston University's, "Creative Capital: Building Collaborative Art Space" and was a visiting juror for Dayton Visual Art Center's 2016-2018 biennial. She created the podcast, I Like Your Work and is a co-founder of MUSA Collective, an artist-run collective in Boston. She received her MFA from Boston University and is represented by Contemporary Art Matters in Columbus, OH.
About Arts To Hearts Project:
Our passion is to help fellow women artists with a goal to create a welcoming community through our initiatives. Our projects include The ATH Club, ATH Newsletter, Heart Talks (interviews with artists), Heart Notes (Guest writers for blog), and now, The Arts To Hearts Podcast. We promote artists on our website, social media and connect them to multiple opportunities and gallery exhibitions. The Newsletter is released monthly in a digital format. Each beautifully crafted edition features inspiring interviews, perspectives, and advice from the top creative professionals.
We dedicate the publication to a variety of artists selected by guest curators through our calls for art and artists. We regularly feature submissions and strive to promote the work from all communities, geographies, and artistic styles. Arts to Hearts Project has been featured by Create! Magazine, The Art Queens, Art Mums united, and guests in our project include Ekaterina Popova, Brandi Hofer, Halie Torris, and many more!
REQUIREMENTS & ELIGIBILITY
ELIGIBILITY
We welcome all artists for the first time at Arts to Hearts from all countries and nationality to apply with works in mixed media. Artists who are willing to engage in candid and transparent conversations. We want to bring artists who are ready to share their journey, their learnings, talk about their brightest moments and vulnerable sides to be a part of this project.
SELECTED ARTISTS
If your work is selected by our guest curator, you will be a part of an Online Exhibition hosted on www.artstoheartsproject.com and selected artists will also be featured on I Like your work's & Arts to hearts instagram account. The Online Exhibit will include your artist biography, artist statement, website, social media handles, and two images. Published artists will be sent a complimentary digital issue and will be listed as a participating artist in your issue on Arts To Hearts Project, Newsletter and Social Media. We also promote artists individually via the blog and social media posts. All featured artists will automatically be considered for any upcoming curatorial projects, not limited to art fairs, exhibitions, and gallery projects organized by our team.
All artists will be notified of the final decision by late November 2021. If your work is selected, you will receive further information at that time
IMPORTANT DATES TO REMEMBER
Entry Deadline: October 30th, 2021, 11:59 pm EST.
All artists will be notified of the decision by the Early November, 2021. If your application is selected, you will receive further information at that time.
SUBMISSION INFORMATION TO REMEMBER
• Submission fee is $35 for the Exhibition (non-refundable)*
• Artist Bio word limit is 300
• Artist Statement word limit is 300
• Number of Artworks that can be added is 3 upto 1MB per Image
*What is my fee used for?
Arts To Hearts Project is an organisation run by independent artists and artists who are motivated to build a community. The application fee will fund in the organisation of podcasts, running the platform, backend expenses, and bringing in curators for the show.
Once an artist is selected, they will not be required to pay any additional fees.
By applying for Call for Art, you enable us to provide opportunities and support artists, curators, writers, designers, and creators on their journey.
If you cannot afford the fee due to financial reasons, we will be happy to try to accommodate you. Kindly email us at [email protected]. Additionally, you are welcome to submit to our free blog as an Artist Feature. Your efforts are highly valued.
AGREEMENT
Arts To Hearts Project and I like your work reserve the right to use images of the artwork, and all the required documents on their website and social media. By submitting artwork via this call, the artist agrees to the terms outlined above. Artist retains full copyright of the work. Images will not be used by Arts To Hearts Project and Create! Magazine aside from the Exhibit, Website, Social Media accounts, and Newsletters.
Submitting artwork to the Call for art of our website requires a nonrefundable fee of $35. A submission fee does not guarantee that your work will be selected.