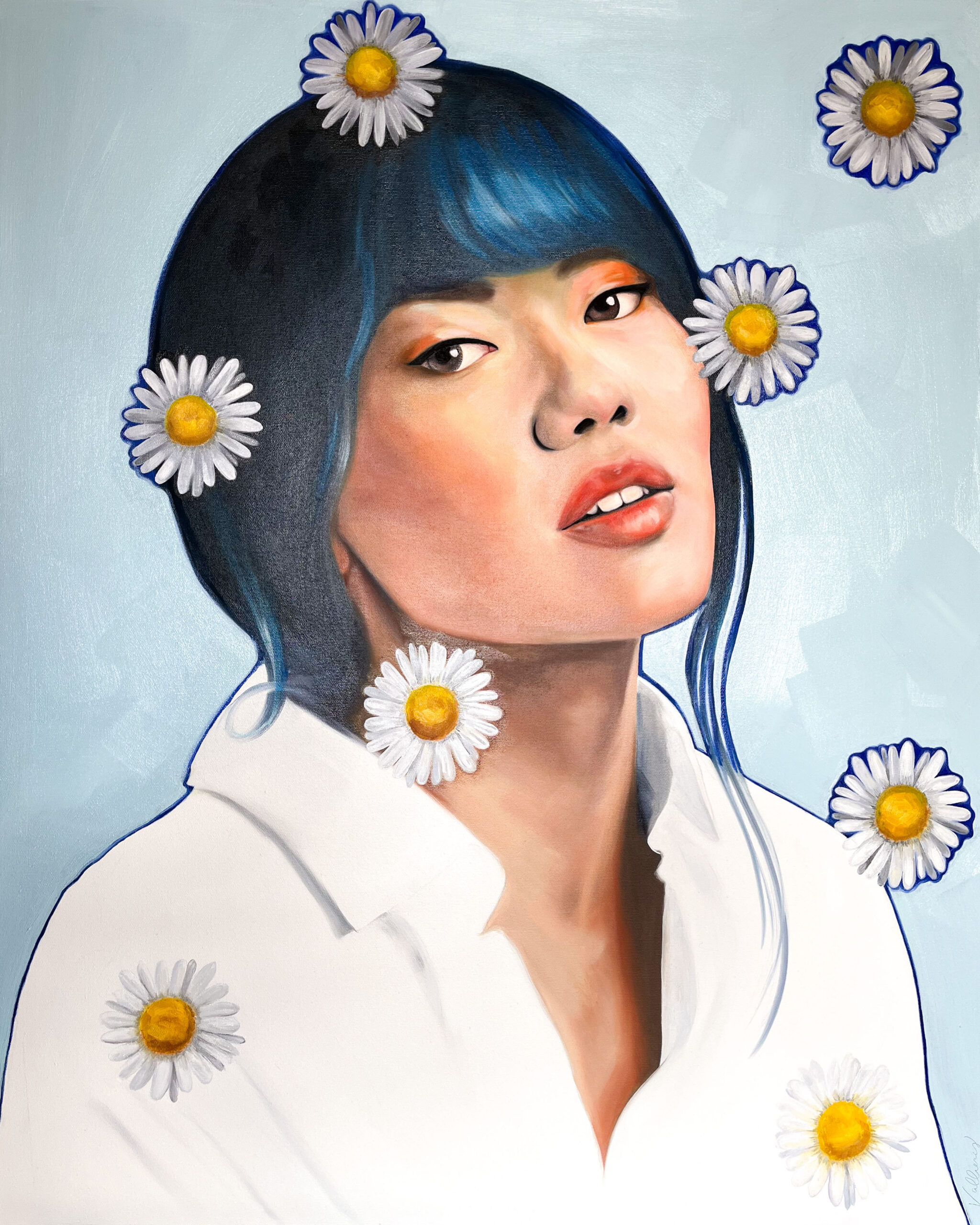 Amelie Vallieres
About the Artist
Amélie Vallières creates modern portraits that remind us of classical portraiture using glazing techniques while embracing words, polka dots, and a contemporary aesthetic. Her work is delicate, fun, and unconventional. She uses painted words to create empowering affirmation portraits and to create fine art pieces that elevate her collector's spirit. When she's not spending time in the studio, she is mothering two children who love to draw and paint.
Artist Statement
In my art practice, I like to encapsulate feelings of empowerment and confidence. I have always adored painting portraits because I feel like there's no landscape like a gaze. I create statement pieces to bring visions of their future self to my collectors and empower them to become through beauty and inspiration. My latest collection uses meditation prompts as a way to bring some positivity into the world. My objective with my work is to create pieces that will empower the collectors, like mantras for their space.
How do you interpret 'Ready to wear' in your work?
In my work, I tend to leave clothing to the bare minimum by keeping the raw canvas aesthetic or leaving the clothing very white and flat. By approaching clothing this way, it gives me the opportunity to make the portraits stand out even more and play around with patterns. I use patterns to give more depth and meaning to my portraits. It grounds my muses in the emotion they need to convey.
For example, with this first piece titled "New Beginning", I've played around with a daisy pattern to echo the feeling of being reborn after the dead of winter, just like emerging from a dark moment in your life. As she emerges from her blue period, she adorns this daisy pattern to wear her healing all over herself.*
"One in 400 Trillion" was created with the idea that we are all unique and special. The lines in the background create a strong pattern that represents the likelihood of you being born as you and ground the portrait on the raw canvas. By wearing the simple outline of a shirt, it gives the muse all the power to stand on her own.
With "Attracting Joy" I wanted to portray how we can consciously choose joy over intrusive thoughts. With a single yellow dot in a sea of white, we can see a woman who chooses joy, and is wearing her positivity like a shield.