About the Artist
Jenny Lee Robinson is an American born mixed race artist of Korean descent living and working in her mother's hometown Seoul, South Korea. While she was raised in the predominantly white suburbs of Minnesota, her parents made a strong effort to raise her bilingual and bicultural, and the family was involved in the small Korean American communities in Minnesota and visited relatives in Korea as often as possible. She also found ways to develop and engage in Korean communities while attending the Maryland Institute College of Art, where she earned her B.F.A in 2011. Following graduation, she moved to Korea and completed a M.F.A in Painting at Ewha's Woman's University as a NIIED Korea Global Scholarship Program Scholar in 2017. She creates artwork related to storytelling, folklore, migration, woman hood and identity, in a variety of mediums including but not limited to painting, paper arts, printmaking and installation.
Artist Statement
My artwork draws from folktales and myths about girls and women, incorporating tales and characters that include, witches, mermaids, and winged figures and other archetypes that reappear in folklore and myths in different cultures. My lived experience as a bilingual speaker raised in the United States, as well as my experience with international communities as a graduate student and as an American living abroad in Korea for eh past ten years, I have become interested in making work that is accessible and familiar across cultures. Therefore my use of aforementioned figures from folklore in my artwork help serve that purpose, in that I hope to create a readable visual language through use of these characters in my artwork.
Through these characters, these folktales and myths are cathartically reinterpreted to share stories of women's experiences strength, growth, trauma, and resilience. Folktales were often warnings or lessons to children, about threats to avoid or lessons in how to live well. My work seeks to continue this tradition and inject modern sensibilities and views to allow women and myself in our present to better identify and relate to these stories. In essence, I am rewriting the narrative to ft the type of storytelling I needed when I was a young girl and am now able to offer other women and girls.
My goals in accessibility also pertain to my art materials. Much of my recent work involved screen printing, book arts, and paper art. I am drawn to these materials, because like myths and folklore, they are ubiquitous, unpretentious and familiar. Ultimately my goal is for the viewer to feel a sense of intimacy with my work, regardless of who you are and what your own experiences are in life.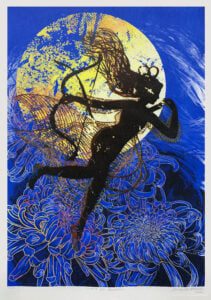 What is your "Dreamland" ?
My "Dreamland" is an imagined space in my work that allows me to combine and hybridize archetypes, worlds, and characters to create my own visual storytelling. This process can be seen in my print, 디안나 – The Huntress, in which the silhouette of a Korean heavenly maiden with her characteristic looped hair, wearing the Korean traditional hanbok holds a bow and arrow in reference to Artemis the Greek Goddess of the Hunt and Moon. The Korean folktale about the Heavenly Maiden is sadly part of the folktale trope involving kidnapping supernatural women to become wives, and in this tale a deer reveals the secret to kidnapping this supernatural lady to her would be abductor and husband. By merging her character with the Goddess Artemis, both characters that share symbolism with the moon, her character now gains the tools and attributes to protect herself and silence deer, her betrayer. This type of hybridization in my dream world reflects my lifelong process of developing my sense of self through my mixed race identity and bilingual experiences. My lived experiences translating and reinterpreting my bicultural experiences of the United States and South Korea are reflected in my dreamland and art process.
Find the Artist on: