About the Artist
Amarilis Singh (b. Aguadilla, Puerto Rico, 1984) based in New York is an emerging interdisciplinary artist exploring art-making with a sewing machine, repurposing textiles, found objects, photographs, ceramics, and installation.
She began her formal art studies at La Escuela de Artes Plásticas y Diseño de Puerto Rico, then moved to NY where she completed a BFA in Art Education at Long Island University. She is currently pursuing graduate studies at Boston University. Amarilis is also an art teacher at Long Island Public Schools and former owner of Artelier, a teaching art studio where she was well known for her sewing classes for children and open studios for families to create alongside their children.
She lives in Long Island, NY with her husband and three children.
About Artist's Work:
Years back, I taught myself to use a sewing machine to satisfy a curiosity I had as a child. I began experimenting with repurposing fabrics to make functional pieces that one could wear. When I began the practice of the visual arts, I was already engaged with the mechanical use of the sewing machine. I soon became intrigued by exploring a new function of the textile materials to express thoughts and mending of past and present personal experiences. As the machine creates marks with stitches to the fabric, I feel as I am in a search for possibilities of this new language of expression, removing myself from the layers of self-conformity and social expectations, exposing that vulnerability that is kept inside. Some of my work consists of stitch drawings of the female figure utilizing thread on found textiles with a sewing machine.
In recent works, I utilize hand sewing needles, found objects, photographs, and textiles to create three-dimensional pieces and collages.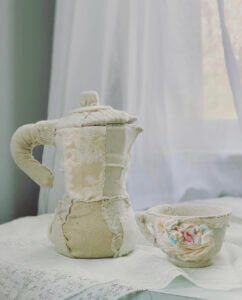 What does "Home" mean to you:
Home is wherever my family is. Home is our traditions, and the memories we create together.
Find the Artist on: