About the Artist
Madhurima obtained her B.F.A (2007) and M.F.A (2009) from Rabindra Bharati University, India specializing in sculpture. In 2011, she moved to the United States and since then she has showed her work in various prestigious shows around the USA and in India. She had two solo shows in Ann Arbor, Michigan (2018) and Toledo, Ohio (2019). In recent years, she has participated in "Investigation Pending" an ArtPrize 9 Exhibition, Cerasus Studio, Grand Rapids, Art Prize 8. Grand Rapids. Poway Centre for Performing Arts Show "Celebrating Summer Time", California. "All Art Works"- ArtPrize hub,GrandRapids. Her paintings were exhibited at Grove Gallery, University of California San Diego, Detroit Artist Markets "The Heat is On", "Being rooted" a two person show,Hatch arts, Hamtramck, Michigan, Artsy online exclusive solo show "Womanhood has no vaccine", 2020. Madhurima's works are in privet collection in the USA,UK and in India. She is currently represented by River house Art Gallery, Toledo, Ohio, USA.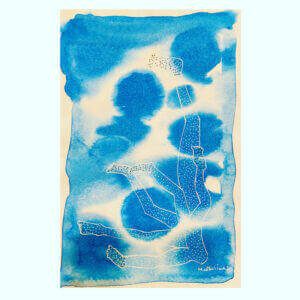 Art is just one form of expression for me. My life, my thoughts, emotions, observations and my body are all my subjects. I am deeply inspired by nature and my part in it. Everything I absorb from this beautiful yet destructive universe is the inspiration behind my works. I prefer watercolor and ink. The fluidity of those materials resembles my thoughts and emotions which has no boundary and time-frame. They travel freely from one emotion to another. My works reflect the vicinity of my upbringing in East India and my present migratory life in the United States of America. The back and forth of two different continents and its culture and the time in-between plays a major role in my visuals. Gender identity, social stigma and cultural symbolism often resides in my visuals. I am constantly trying to address the politics of human nature through my creativity. The process of my works are more manipulative than the end result.
An insight to Madhurima's creative process/ practice
"I work spontaneously. My works show me the way. Usually before starting a work on paper I work in my mind. In a way I see the work and the visual is a very important process for me. I can't start a work until I can visualize that in my mind. That image guides me through my process. I love to explore various textures in my work too. The process of my work is more important to me than the end product."
Michela Martello , Dhruvi Acharya, Loren Eiferman, Mithu Sen, Sarah Lucas, Yayoi Kusama.
Links to Instagram & Website
Website: www.madhurimaganguly.com