Imagine you go out in the Park and see no flowers, plants, or trees. Imagine a world without animals, not even dogs or cats.
Without them, wouldn't life be a little dull? As if there were no flowers to smell or pets to cuddle.
The air we breathe, the food we eat, the vistas we enjoy, and the creatures we cherish come from nature. Therefore, we should be eternally grateful to it.
Nature is the center of our existence. It's easy to limit our understanding of nature to what meets the sight, such as plants, oceans, mountains, etc. Nature permeates every crevice of our being.
This week's Arts to Hearts article highlights five artists working in mixed media to create images of the natural world.
Therefore, please continue reading to learn more about them and their fantastic work.
Stephanie Eichelberger (@missoddball)
Stephanie is a desert-dwelling visual artist based in Albuquerque, New Mexico currently traveling the USA.

After living and traveling around the USA throughout her life, her work has become a process of self-evaluation in a world she has never quite felt like she belongs.
Moving, experiencing new situations, meeting new people, and adjusting to different environments have taught her to appreciate the weird and the curious, and to embrace uncertainty–including within herself. Her characters are largely inspired by everyday life, silly friends, her many moods, and her deep love for the outdoors and exploring. she enjoys elaborate costumes and headpieces, obscure vintage shops, 90s nostalgia, medieval folklore, getting lost in the woods, coastal vibes, street art, and all the fluffy things. The backgrounds in my work are mostly inspired by the Jemez Mountains and White Sands in New Mexico.
​Her work can be found at Meow Wolf's gift shop in Santa Fe, KEEP Contemporary, Stranger Factory, and various festivals across the US.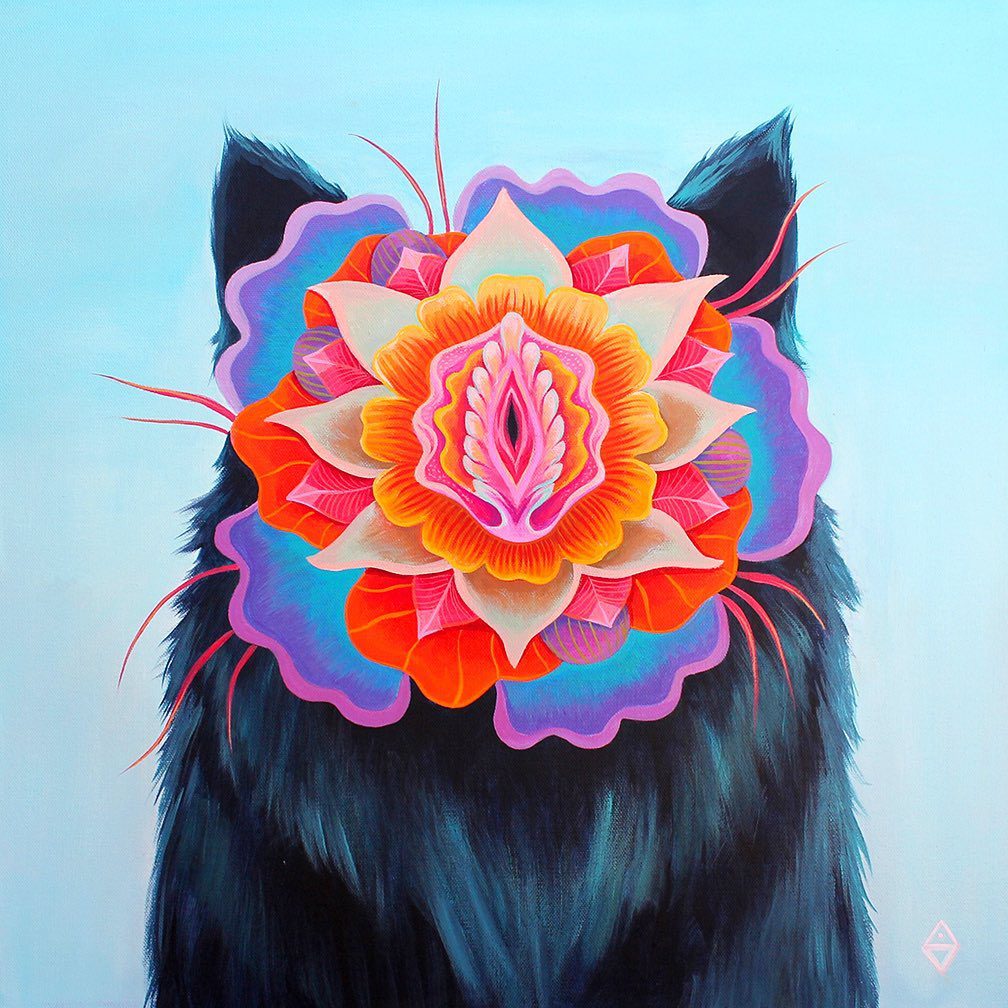 Ericka Hess (@erikabhess)
Erika b Hess is a painter, curator, writer, and host of the art podcast I Like Your Work. Hess's work has been exhibited nationally including in NYC, Brooklyn, Detroit, L.A., Boston, and Philadelphia. Recent solo exhibitions include Marietta College (Marietta, OH) and MUSA Collective (Boston, MA). Recent group exhibitions include Contemporary Art Matters (NYC, Columbus, and Artsy) BHG Gallery (Canada), Co-Worker Gallery (Toledo, OH), and The Yard (Brooklyn, NYC).
She has been featured in various publications including Boston University CFA Alumni Magazine, Art New England, ArtScope, AllSHEMakes, and Visionary Art Magazine. Hess has curated and juried exhibitions, publications, and awards including Create Magazine, Friend of the Artist, Cambridge Art Association (Cambridge, MA), Gallery 263 (Cambridge, MA) AllSheMakes, Arts to Hearts, Riffe Gallery (Columbus, OH), and she has served on panels at SCOPE (Miami), Cleveland Institute of Art, and Boston University and frequently lectures at colleges such as Wellesley University, Massachusetts College of Art & Design, Missouri State University, Eastern Michigan University, and many others.
Hess maintains an active studio practice in Columbus, OH, and in Long Island City in New York where she keeps a selected inventory of work. She is represented by Contemporary Art Matters in Columbus, OH.
Hess received her MFA from Boston University.
Demi Mixon Kahn(@demi.kahn.art)
Demi is a textile artist specializing in contemporary macrame with the occasional painting twist. she works with string and other fibers that she hand-dye and knots together to create innovative pieces of wall art and soft sculptures. her use of color and shape is inspired by her background as a Geologist, her love for nature, and her life travels, and she believes that her work can be used to create an impactful moment of escape for those who interact with it.
In her art, the idea of connectivity between nature, change, and memory is approached through tactile mediums that require care and attention.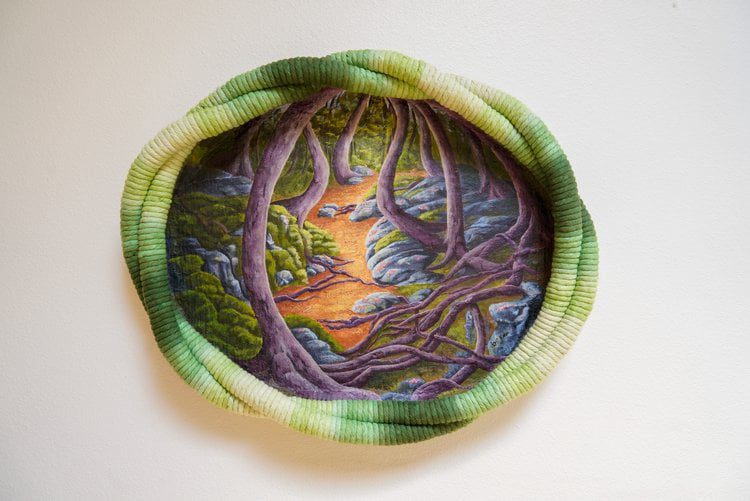 Katherine Marmaras (@katherinemarmarasartist)
Katherine Marmaras is a multidisciplinary artist working from Melbourne and Geelong.
Katherine's practice incorporates printmaking, collage, mark-making, textiles, and ceramics. Objects found in nature and collected disparate items are often repurposed and feature in her work in an unconventional and unexpected manner.
Her recent works are deeply influenced by vibrant childhood memories of visiting fabric stores with her tailor father, and embroidered tapestries and lacework created by her mother, aunts, and grandmothers.
Katherine has exhibited widely in select group and award exhibitions including the Burnie Print Prize, Northern Beaches Artist Book Award, and Silk Cut Award for Linocuts and is held in private and public collections including the National Gallery of Australia.
She is currently undertaking a self-driven artist residency at Geelong Art Space.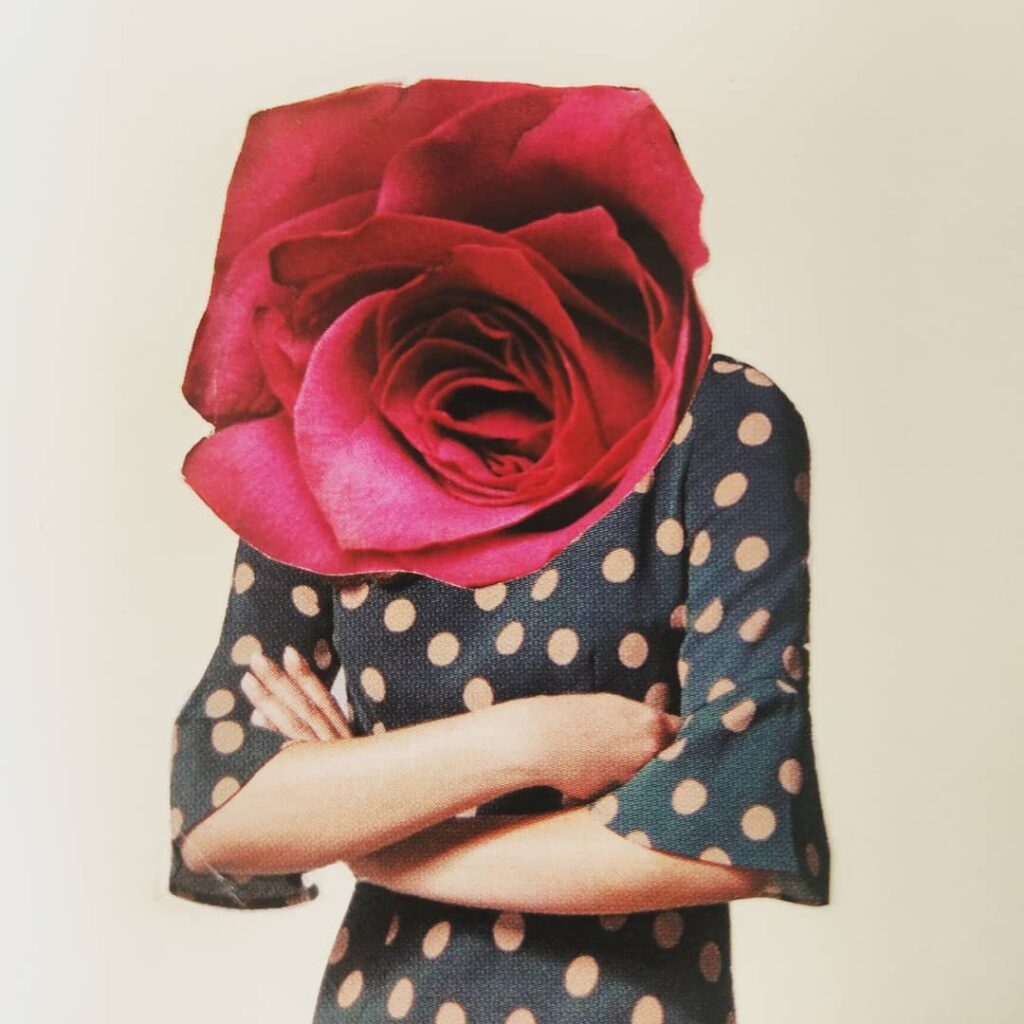 Sally K (@sallykpaintings)
Emulating the contemporary woman in all her beauty, power and diversity is what inspires me. Depicting who I feel represents my generation and highlighting her inherent strength and confidence is my sole focus. Her eyes are covered, immersed in blooming florals that wrap around, trailing, and extending beyond the canvas. The flora crowns are a combination of large blooming florals and small wildflowers, emphasizing nature's mystic and whimsical awe. The integration of women and flowers speaks to our intimate connection with nature and the power they both hold, individually and together.
Weaving nature and woman creates a dual force that elevates and supports their importance. I would hope that it is empowering to all women, whoever they are and wherever they are, to feel as though they are part of a revolutionary force work connecting us all to our shared past, present, and future.
I hope my empowers you to see your own strength and beauty within.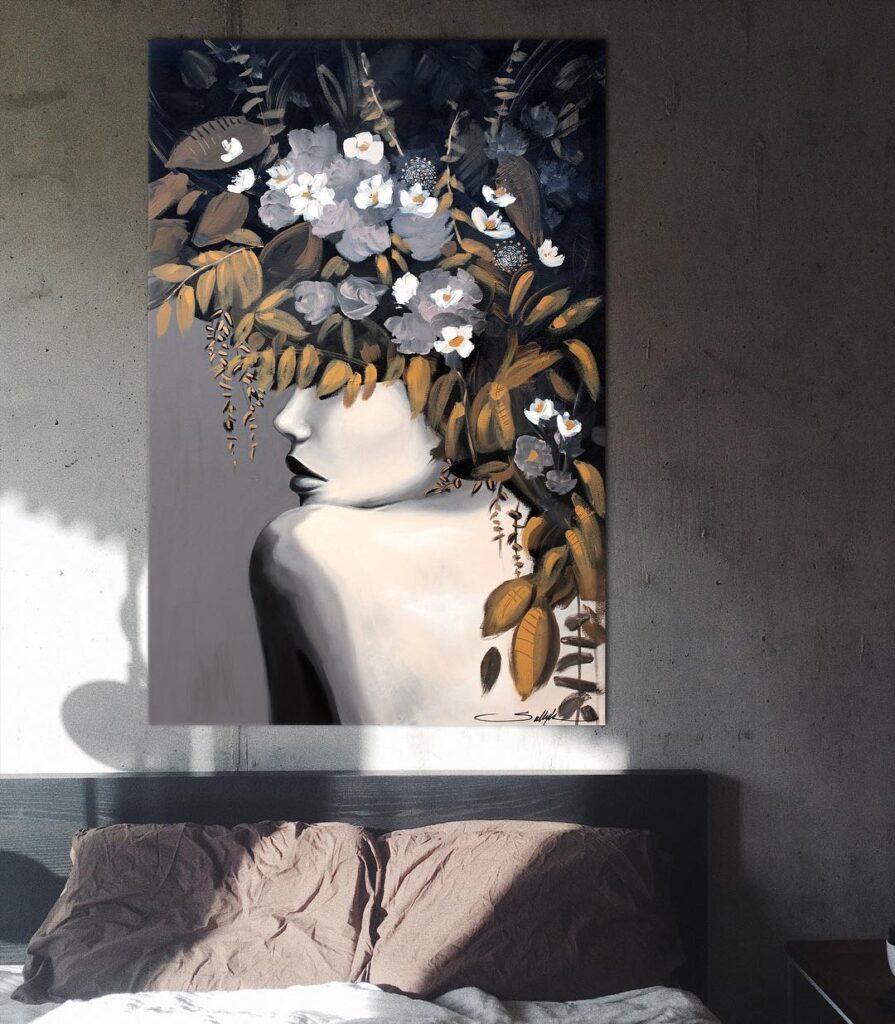 So this is the work of our featured artists.
And we are excited to tell you that our new call for art is on the same theme, Biosphere-Art, Animals, and Environment which is basically everything that nature has to offer.
So if you want your work to be seen by an international community of 20,000+ readers, listeners, and followers worldwide, that includes leading art patrons, collectors, gallerists, artists, platforms, and more, you can submit your work to our new call for art.
You will find all the details by pressing that button, and we can't wait to see what you have in store for us.
Want more creative content, opportunities, and helpful tips like these?
and receive all art-related stuff right in your inbox every week.