A selection of international open calls and opportunities for contemporary art-related competitions, prizes, exhibitions, awards, proposals, and grants for artists, writers, and curators
About Artist Opportunities & Call For Artists
This is a curated selection. We publish a selection of open calls from a pool of submissions and editorial research. Only open calls we believe offer meaningful benefits to applicants at different stages of their careers will be published. We email thousands of art practitioners weekly with selected opportunities. Make sure you are on our email list to be one of them.
Applying for a call for Art, open calls, and submitting your work can be tricky and taxing work. We at Arts To Hearts Project have been creating resources and opportunities for Artists for the past two years. We have so far organized over 8 editions of our International Call For Art. But, we don't want you to ever feel limited in where you want to apply. Hence, every month we bring you a quick round-up of 5 hand-picked opportunities for Artists.
1- Call For Art: ATH MAG Issue #2
Arts To Hearts Magazine is a contemporary art publication with a mission to discover, connect, and engage with contemporary & emerging women artists from around the world.
A product of Arts to Hearts Project: a global creative community uniting multi-passionate women creatives/artists to build financially successful, fulfilling careers via learning, collaboration, community & networking.
We invite you to join us in our mission of supporting emerging artists. The artists selected to have their work featured will earn a coveted placement on our website and will be promoted to our global community of 200,000+ artists, curators, collectors, art world professionals, and art lovers.
Our platform has been featured by leading media outlets including Create! Magazine, Visionary Art Collective, Platform, Art connect, and All she makes among others.
GUEST CURATOR:
Marina Press Granger is an NYC art consultant and founder of The Artist Advisory.
Eligibility
Our calls for entry are open to all womxn/women artists from all over the world. All styles and media are welcome. There are no educational requirements to apply to the open calls.
Submission Information
You must complete the application form to be eligible for this opportunity. Please read the format requirements carefully to avoid errors with the form. Send any questions or concerns you may have via email to [email protected]
ELIGIBILITY
Artists from any country are welcome to apply with works in any medium: painting, sculpture, digital, printmaking, fiber, photography, mixed media, installation, and more.
THEME: Open
REQUIREMENTS:
Artists may submit up to 10 individual (different artworks) pieces of work for consideration
Artists must ensure high quality of images, and we recommend 300 dpi jpeg.
Artwork images and bio must be uploaded directly to the form
Bio and statement must be under 300 words each.
Artwork does not have to be for sale.
IMPORTANT DATES:
Entry Deadline: December 14th, 2022, 11:59 pm EST.
All artists will be notified of the final decision in jan. If your work is selected, you will receive further information at that time.
All selected work will be included in our issue #2 of the ATH MAG due by feb 2023. Artists will have an opportunity to review their spread and make edits if necessary before the final publishing.
Find more details by clicking on the button below.
2- Gallery Ring Artists Of the Month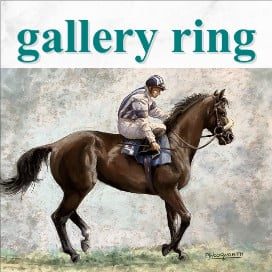 DEADLINE: TUESDAY NOVEMBER 1ST, 2022
READ BEFORE SUBMITTING

Artist Eligibility
– must be 18 years or older
– can be emerging or established
– must be able to communicate in English or Spanish
Fee
– $20.00 US for up to 2 artworks
– artist can pay and submit as many times as desired
– fee is NOT refundable (even if made in error) and does NOT guarantee selection (only four artists will be chosen)
Media
– two-dimensional work is eligible (paintings, drawings, photography, digital, mixed-media, print work, collage and similar media)
– three-dimensional work and video is ineligible (sculpture, jewellery, crafts, fabric, wearable art and similar media)
Criteria
Gallery Ring looks for originality, mastery of medium, strong overall design and composition and a solid, arresting impression and intention in each artwork.
There isn't any theme for this contest. The subject matter is the choice of the artist. All artistic styles are welcome from realistic and traditional to abstract and experimental.
ARTIST STATEMENT
***An Artist Statement is written in the first person and explains the purpose, inspiration and meaning etc, behind the artwork – it comes straight from the heart of the artist. It is NOT a Biography which details the life story of the artist.***
– recommended but not required
– maximum 100 words
– will not be a factor in the jurying process but will be published if the artist is selected
– will be edited for grammatical and structural corrections or if the word limit is exceeded
– would be preferable if it is written about the specific piece(s) submitted for this contest
Image requirements
– only 1 artwork and 1 frontal viewpoint per image is permissible
– cannot exceed 2MB
– in jpg format (do NOT send PNG)
– files MUST be labeled – LAST NAME – Title of Art.jpg (example WILLIAMS – Cat on Couch.jpg)
– cropped tightly to show only the artwork (frames, mats, background, watermarks are unacceptable)
– clear, without glare and in focus
Awards
The following four distinctions will be awarded each month:
– RUBY Artist of the Month
– SAPPHIRE Artist of the Month
– EMERALD Artist of the Month
– CRYSTAL Artist of the Month
***only four artists will be selected – there will NOT be a group exhibition***
In the interest of fairness and increased chances for artists, artworks that are not selected will be retained and circulated again
amongst the submissions for continued consideration in future ARTISTS OF THE MONTH contests.
These four titles do not indicate any superiority over each other, such as 1st, 2nd, 3rd, and 4th place, rather they are equal but different. (they will be featured in random order) Each jewel has its own distinctive personality and brilliance, which is matched to the artwork that is most suited to it in character, mood, and presence according to the insight and sensitivity of the juror.

Award Winners will receive:
– an "Artist of the Month" distinction (for example Wendy Simmons is the Sapphire Artist of October)
– an announcement and feature on the Home Page of Gallery Ring's website for approximately one month consisting of the winning artwork and the Artist Statement (if included) and personal links
– a digital Award Certificate
– a digital Award Page (pdf) highlighting the achievement, which is ideal for their artist portfolio and for sharing the news on websites and social media
– promotion on Gallery Ring's Instagram page during of the event
*** if the artist's work was not selected, he or she can submit the same work again as often as desired – the overall number, quality and style of submissions will change with each contest, however it is very likely the same juror as before will be making the selections again ***
*** if an artist wins, he or she can submit again for more contests – there isn't a limit on how many times an artist can hold the distinction of Artist of the Month ***
Notification of Results
– only the four winning artists will be notified of the results
Sales
– artwork does not have to be for sale
– Gallery Ring does not handle sales of art or take a commission but will direct inquiries to the artist
Newsletter Subscription
– upon submission, artists will be automatically added to Gallery Ring's email list and will receive future announcements and newsletters
– if the artist prefers not to be on this list, he or she can send an email and ask for removal
Policy
– once the submission deadline has been reached, no image substitutions or changes will be permitted
– all artwork MUST BE ORIGINAL and not done with the help of teachers or be copied from work by other artists or photographers
– work that is offensive, violent, vulgar, distasteful, frightening or negative in any way against humans or animals is unacceptable
– all decisions regarding exhibitions and winners are final
– all selected artwork must remain in the exhibition for the entire duration – early withdrawals are not permitted
– artists' contact information will not be shared with any external parties or groups
– Gallery Ring reserves the right to cancel, extend or change exhibition dates at any time
3- Strata Gallery Fragments – Juried Exhibition
This exhibition will feature artists whose work expresses and articulates the myriad, exciting and challenging ways in which our reality has become fragmented. All of us experience the dizzying splitting of our attention among the burgeoning opportunities of ever improving digital devices, the abundance of disparate and competing news reports and the allure of social media. Our bodies themselves are increasingly prosthetically enhanced, and humanity embraces the possibilities of artificial intelligence. Gene editing/genetic engineering are other visionary and ground-breaking experiments with fragmentation and hybridization. Contemporary art, as possibly never before, is an ecstatic discourse of fragmentary styles and genres. There are many compelling creative opportunities to embody this kaleidoscopic reality in visual art, from Neo-Cubist spatial fragmentation, Modernist conflation of surface and depth, Post-Modernist marriage of disparate styles and iconography, to digital pixelation, to the playful deployment of literal, material fragments in collage and assemblage. Any artwork that addresses or involves fragmentation/hybridization/cross-fertilization is a potential prophet or embodiment of this brave new world.
Fragments is a juried exhibition held at Strata Gallery in Santa Fe, New Mexico. The exhibition will run from January 3 – January 21, 2023.
Prizes:
$200 – Best of Show (1)
$150 – Director's Choice (1)
$50 – Honorable Mention (2)
About Strata Gallery:
Strata Gallery is a non-profit, artist-member gallery with a mission that cultivates artistic discussion and educates the public about the work of contemporary established and emerging artists. Through our mentorship program, our established artists give our emerging artists direct guidance, feedback, and information as they learn to navigate their artistic practice. Through collaborations and discussions, Strata Gallery provides a venue that encourages artists to experiment and re-examine what art is and could be. Strata Gallery does not favor any distinct style and promotes a range of diverse and authentic individual expression through a varied material practice, imagery, style, and ethos independent of any commercial concern. Strata Gallery is located at 418 Cerrillos Road, Suite 1C, Santa Fe, New Mexico 87501.
About the Juror:
David Olivant is the President and co-founder of Strata Gallery. He was professor of painting for 25 years at CSU Stanislaus. His work has been featured in solo exhibitions in New Delhi, New York City, Chicago, Dusseldorf, Wuppertal, Fresno and San Bernardino. His recent bodies of work – Heteroglyphs and Retroglyphs address heterogeneity, as well as spatial and temporal fragmentation.
Selection Criteria Include:
Does the artwork comply with the submission requirements? Failure to follow submission requirements will result in immediate disqualification from consideration.
Uniqueness and originality
Visual impact
Demonstrated excellence of technique
Important Dates:
Exhibition Dates: January 3 – January 21, 2023
Reception Date: January 6, 2023, 5-8pm
Submission Deadline: November 1, 2022
Notification Date: December 1, 2022
Deadline for Loan Agreements: December 15, 2022
Work Delivery Deadline: December 20, 2022
Unsold works pickup/returned: January 21, 2023 (12pm-2pm)
Sales of Artwork
Each respective artist will handle the sale and shipping of any sold artwork included in the Fragments exhibition. Strata Gallery will collect contact information of all interested buyers and provide that information to the artist who will then execute the sale and shipping of their artwork. All sold artwork included in the Fragments exhibition will be subject to 20% commission which will be due to Strata Gallery.
Application Requirements:
All artwork must be ready to hang/display with the proper hardware (i.e., paintings framed with wire).
Media accepted: painting, drawing, sculpture, printmaking, photography, mixed media.
Dimensions: Wall mounted work max size is 40×40 inches (12 inches deep for wall mounted sculpture).
Max Weight: 25 lbs.
Submitted work must remain available for the duration of the exhibition.
No changes to information can be made once submitted.
Image Format Requirements:
Submit image in .jpg format.
Include the following annotations:
Artist's name
Title of Artwork
Date of completion
Medium/Media
Size in inches: Height x Width x Depth
Price of artwork
Submission Fee:
Submission Fee: $35 for first three submissions. $10 per additional submission (maximum of three additional submissions). Overall maximum of 6 submissions total.
Payment: card and PayPal only (through CallForEntry.org)
Eligibility:
Artists who work in the following media: painting, drawing, sculpture, printmaking, photography, mixed media.
4- Las Laguna Art Gallery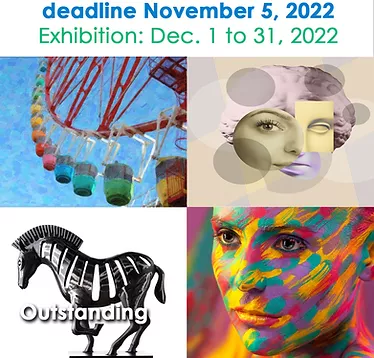 2022 – Outstanding
Outstanding: Open Theme / All Media
In Gallery + Online Exhibition
Deadline: November 5, 2022
Notification: November 11, 2022
Exhibition: December 1 to December 31, 2022
Artist Reception: December 1, 2022
Commission: 65% to the Artist
$35 for up to 3 images
​
Outstanding is an in-gallery and online
Open Theme/All Media Exhibition.
.
For this exhibition, we'd like to see your most outstanding artwork.

Acceptable mediums include: Acrylic, Airbrush, Bronze, Ceramic, Charcoal, Collage, Color Pencil, Computer Art, Digital Art, Digital Photography, Drawings, Encaustic, Fiber Arts, Glass Art, Graphite, Gouache, Illustration, Mixed Media, New Media, Oil, Pastel, Pen and Ink, Photo Assemblage, Printmaking, Sculpture, Traditional Photography, Video, or Watercolor.​

Note: All artists who submit to this show will be accepted and have at least one of their submitted works posted and promoted on our website and to our client list. A select number of artists will be chosen to send their work to the gallery for the in-person exhibition at our brick-and-mortar gallery in Laguna Beach, California.
5- LoosenArt Mag / Gallery Exhibition
VISIONS OF SOUND: Noises, Rhythms, and Acoustic Ambients
Call for Exhibition – Accepted media: Photography, Digital Visual Design, Video
Group Exhibition in Rome city, Italy. February 2023
FREE ENTRY Photographers, Visual Designers and Video Artists are invited to submit 1 up to 3 works addressing the theme.
The theme of this call plays on the overlapping and substitution of different registers and interchange among senses. How could sound be illustrated through photographic representation and digital media? How can two-dimensional visuality replace the fullness of harmonies, or even the sounds of the spaces we inhabit every day? This call is for all the photographers and digital artists who are interested in the documentation of sound through its iconographic, literal, symbolic, computerized representation, etc.
Deadline November 7th, 2022
6- Artist Network Art Competition
Fees
Early Bird Deadline | October 11, 2022
$30 for Artists Network Members and Non-Members
Final Deadline | November 15, 2022
$30 for Artists Network Members \ $45 for Non-Members
How to Enter
1. You will need to create a free Submittable account or sign in with Google or Facebook credentials in order to submit to these forms. 2. Fill out the Entry Form completely. This information will be reproduced exactly as submitted if you are selected as a winner. 3. Upload a single digital image. Once you have uploaded your image you will see a payment due. After you have filled out the proper information and uploaded your image, you may submit another entry or proceed to the checkout. There is no limit to the number of entries you may submit. You can save a draft of your work if you would like to finish filling out the form at a later date. Our platform works best on Google Chrome, Firefox, and Safari. Internet Explorer is not supported. Please make sure you are using a supported browser.
Deadlines and Notification
All early-bird entries must be submitted no later than October 11, 2022. Entries submitted after the early-bird deadline are subject to the regular entry fees of $45 per image for non-members and $30 for Artists Network Members.
The final deadline is November 15, 2022. Winners will be notified by email on or before January 31, 2023.
So this is the list of 5 international opportunities that you can apply to. And we are excited to tell you that we are exhibiting our virtual solo show with Lise Ellingsen on 1st November if you want to be part of it then you can RSVP on the link below and we can't wait to meet you.