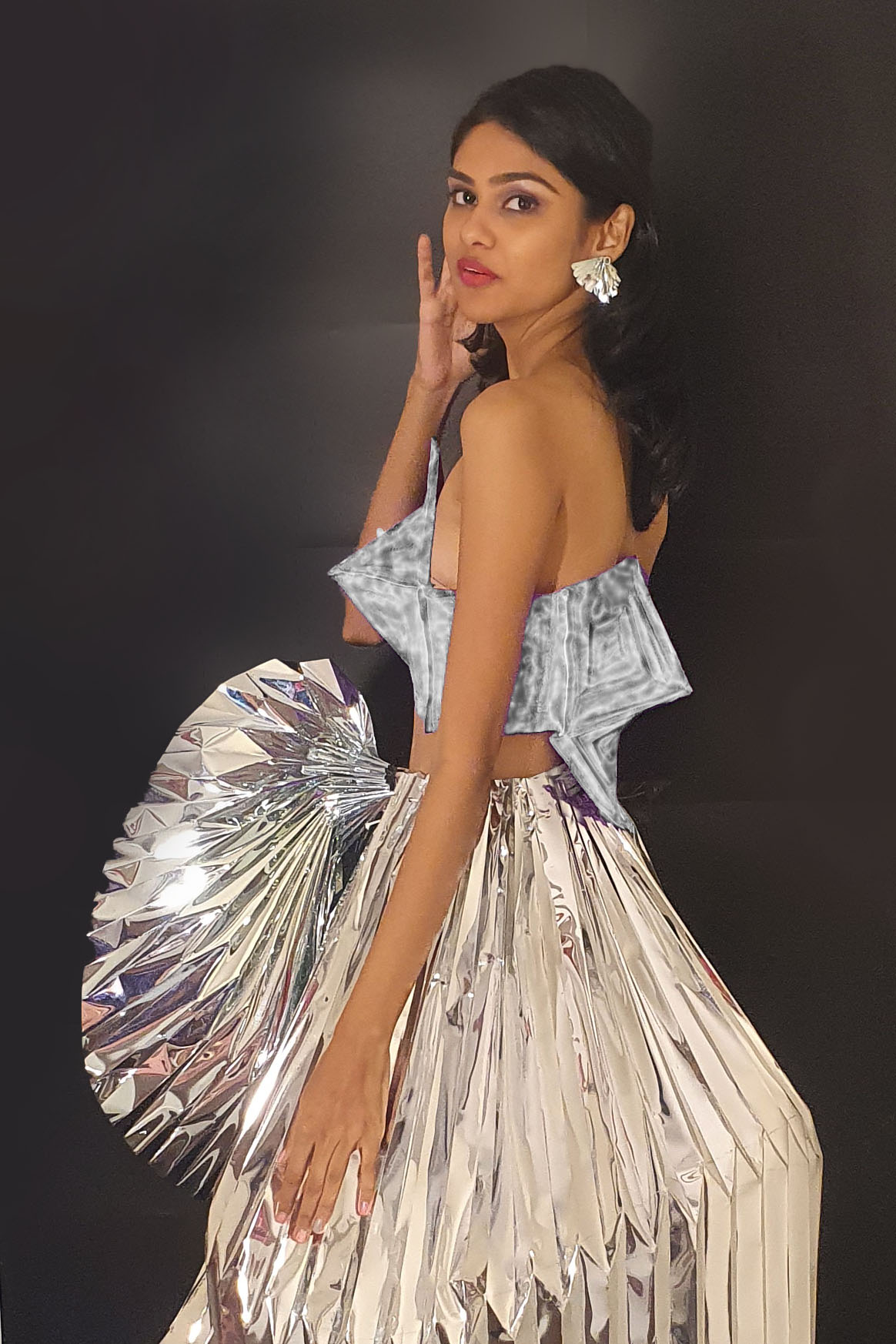 Piyusha Patwardhan
About the Artist
She is  an architect and a versatile artist. She has worked with oritecture as the Design lead, where they create light art installations/ sculptures. She also practice crochet as a medium to express her artistic vocation. She has exhibited her work in collaboration at a show parallel to the IAF 2022, titled "A Pilgrim's Progress." She has been commissioned by the Bangalore International airport for a sculpture on their premises. She has designed a backdrop set for a song for an upcoming Bollywood feature film titled "Jugg Jugg Jeeyo." Her art graced an event at the Raffles, Palm Jumeira, and Dubai Ain. She has also hosted workshops where she shared the joy of folding with the kids in various schools across Pune. She also took a public workshop at the Booth of Gallery Art Positive at the India Art Fair 2022.
Artist Statement
As a student, I learned the laws of aesthetics with crafting materials like paper, plastic, parchment leather, fabric, metal, thread, clay, POP, etc. My hands know several languages to express art like folding, cutting, pasting, quilling, molding, weaving, casting, knitting, crochet, embroidery, tailoring, cooking, etc. I have started directing these skills to demonstrate my artistic approach.
As an artist, geometry & tessellation influence my work strongly. I find semblance to intangible aspects like energy. I tend to use a lot of light in my art because I believe that it breathes life into a static sculpture of art. I visualize my work in proportion to architectural scale. I make sure that my artwork adds value to the space around it, transcending the viewer into an experience.
I believe art & craft have been an integral part of our culture & history. I want to update the artistic aesthetic of these crafts & give them a contemporary outlook. So that they are relevant to this constantly changing world. When my hands hold material and start crafting it, I attain a complete meditation state. I want to explore this process and research about its effects & benefits to mental health and allied subjects.
How do you interpret 'Ready to wear' in your work?
Evacuation routes and preparedness sirens and drills, Fire or Flood Jacket is ready to wear and provides me the opportunity to reflect on notions of home, adaptability, and perceptions of safety. Climate change extremes, longer fire seasons and rising waters are part of my conversation. Through this work I am reaching for security as a state of mind, being resourceful, adaptable and safe in my choices of insecurity. This is preparation and acceptance that goes beyond the disaster kit that may or may not be handy or within reach when danger presents itself.
Housedress explores whom I relate to in my community. Within this piece is my somber acknowledgement of the fact that I relate to and gravitate toward a community that I can never really be a part of. The house structures on Housedress, are similar to shantytowns with shared walls and barely held together roofs. I relate to these structures in part because they exist via a resourcefulness that is not visible in other communities. I feel connected to this community, yet will always be separate. Like the clothing I wear, I am of it, but not truly. Housedress is wearable, part of me for a brief moment. I can be in it and of it and it can provide a temporary sense of shelter and belonging. Within this work is the search for my community and my yearning to belong.
Mattress Poncho is an exaggerated in size and shape hooded poncho sewn using the fabric from discarded street-side, woods-found mattresses. Visible on the piece is the wear-and-tear, various stains and moments of repair. It is quilted, thick, heavy and doublesided. Mattress Poncho becomes a garment, a wearable bed of sorts. The performative aspect of this work, a full series, involves spending time on and at many sites of discarded mattresses found at various locations. Mattress Poncho and mattress/site merge together to some extent via materials, and inserts the body back into these vacant liminal spaces.