Do you know how to use Pinterest for your art business? Do you know you can sell art on Pinterest?
If you are an artist, you know that promoting your work can be a full-time job. You may have a website or blog to showcase your art, but what about getting your work in front of potential buyers?
Pinterest can be a powerful tool to help you sell your art, but you need to know how to use it effectively. In this ultimate guide, we will show you how to use Pinterest to sell your art. We will cover everything from creating a Pinterest account and creating boards to promoting your art pins. By the end of this guide, you will have everything you need to know about how to start selling art on Pinterest and how to promote your art on Pinterest.
What is Pinterest?
Pinterest is a visual discovery engine for finding ideas like recipes, home and style inspiration, and more.
With billions of Pins on Pinterest, you'll always find ideas to spark inspiration. When you discover Pins you love, save them to boards to keep your thoughts organized and easy to find. You can also create Pins to share your ideas with other people on Pinterest.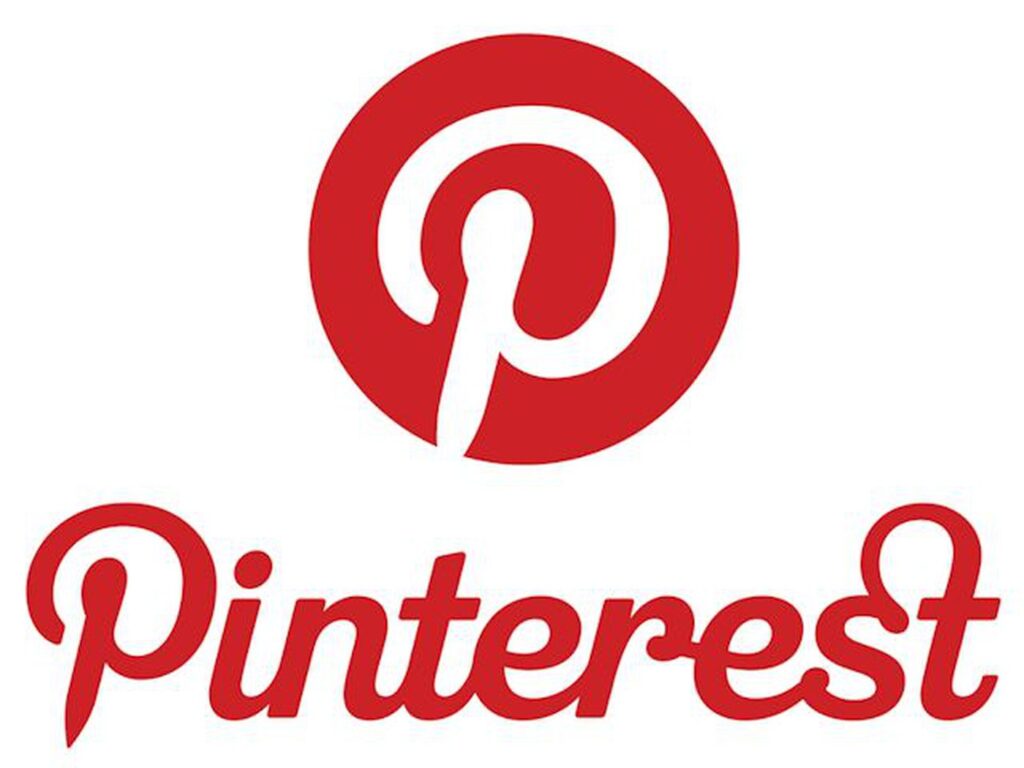 Basic Pinterest Terminology
Pins: Pinterest content is called "pins," and each pin is essentially a unique piece of visual inspiration. When you click on a pin, it leads back to a website.
Pincodes: Identical to QR codes in function, Pincodes allow users to quickly and easily access your organization's carefully chosen boards and profile on Pinterest. Inputting the code will direct the user to the boards you've recommended.
Pinners: Pinterest users, or "pinners," are referred to on the social media platform.
Boards: Like virtual bulletin boards or visual bookmarks, boards are a way to categorize and display your pins.
Group Boards: In contrast to personal boards, which are shared among all group members, group boards are the property of a single user. Those in charge of the company can expand its advisory board by inviting additional users to join. To join a shared board, you must first be requested by the board's creator.
Archive Boards: Forums that have fallen out of usage can be archived if their existence is to be preserved. Your activity on boards that have been archived will no longer be displayed on your profile, and you will no longer receive recommendations about those boards.
Feed: Like a Facebook or Twitter feed, your Pinterest "Feed" will display a collection of pins shared by people you've chosen to follow or by Pinterest itself.
Hashtags: Similar to how they function on other social media sites like Instagram, Pinterest hashtags help other users locate your pins and the information they're looking for more quickly.
Lens: Lens is a function in the Pinterest app that leverages your phone's camera to provide you with suggested pins. By taking a picture of an outfit, for instance, it can suggest others like it.
Comments: Discuss the pins of other people.
Save: You can save, share, or conceal a pin by right-clicking on it. You can save something by pinning it to a board.
Sending Pins: Using the private messaging feature, you can send pins to other Pinterest users or people who aren't even on Pinterest.
Tagging: To "tag" another person, simply type their username followed by a @ sign.
Messages: Pinterest lets you privately message other users.
6 Reasons Why Every Artist Should Use Pinterest for Their Art Business
Every creative person should sign up for Pinterest and use it frequently. Due to Pinterest's emphasis on visual content, all artists now have access to a new and crucial distribution channel.
Pinterest is useful for creatives because it provides a venue for showcasing their work and the numerous other ways it can be put to good use. Listed below are just a few of the many, many ways in which I think Pinterest would benefit any creative endeavor and why I think every artist should sign up for an account.
Listed below are just a few of the many ways I think Pinterest would benefit any creative endeavor and why I think every artist should use Pinterest for their art business.
1- Pinterest, Doesn't Cost a Dime
As a primary benefit, Pinterest costs nothing. You'll only be out of your time if you want to create a Pinterest account. You read that correctly; there is zero cost to you.
Simply visit Pinterest.com to begin the quick and simple sign-up procedure. Consider using your name when creating your work while signing up for your art. Our Arts To Hearts Project has a similar name for its Pinterest account. Click here to see an example of our Pinterest account if you're interested.
2- Pinterest requires minimal setup time
It's easy to get started with Pinterest. To personalize your Pinterest experience, the platform will inquire about your interests during account creation. After you've decided on them, you may go ahead and make your own boards.
Pinterest boards can be compared to traditional bulletin boards. Do you recall the days of the old school bulletin boards where we tacked up things that inspired us or served as reminders? So, Pinterest is just a modern variant of an online corkboard.
The term "pin" describes any image or file uploaded to Pinterest. Keep track of things that spark creativity by pinning them to your boards. You can think of it as pinning things to a virtual bulletin board, only that the pins are digital rather than physical.
When you're ready to use Pinterest professionally, head to your account's settings page and switch to the "Business Profile" option. With a business account, you may connect Pinterest to other online stores like Instagram, Etsy, YouTube, and your website. And if you don't have your business account, don't worry; we have covered you. Just keep on reading.
3- Pinterest Boards Are Unrestricted
The best thing about Pinterest is that there is no cap on the number of pins you can add to a board. You are not restricted to a specific number of boards or pins. Pins and boards can be as many or as few as you like. The only real constraints on Pinterest are time and creativity.
Pinterest recommends starting with 10 boards and 10 pins per board. Therefore, your board won't be completely empty. Even though it looks like a lot, pinning and searching for pins on Pinterest are quite easy tasks. Simply look for things that catch your eye and start pinning away. If you have 10 boards, each with 10 pins, it shouldn't take you more than 15-30 minutes to nail everything.
4- An Excellent Creative Fueling Station
The fact that it is supposed to serve as a source of inspiration is one of Pinterest's finest features. This is fundamental to the mission of this online community. And what kind of artist doesn't occasionally need a spark of imagination? Many people, I'm sure, would agree with that statement.
For instance, Pinterest will offer you many pictures of breathtaking scenery if you want to paint a landscape. If you just want to view photographs of mountains or forests, you can use the tabs at the top of the page to tell Pinterest to narrow its results.
This is an excellent approach to getting creative motivation. Pinterest can serve as a visual search engine, leading you to images that can be used as inspiration for your painting or other creative endeavors.
5- Pinterest displays your creative work
In a nutshell, Pinterest is a great place to display your creative works.
You may use Pinterest as a platform and a tool to get your work out to a broader audience, just as others can use it to locate visual stuff.
Pinterest lets you create your own pinboards. This implies that you can generate a pin from a picture of a painting or other creation you have posted on your website. Once others discover your pin, they can add it to their own boards. In addition, customers can click on the pin to visit your website if they're interested.
Pinterest is yet additional channel via which your work can be discovered. However, unlike a standard Google search, Pinterest is focused entirely on visual pins. So, first, people will come across your work and then, second, they can visit your website via the pin you've placed. It's an excellent method for others to discover you and your work, giving you more opportunities to show your talents.
6- Pinterest connects you to a broader audience
Since Pinterest is a social networking platform, connecting with others is paramount. Like on Facebook and Instagram, this implies that users can follow you, and you can follow others.
You should strive to attract more followers in the same way these accounts do by following and being followed by a large number of people.
Because of the abundance of social media platforms, many creatives and artists miss Pinterest and everything it offers. Pinterest, however, is the most effective social media platform for increasing website traffic. It's a great way to get your art seen by more people. For this reason, creatives need to have an active presence on Pinterest to grow their art business.
How to Create a Pinterest Business Account For Your Art Business
Visit Pinterest.com/business/create
Artists who are already logged into their accounts must exit their profiles and log in with their business email and password. Having a separate, professional email address for this purpose is recommended. To start, select "create an account."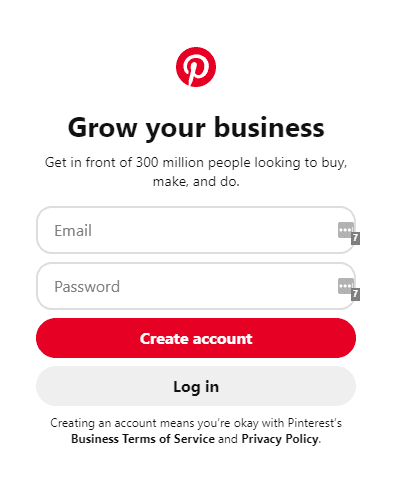 Pick a locale and language, and then type in your company's name.
You can add a link to your website and choose the description that best describes your company.
Third, link all of your various social media accounts.
You can have pins from other social media sites, such as Instagram, Etsy, or YouTube, credited to your business on Pinterest and have access to metrics for those accounts.
Decide if you need to run Pinterest ads.
You can also provide your contact information so a Pinterest advertisements representative can contact you if you'd like to change your mind later.
Create a profile on Pinterest by uploading a profile photo, selecting a unique username, and writing an overview of your company. Your profile photo should be 150×165 pixels in size, and you should use relevant keywords in your about section.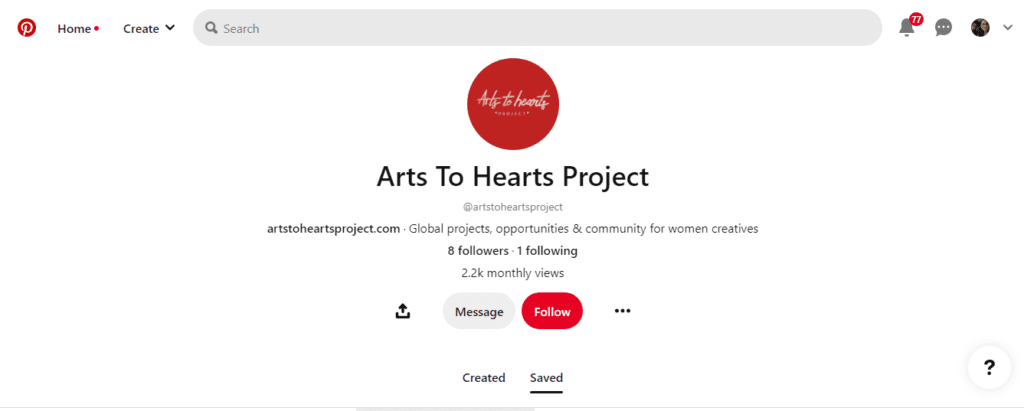 Take ownership of your website statistics.
Select "claim" from the list of options on the left. As a result, you'll be able to monitor data from visitors to your site and people who click on any of your claimed accounts' pins.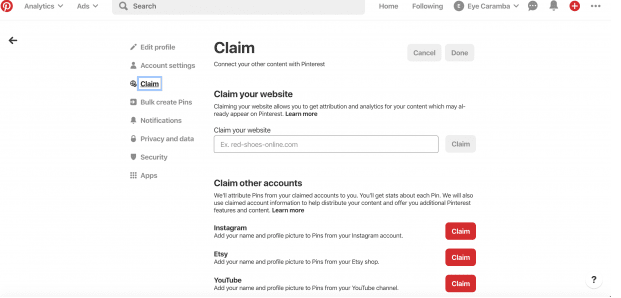 Get to work on your projects and pins.
Now that your account is set up, you can begin making boards and adding pins.
Besides this, if you don't have you professional website, you can see our article How to build your own artist website here.
Tips for making boards, pinning content, and following other users
To make a new board, either go to your profile and select the Create Board option or use the Save Pin menu. After making a few boards, you can upload pins in several methods. One option is to navigate to the board you'd like to pin to and click the button labeled "Add a pin." Then, make a pin according to the instructions. The plus sign (+) next to the search bar takes you directly to the Add a Pin button at the top of your feed. Pin everything you see on any website with the help of a Chrome extension that you can install in seconds.
Using your phone's camera to browse for inspiration on Pinterest's mobile app is now possible. Launch the app and direct the camera to the subject of your interest. When you ask the app for similar pins, it will come back with ideas. The company claims that, at the moment, these features work best when applied to interior design, fashion, and cuisine.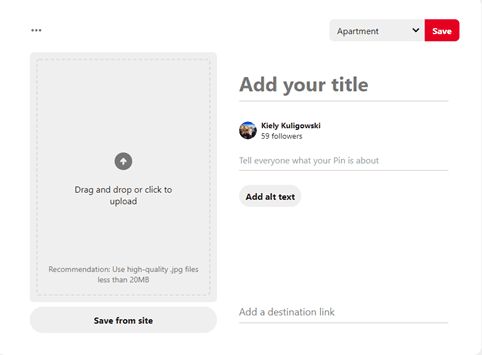 Tips on how to promote your art on Pinterest
Make pinboards that have keyword-rich titles and descriptions.
Make pin-worthy pictures that accurately portray the board's subject
Ensure the pin's title and description contain relevant keywords and adequately describe its contents.
Please include a link to the page you want the reader to view.
Some Artists' Pinterest Boards Examples:
New Art
Works of Art Bought and Sold
Freshly Printed Materials
Merchandise
My Art Process
For the Artistic and Commercial World
My Art Business
Favorite Artworks
Art Inspiration
Tags to use on Pinterest to sell art
#artsale #art #artist #artwork #artforsale #painting #contemporaryart #artgallery #artistsonpinterest #abstractart #artoftheday #artcollector #fineart #sale #buyart #acrylicpainting #gallery #modernart #instaart #abstract #homedecor #interiordesign #originalart #drawing #artlovers #arte #artforsalebyartist #artsy #arts #illustration #newart #smallbusiness #supportsmallbusiness #artistlove
We hope this post has provided you with a deeper understanding of Pinterest. However, direct messages (DMs) and emails are always open if you have further inquiries. You can email us at [email protected], and we would be more than pleased to help you.
So now I will take your leave and return with another helpful article. Have a great week until then, and never stop creating the magic that you do.
Also, we're pleased to announce that we have launched some unique products that every artist must have. If you're interested in viewing it, please use the button below. Have a wonderful day! And with that, I bid you adieu.