1- Arts To Hearts Project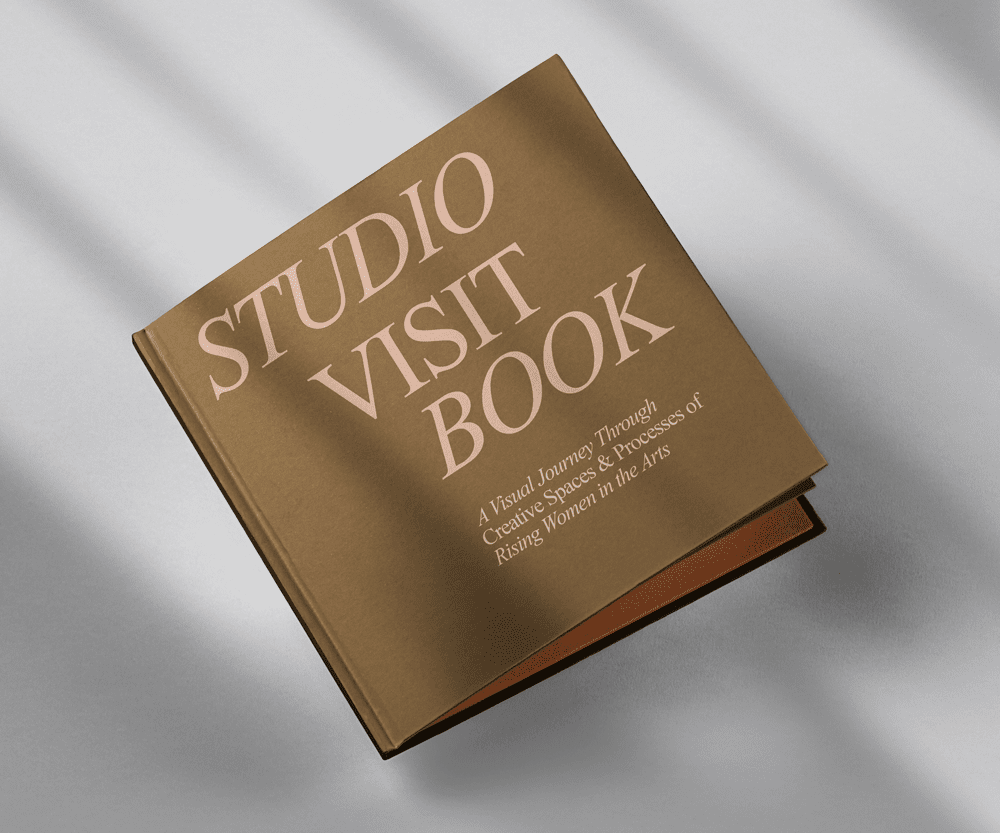 Arts to Hearts Project is delighted to welcome talented visual artists, particularly emerging and contemporary women, to share their artwork with us in our "Studio Visit Book-A visual Journey Through Creative Spaces and Processes of Rising Women in the Arts". This juried call for art is your opportunity to showcase your artwork in a first-of-its-kind publication designed to bring the studio visit experience to life. Our goal is to provide an intimate glimpse into the culture, lives, and studio practices of the featured artists and create a lasting resource that celebrates the talent and dedication of visual artists around the world.
We are now accepting submissions from 10th of January that represent the unique experience of a studio visit – works that reflect the creative diversity and intensity of developing and established female artists. Your artwork should be substantial and dynamic, exhibiting the thoughtful exploration and captivating beauty of the creative process. We are eager to see pieces that illustrate the artist's vision, focus, and passion, and to celebrate the artistry of emerging and contemporary women around the world.
It is an honor to be a part of this project and we thank you for your interest and participation. We are confident that this will be an inspiring publication for all who view it.
Create! Magazine
Create! Magazine Is Thrilled To Invite Visual Artists To Submit Their Work To A Juried International Virtual Exhibition Curated by Charuka Arora, Victoria J. Fry and Mona Lerch.
Theme: Alchemy
Alchemy
al·che·my
: a power or process that changes or transforms something in a mysterious or impressive way
Create! Magazine is pleased to announce an open call for a virtual group exhibition open to all artists exploring change or transformation in their work. This theme is open to interpretation and can explore literal or metaphorical ideas of alchemy. All media will be considered.
About Our Guest Curators
Charuka Arora, Artist and Founder of Arts to Hearts Project
Charuka Arora is an Internationally recognized artist known for her hand crafted Indian embellished collages & paintings.
And, currently works from Delhi and Agra, India. Since 2016 she has been experimenting with Indian textiles, embellishments, images & surface embroideries. She has been exhibiting her work both locally and internationally.
 She has been featured in multiple blogs and publications, including Create Magazine!, CandyFloss magazine, Fad Magazine, The Jealous Curator, Indian Artists Book of Colour to name a few.
Charuka is also the founder & creator of an art publication & community, Arts To Hearts Project, which is a global creative community uniting women artists & helping them build financially successful, fulfilling careers via learning, collaboration, community & networking.
Victoria J. Fry, Artist and Founder of Visionary Art Collective
is a New York City-based painter, educator, curator, and the founder of Visionary Art Collective. Born in England, Victoria lived in Singapore as a child before moving to the United States. The formative years spent in the English countryside continue to have a deep impact on the paintings she creates today.
In her work, Victoria focuses on landscape as it relates to place and memory. Her paintings have been featured in numerous publications, including Create! Magazine, Vanity Fair UK, Art Reveal Magazine, and Pif Magazine amongst others.
Additionally, Victoria has been a guest speaker for the Women's Caucus of Art, Photo Trouvée Magazine, Art Queens Society, and Huron River Art Collective. She has curated exhibitions for Visionary Art Collective, Arts to Hearts Project, and recently served as a juror for Women's United Art Prize.
Victoria obtained her BFA from the School of Visual Arts in 2012 and her MAT from Maine College of Art in 2014. Upon graduating, Victoria moved to California for five years to continue her career as a painter and educator. After living in the Bay Area of San Francisco and Los Angeles, she is now thrilled to be living back in New York City with her fiancé and their cat, Jupiter.
Mona Lerch, Artist, Curator and Founder of Art Mums United and Women United Art Movement
MONA LERCH is a contemporary mixed media visual artist and entrepreneur residing in Brno, Czech Republic. In 2020, she began working towards creating a safe space for women artists to empower them in their journeys and increase their visibility through diverse art opportunities. Amid the world pandemic, she launched an international online platform Art Mums United dedicated to supporting other artist mothers and caregivers, and later Women United ART MOVEMENT.
In addition to organizing solo and group exhibits, Mona also coaches artists through her monthly membership, 1:1 sessions and online programs. She is the host of Women United Art Podcast and Editor In Chief of Women United Art Magazine, a quarterly publication that highlights extraordinary artists, inspiring industry leaders and remarkable art organizations.
About Create! Magazine
Create! Magazine was originally published in 2013 out of the need for emerging artists to showcase their work. Through collaborations with leading galleries, art fairs, curators, and art world professionals, we have grown into a powerful platform that is deeply committed to supporting emerging artists on their path to success and helping them achieve greater visibility in the art world.
*Please note that there is a curatorial fee that goes towards supporting our community and helping provide opportunities for artists, writers, and curators. If you are unable to pay at this time, we understand and urge you to apply to our blog instead. Remember that you may always submit to our blog for free using the form found on Submittable.
ELIGIBILITY: Artists from any country are welcome to apply with works in any medium: painting, sculpture, digital, printmaking, fiber, photography, mixed media, installation, and more. The broad theme, "Alchemy" is open to the artist's interpretation. Alchemy can be literal or metaphorical. Please note that 3-d work or movie stills will be displayed in a virtual 2-d gallery space if selected.
REQUIREMENTS:
Artists may submit up to 10 individual (different artworks) pieces of work for consideration.
Artists must ensure high quality of images, and we recommend 300 dpi jpeg.
Artwork images and bio must be uploaded directly to the form below.
Bio and statement must be under 300 words each.
Artwork does not have to be for sale.
IMPORTANT DATES:
Entry Deadline: February 7, 2023
All artists will be notified of the curator's final decisions by March 30, 2023. If your work is selected, you will receive further information at that time. All selected work will be on display online in the spring 2023, details TBA.
SUBMISSION INFORMATION:
Submission fee is $35 (non-refundable)
The limit of submitted artworks is 10
Bio word limit 300 Statement word limit 300
AGREEMENT:  Create! Magazine reserves the right to use images of the artwork on their website and social media. By submitting artwork via this call, the artist agrees to the terms outlined above. Artist retains full copyright of the work. Images will not be used by Create! Magazine aside from the exhibition, interviews, and social media posts without the artists consent.
3- 46th International Watermedia Exhibition
Call Type: Exhibitions
Eligibility: International
State: Texas
Fee: $40.00 (Entry fee for first piece 45th International Watermedia Exhibition)
Entry Deadline: 1/13/23
Event Dates: 3/7/23 – 3/30/23
The 46th Annual International Watermedia Exhibition (IWE) is Houston's premier watermedia event, showcasing the excellence of artists from around the world in a gallery exhibit held in Houston's popular Museum District. In March 2023, entries selected by widely sought-after exhibit juror and judge, Brenda Swenson, will receive maximal exposure in a month-long gallery exhibit as well as an online exhibit that will last through the end of the year. Additionally, participants have opportunity to win awards totaling more than $10,000.
Founded in 1975, the Watercolor Art Society – Houston (WAS-H) is the only watermedia nonprofit in Houston and is known for presenting exceptional monthly exhibits, supporting dedicated community outreach and offering a vast array of educational programs taught by world-class instructors.
4- 15th Annual Celebration of Art
Call Type: Exhibitions
Eligibility: International
State: Arizona
Fee: $45.00 (15th Annual Grand Canyon Celebration of Art)
Entry Deadline: 1/14/23
Days remaining to deadline: 11
Event Dates: 9/9/23 – 1/16/24
Celebration of Art at Grand Canyon National Park is a wonderful tradition and annual event that includes a week of plein air activity, an online auction, and a public opening that debuts a four-month-long exhibition and sale of participating artists' work.
The event provides a vibrant experience for visitors, a venue for artists inspired by the canyon, and a successful fundraiser to benefit a dedicated art venue at the park. 
5- Un-Loveable – Juried Competition and Group Exhibition
Call Type: Competitions
Eligibility: International
State: California
Fee: $25.00 (Entry Fee)
Entry Deadline: 1/15/23
Days remaining to deadline: 12
Un-Loveable

This is an Open Call to ALL THEMES, MEDIUMS and artists from ALL LOCATIONS.

Cutting edge Hermosa Beach gallery is looking for the best working artists to feature in an upcoming group exhibition at ShockBoxx Gallery in February of 2023, just in time for Valentine's Day. The top artist submissions will win a Cash Prize, as well as receiving Featured Wall Space in the exhibition. Since the call is wide open, we leave it up to you to choose your very best artwork to submit to this Juried Competition and Group Show. That's right, anything goes. Submit only the work that you like best.
Artworks will be judged based on creativity, originality, quality of work, composition, and overall artistic ability.
Competition will also be featured on ARTSY.
Cash Prizes to top three pieces selected by jury.

Jurors: To Be Announced.

ENTRY DEADLINE: Submit until January 15th, 2023.