If you are a fan of visionary and modern art that pushes the boundaries of creativity, you're in for a treat! Imagine stepping into a room wrapped in mesmerizing lights, an infinity of mirrors, or a whirl of fascinating words. Yes, you're welcome to the world of installation art, where artists transform entire spaces into captivating 3D works of art. It's like walking straight into an artist's imagination! A place where every corner whispers a new story.
Installation art isn't just hanging a painting on a wall or displaying a sculpture. It's about creating an environment that pulls you in and doesn't just let you view the art but makes you a part of it. It's a unique and exciting field, full of possibilities and free from the constraints of more traditional art forms.
So, in this week's "Women in Arts" series, we take you into the vibrant and immersive world of 5 wonderful female installation art artists. They've broken through the traditional barriers of the art world and shaped new perspectives through their innovative and insightful art. So, let's step into their artistic world and experience incredible things without further ado.
Alexis Neumann – Crafting Stunning Creations in Installation Art
Few artists bring visions to life in a world where art intertwines with everyday life. And one such artist is Alexis Neumann. She is an installation art artist from the Pacific Northwest. Alexis creates art that explores the complex aspects of being human using materials like light, medical imagery, copper, see-through, or reflective materials.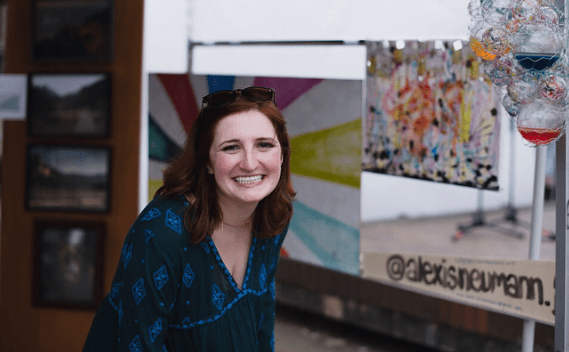 Alexis currently lives in Portland, Oregon. Her art focuses on celebrating the connections and balance within the human body. She does this by using elements related to our neural and biological systems. Alexis also explores themes of strength and the metaphysical using sound, light, vibrations, and various materials. So, let's explore her creative and magical installation art world!
A Style That Speaks Volumes
One of the notable things of Alexis' artistic approach is her integration of diverse academic disciplines. She engages with fields such as Disability Studies, Intersectionality, Theology, and Cultural Studies to inform her artistic concepts. By doing so, Alexis brings a unique view to her exploration of the human condition.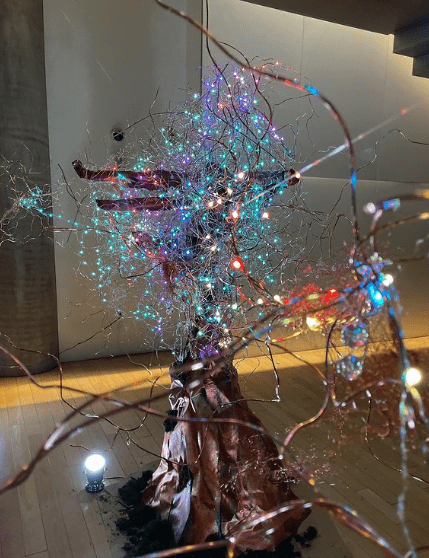 She uses various materials and techniques to create thought-provoking and visually striking artwork in her installation art. She often includes light, bio-medical imagery, copper, rainbowy, transparent, and reflective materials. These choices add depth and visual interest to her pieces, allowing viewers to engage with her work on multiple levels.
Emotional Evolution
Art evolves as an artist grows, and Alexis' work is no exception. It is worth mentioning that she lived with multiple invisible illnesses, including Ehlers-Danlos Syndrome and mental illness. So, this personal experience informs and influences her work, adding a layer of realism and empathy to her artistic expressions.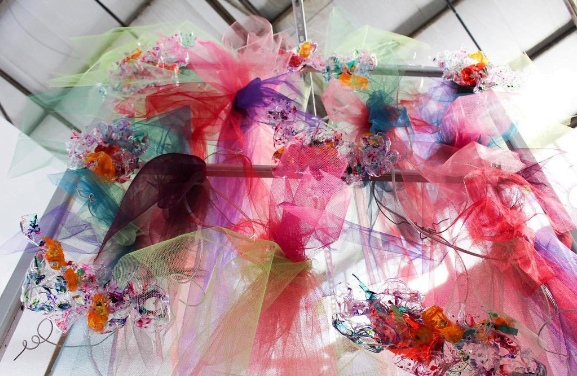 Overall, Alexis' artistry displays a deep exploration of the human condition, inviting viewers to reflect on their existence and the complexities of life. Through her installation art, she creates spaces where the profound beauty and fragility of the human experience can be mulled and celebrated.
Also! Alexis' installations often contain sound, light, vibration, and carefully selected materials to create immersive experiences that resonate with viewers.
A Look at Her Latest Creations
Alex Neumann's creativity knows no bounds. And her latest pieces prove that. So, if you're looking for an artist who can inspire, challenge, and make you see the world differently, look no further than Alexis Neumann. Her art proves the power of creativity and the human spirit and will leave a lasting impression on anyone who sees it.
So go ahead and explore her work on Instagram and the Website!
Yayoi Kusama – An Exploration of the Infinite Creation of Polka Dots
Yayoi Kusama is a Japanese artist known for creating enchanting environments that dissolve the boundaries between the viewer and the artwork. She is a virtual portal to her infinite installation art creation of polka dots, pumpkins, and mirror rooms.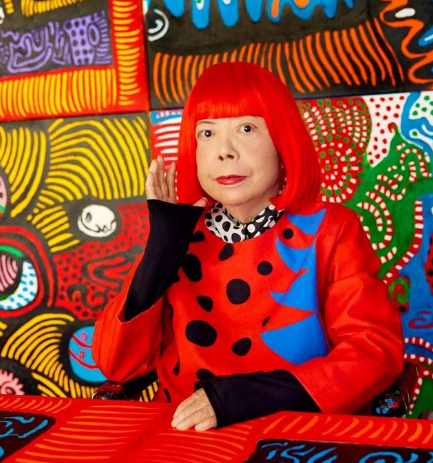 Born in 1929 in Matsumoto, Japan, Yayoi Kusama began her artistic journey with a traditional Japanese upbringing. Early exposure to the patterns and textiles of her family's plant nursery business and the painful visions she experienced due to mental health issues led Kusama to develop a unique artistic style. It is indicated by repetition, infinity, and the indelible polka dot.
A Journey Towards Infinity
Kusama's artistic exploration led her to a fascination with the concept of "infinity." She began to express this through her Infinity Mirror Rooms. It's a series of installation art designed to create an illusion of a limitless universe. Stepping into these installations is like stepping into another dimension. It is like one place where infinite reflections of lights or polka dots extend in all directions.
The Realm of Polka Dots
Kusama's obsession with polka dots is another dominant theme in her work. From her canvas paintings to expansive installations, she often uses these dots to cover objects, rooms, and even people. It blurs the boundaries between the artwork and the viewer. This engaging tack to art transforms ordinary spaces into vibrant, sensory experiences that challenge perceptions of self and space.
A Long-lasting Impact
Yayoi Kusama's artistry extends beyond her canvas, infinity mirror rooms, and installations. It's a celebration of uniqueness, an exploration of the human mind, and a commentary on the infinite nature of this world. Her work continues to inspire and influence artists and art buffs worldwide.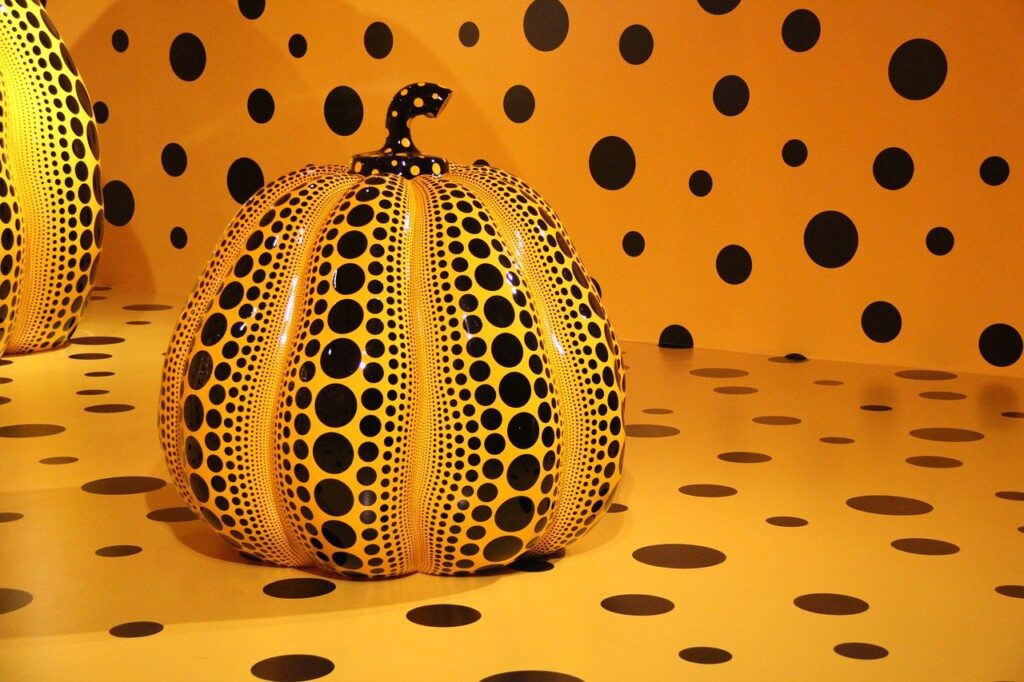 Her Instagram account serves as a digital gallery of her work. It gives us a glimpse into her fascinating world of dots, mirrors, and infinite spaces. Each post proves her enduring influence on modern art and the seamless fusion of her art with the digital land.
Sophia Sobers – Creating Space and Identity with Her Installation Art
Sophia Sobers is an accomplished installation artist whose captivating work pushes space boundaries and challenges our idea of reality. Through her unique installations, she invites viewers to delve into a world where physical and conceptual boundaries connect.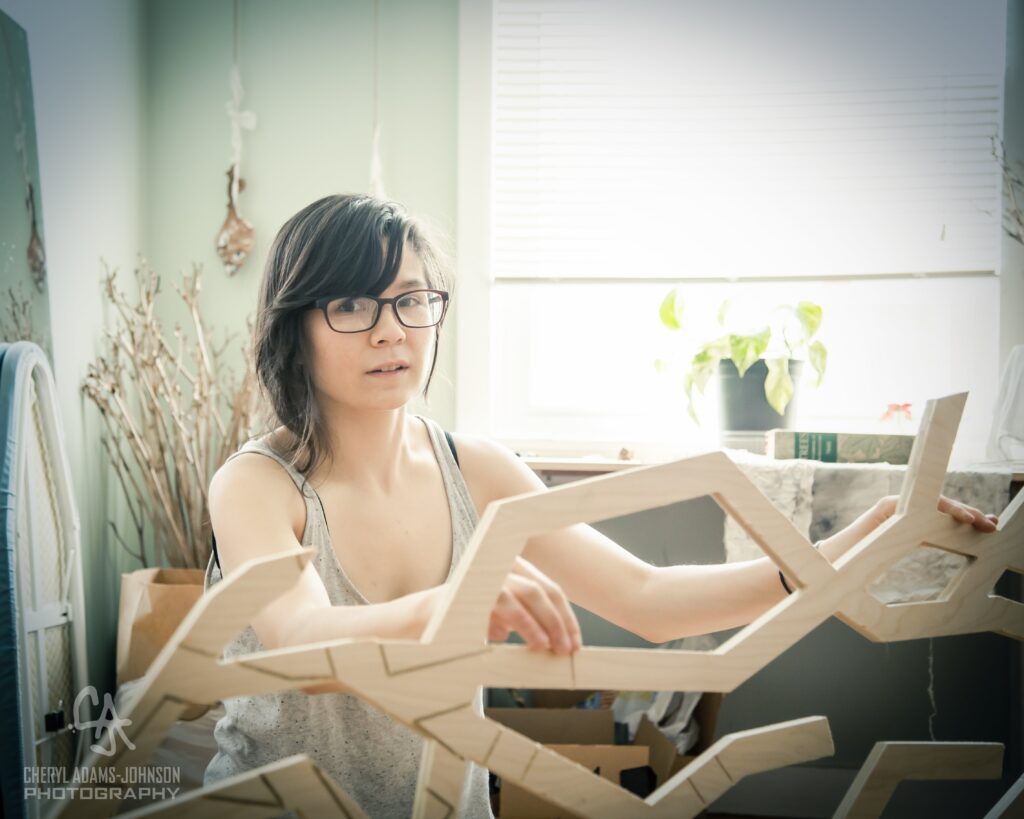 Let's step into her world of beautiful installation art!
Blurring Boundaries and Innovating Spaces
Sobers uses her artistic practice to transform ordinary spaces into extraordinary realms. Her installations often involve strategically placing objects, manipulating light, and incorporating multisensory elements. By blurring the lines between art and environment, she creates an immersive experience that envelops the viewer and encourages a new understanding of their space.
A Journey of Self-Discovery
Identity is a central theme in Sobers' work. She explores how personal and collective identities are shaped by our surroundings and the spaces we occupy. Through her installation art, she invites viewers to reflect on their sense of self and the influences that shape their identities, creating a thought-provoking and reflective experience.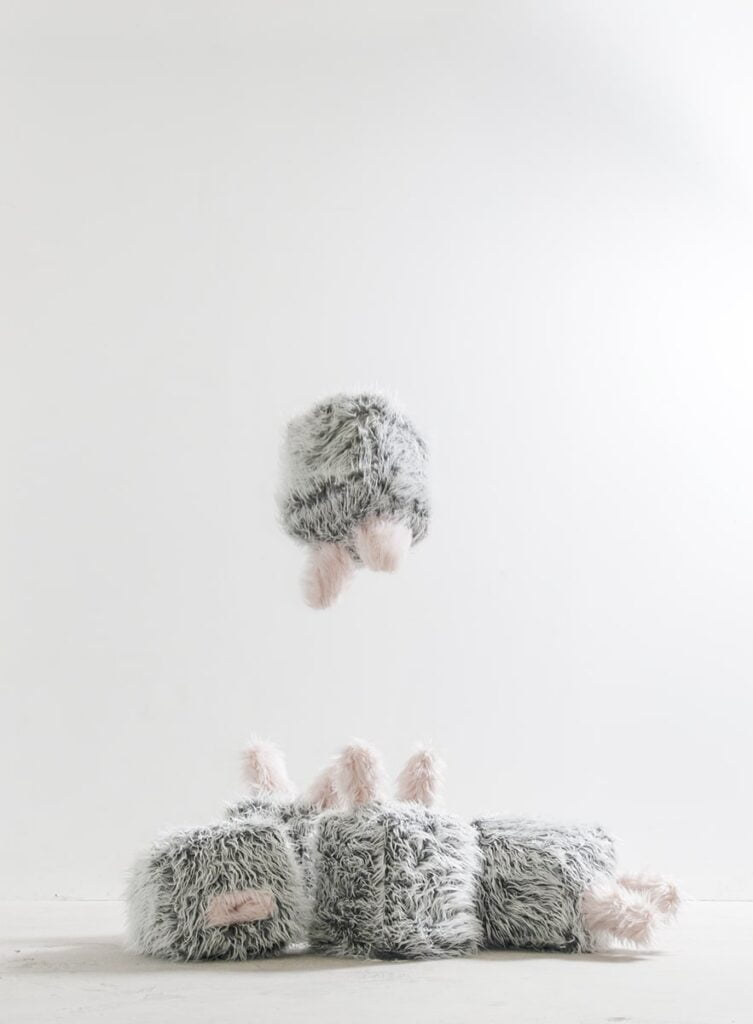 Layering Meaning and Symbolism
Sobers' installations are infused with layers of meaning and symbolism. Each piece, be it objects, textures, or colors, is thoughtfully selected to convey specific concepts or emotions. These elements' careful arrangement and interplay create narratives that prompt viewers to engage with the installations intellectually.
Community engagement is a main aspect of Sobers' artistic practice. She often works with local communities, inviting them to contribute to her installations or to participate in interactive elements. Through these collaborations, Sophia creates a sense of shared ownership and fosters participant connections.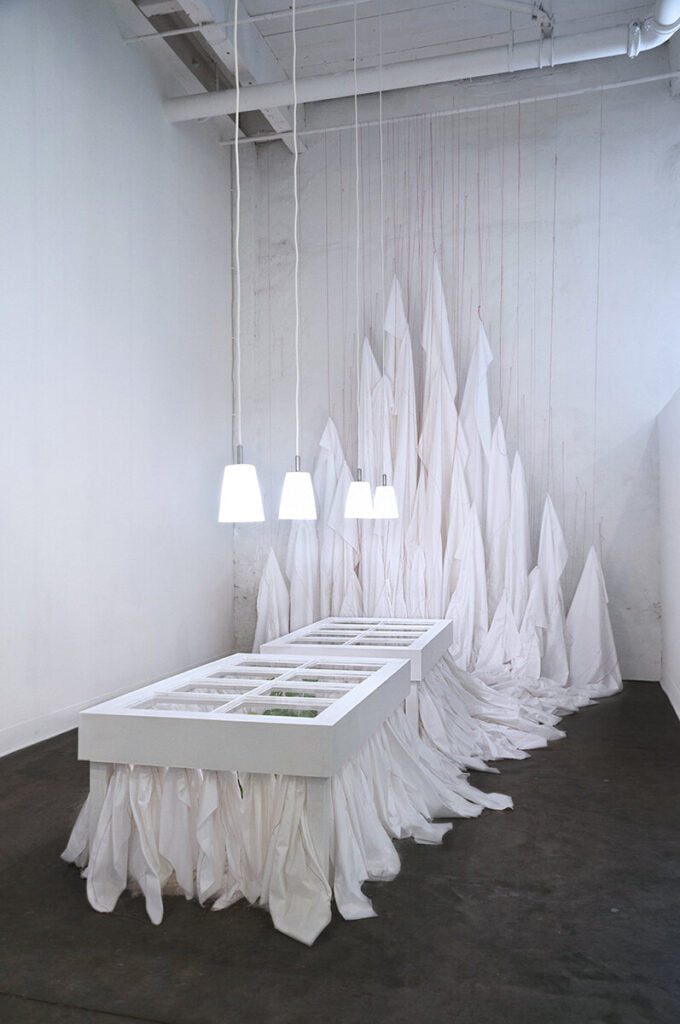 Her thought-provoking installations have been exhibited in galleries and art spaces, capturing the attention of art lovers and critics alike. Sobers' work continues to evolve, consistently pushing the boundaries of installation art and challenging how we perceive and engage with our surroundings.
Follow Sophia Sober on her Instagram and visit her Website if you want to know more about her!
Rebecca Louise Law – Forming Beauty of Nature Through Floral Installations
Rebecca Louise Law is one of the renowned installation art artists that gives the most beautiful floral displays, enchanting viewers with her installation art. From a young age, she was drawn to the natural world, captivated by the fleeting beauty of flowers. And this deep love for nature ultimately shaped her artistic path and drove her toward creating immersive installations that glorify the wonder of floral life.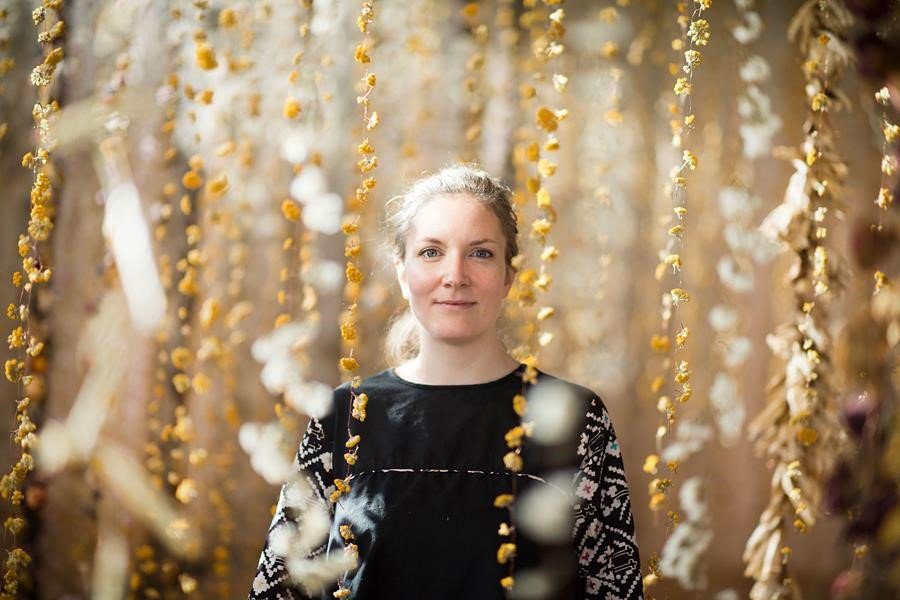 Keep reading as we head towards her beautiful floral installation art journey!
The Art of Floral Installations
Rebecca's unique artistic medium is the use of real flowers as a primary part of her installations. She delicately weaves together blooms and leaves and hangs them from ceilings, allowing them to drape and flow throughout the space. By manipulating these organic elements, she creates captivating environments that charm viewers into ethereal and immersive worlds.
A defining aspect of Rebecca's work is her exploration of the relationship between preservation and decay. Rather than allowing the flowers to wilt away and fade, she delicately dries and preserves them. In that way, she ensures that the installations maintain their beauty and fragrance over time.
The Connection of Art and Nature
Rebecca Louise's installations serve as a harmonious fusion of art and nature. It offers us an opportunity to reflect on the timeless beauty that exists within the natural world. Through her delicate arrangements and use of space, she evokes a sense of peace and invites us to reflect on the bond between humans and nature.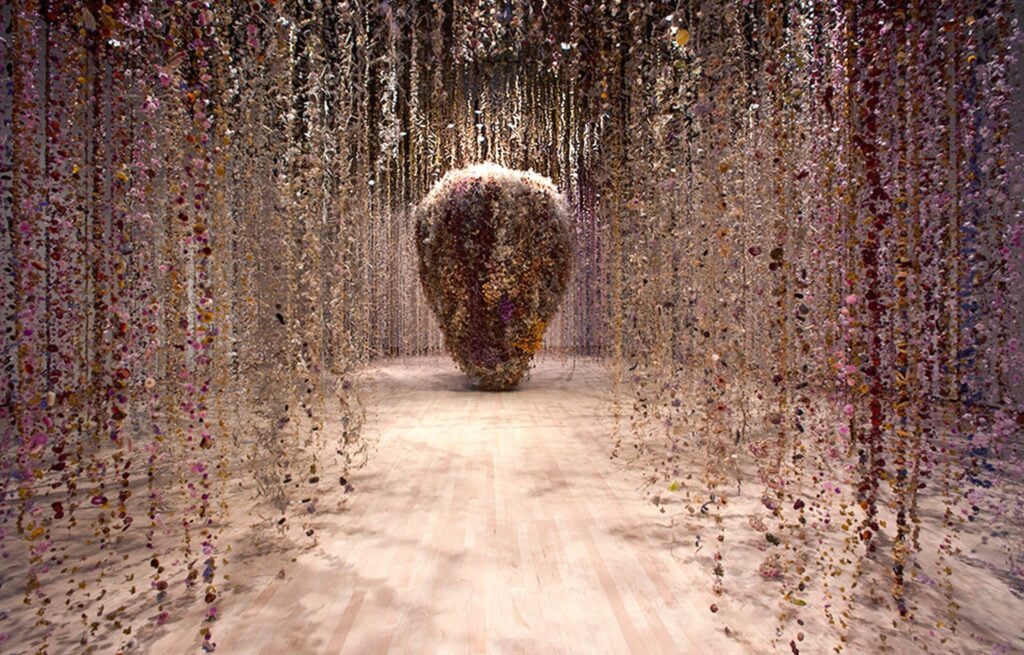 Rebecca's exceptional talent has garnered international acclaim and recognition. Her installations have been exhibited in renowned galleries and institutions worldwide.
She shares glimpses of her enchanting installations on her Instagram account, charming her audience into her floral wonderland. Each post provides a window into the intricate details and mesmerizing colors that define her work. It offers us the chance to experience the immersive nature of her installations, even from a digital perspective.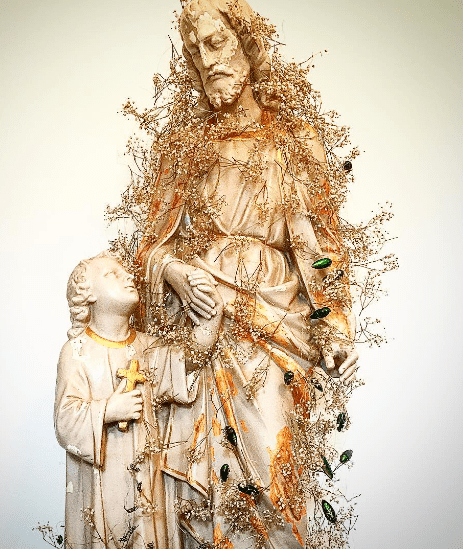 And that's all about her installation art world! If you want to continue exploring her, please visit her Instagram and Website.
Chiharu Shiota – Weaving Threads of Connection in Installation Art
Chiharu Shiota, one of the talented and acclaimed installation artists, traces her creative roots to her native Japan. Growing up surrounded by traditional craftsmanship and textile artistry, she developed a deep gratitude for the power of materials and their ability to convey emotions. This early exposure laid the foundation for her captivating installations that would later mesmerize audiences worldwide.
"Through art we can reflect on our selves more. A picture, a drawing and art in general can often express more than words can. It is a sense of expression that will help other people understand themselves and others better".
–Chiharu Shiota
Let's explore her colorful world of installation art!
Remaking Spaces with Thread
Chiharu Shiota's creative artistic language revolves around the powerful nature of threads. She weaves intricate networks of delicate strands, meticulously suspending them to form expansive and intricate installations. Through this process, she creates ethereal environments that evoke a sense of mystery and wonder, capturing the attention and imagination of viewers.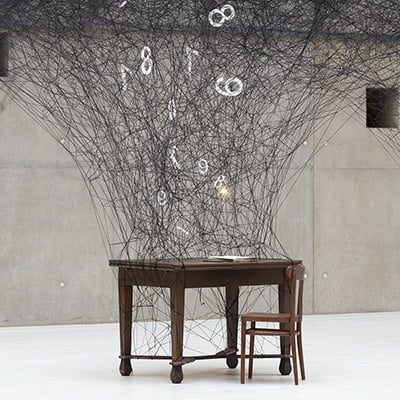 Themes of Memory and Identity
A main theme in Shiota's work is the exploration of memory and the human experience. So, by using thread as a symbolic representation of connection, she invites viewers to reflect on their memories, personal histories, and the threads that bind individuals together. Her installations become symbolic landscapes that delve into the complex layers of identity and the passage of time.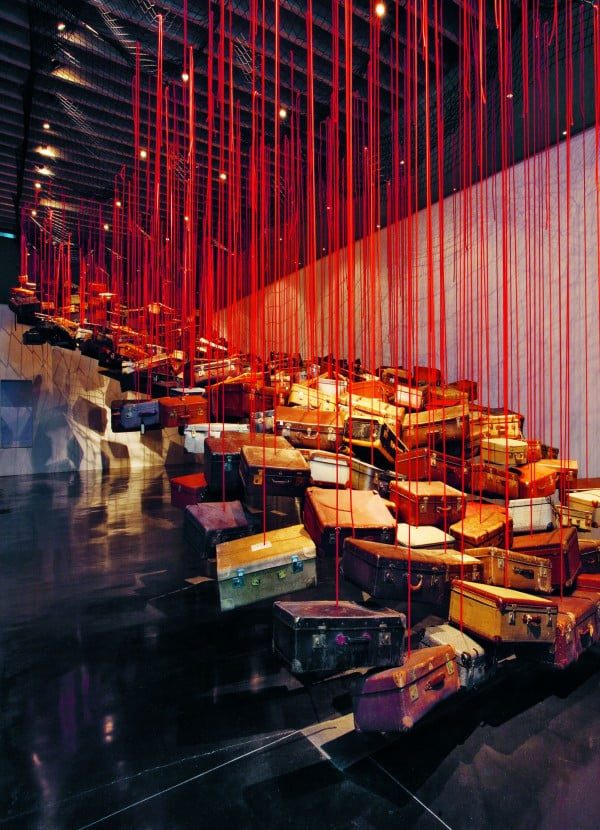 Beauty in the Transitory Life
Shiota's installations often illustrate the concept of change, emphasizing the beauty and significance of fleeting moments. Her works are intentionally transitory, allowing threads to gently sway and interact with viewers as they navigate the space. This transience serves as a reminder of the temporal nature of existence and encourages us to reflect on the transient nature of our lives.
Shiota offers glimpses into her captivating installation art on Instagram. She shares her work's poetic and atmospheric qualities through carefully curated posts, transporting her followers into the ethereal landscapes she creates. It provides a digital portal into her artistic vision. Shiota's work inspires and captivates audiences, leaving a lasting mark on audiences.
Check out her Instagram to explore her art and gain insight into her creative process.
So, these 5 incredible female installation art artists have beautifully visualized the art world by pushing creative boundaries and transforming spaces into immersive experiences. Through their use of materials, techniques, and conceptual depth, artists like Alexis Neumann, Yayoi Kusama, Chiharu Shiota, Rebecca Louise Law, and Sophia Sobers have captivated audiences with their innovative and beautiful installation art. Their work reminds us of the power of art to evoke emotions, challenge perceptions, and create connections.
That's all about today! We would love to hear from you if you enjoyed this post and found inspiration in the incredible installation art discussed. Share your thoughts, experiences, and favorite artists in the comments below. Let us know how installation art has impacted you and what other artists you want to explore.
Together, let's continue to celebrate and support the transformative power of art in our lives. Visit our Website to explore more creative journeys of incredible female artists!
Image Sources
https://www.moma.org/collection/terms/installation
https://theartofeducation.edu/2018/07/4-powerful-art-installations-to-inspire-student-work/
Alexis Neumann
Images from:
https://www.instagram.com/p/Bipx4sRAl2Z/
https://www.instagram.com/p/B_TVktigg-w/
https://www.instagram.com/p/CCyrCOshRWb/
https://www.instagram.com/p/CU53TwLvsN2/
https://www.instagram.com/p/CZlT_E9LC_S/
Yayoi Kusama
Images from:
https://www.instagram.com/p/CsJ5g0jSnHh/
https://www.chickyolive.com/coming-full-circle-with-yayoi-kusama/
https://webneel.com/wnet/image/7-pumpkin-art-installation-by-yayoi-kusama
http://www.xinhuanet.com/english/2019-10/27/c_138505911_5.htm
https://www.thebroad.org/infinitela
https://www.roslynoxley9.com.au/exhibition/yayoi-kusama/3mflg
Sophia Sobers
Images from:
https://cheryladamsjohnson.wordpress.com/2014/05/16/everything-anew/
https://www.artistaday.com/?p=20618
Rebecca Louise Law
Images from:
https://www.cummermuseum.org/event/rebecca-louise-law-conversation
https://www.ohiomagazine.com/arts/article/rebecca-louise-law-community
https://www.rebeccalouiselaw.com/installations
https://www.thisiscolossal.com/2022/11/rebecca-louise-law-flowers/
https://www.instagram.com/p/BEFx3mLnsQa/
https://www.instagram.com/p/BANf7OcnsdU/
https://www.instagram.com/p/7LIKK0HsQS/
Chiharu Shiota
Images from:
https://plantaproject.com/en/planta-inaugurates-in-the-beginning-was-the-first-permanent-installation-in-europe-by-chiharu-shiota/
https://www.artemorbida.com/chiharu-shiota-the-soul-trembles/?lang=en
https://www.mori.art.museum/en/exhibitions/shiotachiharu/04/index.html
https://www.koeniggalerie.com/blogs/news/chiharu-shiota-across-the-river
https://www.artinterview.com/en/interviews/chiharu-shiota/