Every Tuesday at Arts to Hearts Project, we take a special journey back in time and write an article about one of the remarkable women artists from history. Our goal is to allow our readers to absorb lessons from these incredible women's lives and, in doing so, ensure that their legacies are kept alive.
And in this week's Arts to Hearts Women from the Past article, I will shed light on the remarkable life of Artemisia Lomi. so keep on reading to know about her.
A Deep Dive Into The Life of Artemisia Lomi
Artemisia Lomi – sometimes referred to as Artemisia Gentileschi – was an Italian Baroque painter and the first woman to become a member of the Accademia di Arte del Disegno in Florence. Despite living in an era where opportunities for female artists were limited, Artemisia achieved considerable success and recognition during her life. Her body of work is now celebrated for its skill, insight, and all-around brilliance.
Early Life & Education
Artemisia was born on the 8th of July 1593 in Rome, Italy. She started painting at a young age, producing professional work by the time she was just fifteen years old. Early influences included Caravaggio, an Italian Baroque master whom Artemisia's father, Orazio Gentileschi, had trained under. Orazio recognized his daughter's talent and taught her how to paint, giving her access to materials and opportunities that she would have otherwise not been able to obtain due to her gender.
Style & Recognition
By 1610, Artemisia had established her own signature style and had gained recognition among prominent figures such as Grand Duke Cosimo II de' Medici who invited her personally to attend court in Florence. Over the course of her career, she painted many significant works including 'Susanna and The Elders, 'Judith Slaying Holofernes', 'The Allegory Of Inclination', and 'Self-Portrait As The Allegory Of Painting'.
All of these works demonstrate a great deal of technical skill combined with a unique artistic voice; drawing influence from Caravaggio but still managing to convey emotion through bold colors and postures which are full of both strength and vulnerability.
Challenges Faced by Women Artists
In that period it would have been difficult for anyone to become a professional painter but particularly so for women who were not recognized as artists or allowed access to academic training until very recently. Despite these difficulties, once Lomi became an official student of Caravaggio's style of painting, she gained recognition among other renowned painters of the time such as Agostino Tassi who used his influence within the Florentine court to get her accepted into the Accademia di Arte del Disegno in 1616 – making history as the first female member ever accepted there.
Even with this major accomplishment under her belt, Lomi still continued to face criticism simply because of her gender; with some accusing her of using "worldly methods" while others suggested that she was too bold in taking on subjects like figures from mythology and religious scenes which were commonly considered taboo for women during that era.
The Triumphant Rise To Fame Of Artemisia Lomi
Despite all odds, Lomi persevered and continued producing beautiful works throughout Italy for several decades including some masterpieces such as "Judith Beheading Holofernes" (1620) and "Susanna And The Elders" (1622).
In addition to being requested by patrons all over Italy thanks to their praise for the quality of her artworks; She also received international recognition from foreign diplomats who brought news about her success back home with them – leading eventually led even further recognition in countries such as France, Spain, Germany, and England where she received numerous new commissions over time.
An Inspirational Example For Women Everywhere
Today Artemisia Lomi continues serving as an inspirational role model for women everywhere who are looking to follow their dreams despite challenges they may face along their path regardless of society's expectations or prejudices against them – just like she did centuries ago when she decided against all odds that becoming an artist was what she wanted most out of life no matter what anyone else thought or said about it.
Artemisia Lomi died around 1656 after having lived an incredibly successful life as an artist despite the various challenges she faced due to her gender. Today she is remembered as one of the most accomplished female painters of all time; inspiring generations of future female artists who continue to build on her legacy today. From film directors like Julie Taymor (Frida) and Sherry Hormann (Agnes Of God), to modern-day painters like Marlene Dumas; there is no denying that Artemisia Lomi will remain influential long into the future.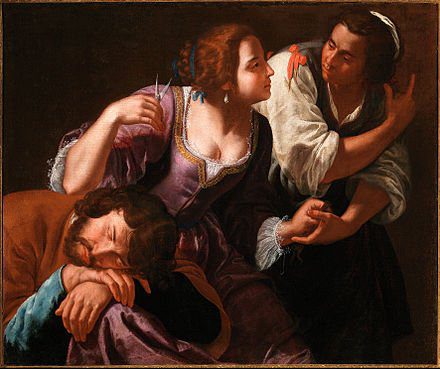 If you want to learn more about the amazing artists from the past, and get inspired by them then you must read our article Agnes Martin – How Her Unparalleled Legacy Continues to Motivate Generations of Artists in 2023.
Image Source: