Have you ever wondered what happens when two empowering women artists collaborate? They create something truly magic. Sisterhood is a beautiful concept that teaches us women to support each other and how we, as women, can become stronger with help.
Sisterhood encourages women artists to collaborate, this collaborates provides creative outcomes. Today we will be showcasing five inspiring examples of women artists coming together to create extraordinary collaborations. These partnerships not only showcase their immense talent but also exemplify the strength and solidarity that can be found within the artistic community.
These incredible collaborations serve as a powerful motivation for women artists to continue supporting one another. It's a beautiful reminder that, as women, we should always uplift and inspire each other along our paths. There is a profound truth in the famous saying that "You lift by lifting another," and these collaborations embody that sentiment.
So, let's dive into these remarkable stories and discover the magic that happens when women artists join forces to create something truly extraordinary.
Ekaterina Popova and Alicia Puig
Ekaterina Popova and Alicia Puig are two talented women that aspire to revolutionize the art world. These two have teamed up on several exciting projects and their collaborations showcase passion for working together and creating something special.
One of their remarkable collaborations is PxP Contemporary, an online platform that changes the way people buy art. Alicia Puig is the CEO and co-founder of this traditional gallery model. PxP Contemporary connects art collectors with affordable and high-quality artworks. They believe in being transparent about pricing and building strong relationships with clients. PxP features and sells contemporary art peices where you can buy paintings, photographs, sculptures and much more.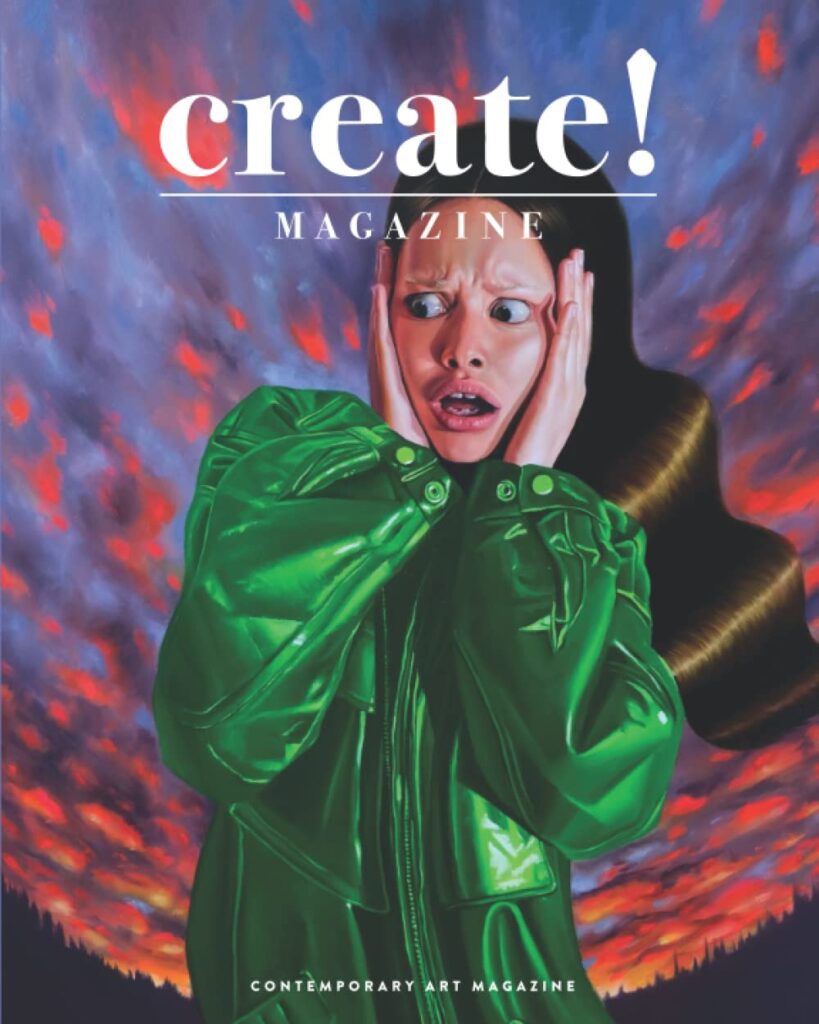 Create! Magazine is another project founded by Ekaterina Popova, with Alicia Puig as the director of business operations. Create! Magazine is a print publication that empowers the artistic community. Each edition features interviews, perspectives, and advice from emerging artists and creative professionals. It's a beautiful magazine that brings artists together and features them so that they can inspire their readers.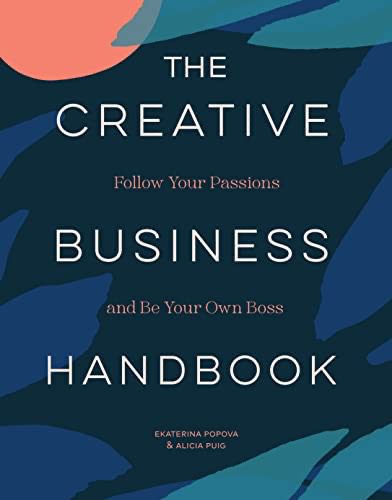 They have also co-authored a book called "The Creative Business Handbook: Follow Your Passions and Be Your Own Boss." This handbook is a helpful resource for artists who want to make a living from their art. It provides practical advice and guidance on navigating the business side of the art world while staying true to your creative passions.
Apart from this book, the duo have also co-authored a book that teaches and guides artists in the world of art. The "Smartest Guide: Essential Art Career Tips For Emerging Artists" is packed with all the tips and steps that help you promote your art online and in person. From getting your work published to creating a social presence, this book is great for artists that aspire to showcase their work.
Through their collaborations, Ekaterina Popova and Alicia Puig are inspiring artists worldwide to follow their dreams and succeed in their artistic ambitions.
Charuka Arora x The Jealous Curator (Danielle Krysa)
Charuka Arora, the founder of ATH, came up with the idea for the special project, and Danielle Krysa, also known as The Jealous Curator, served as the guest curator. Together, they collaborated on the creation of the Studio Visit Book Vol 1, resulting in something truly remarkable.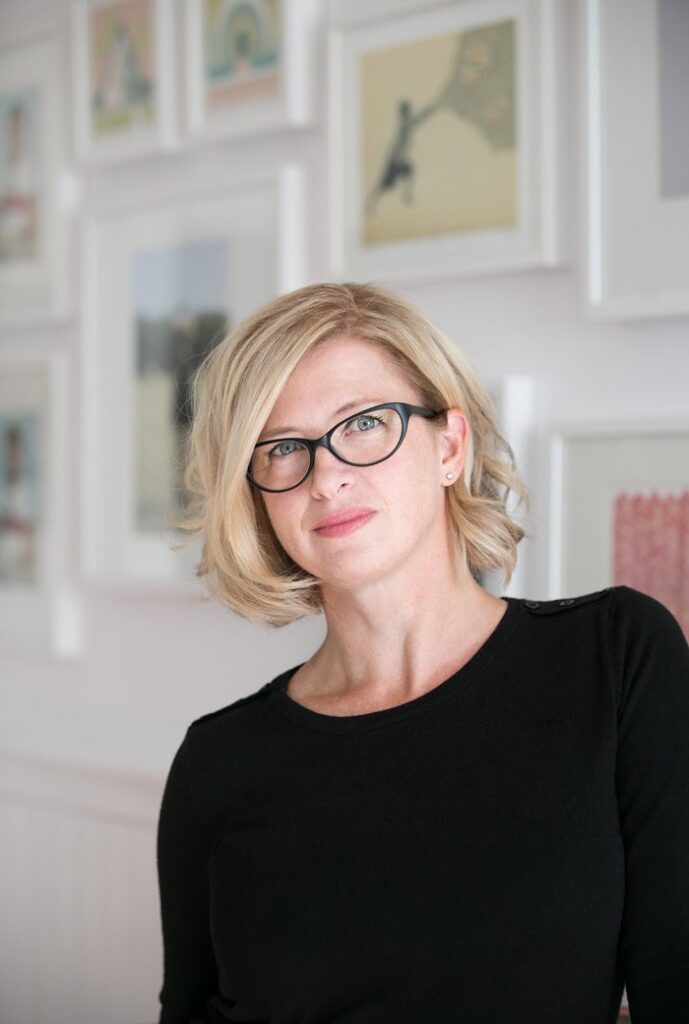 This book takes you on a visual life adventure of over 35 talented women artists from all around the world. Take the adventure through the life of these amazing artists and learn how they create magic.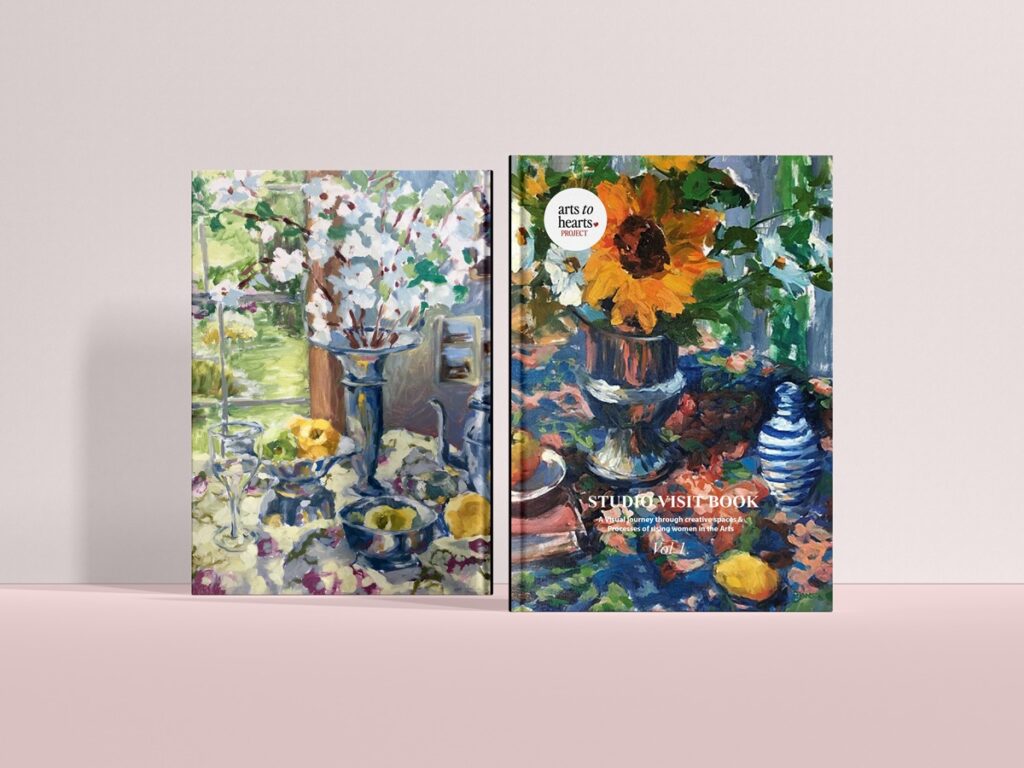 The Studio Visit Book Vol 1. is a celebration of women's voices and their artistic talents. You'll discover different types of art, like paintings and sculptures, and learn about the artists' lives and what inspires them. It's a book that will leave you in awe of the dedication and skill that goes into creating such beautiful artwork.
And here's the best part: you can be one of the first to own this amazing book by pre-ordering it on our website. Don't miss out on this chance to be inspired by the incredible work of rising women artists. Get ready to dive into a world of creativity and passion!
Rithika Merchant x Natacha Ramsay
Rithika Merchant is an Indian artist who is known for her expressive paintings. Natacha Ramsay is creative director at Chloé, a French fashion house that was founded in 1952. In 2017, Merchant collaborated with Natacha on a collection of dresses. The resulting collection was a mix of delicately embroidered attire, romantic paints on crisp cotton pieces.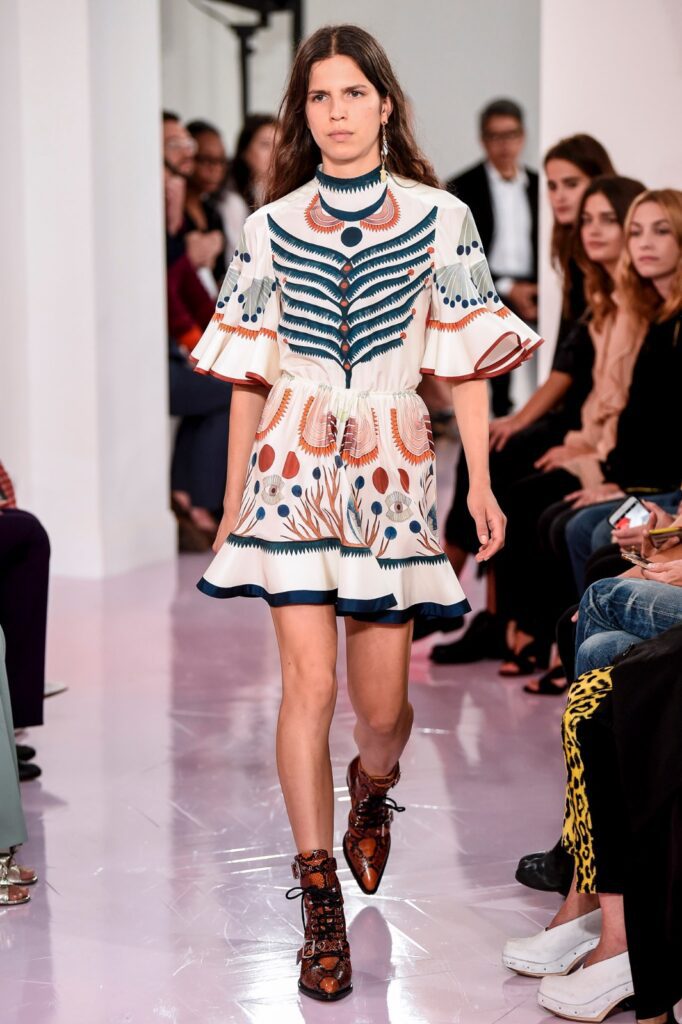 The collaboration between Merchant and Natacha was a perfect match. Merchant's art is feminine and romantic, while Chloé's fashion is chic and sophisticated. The two brands worked together to create a collection that was both beautiful and wearable.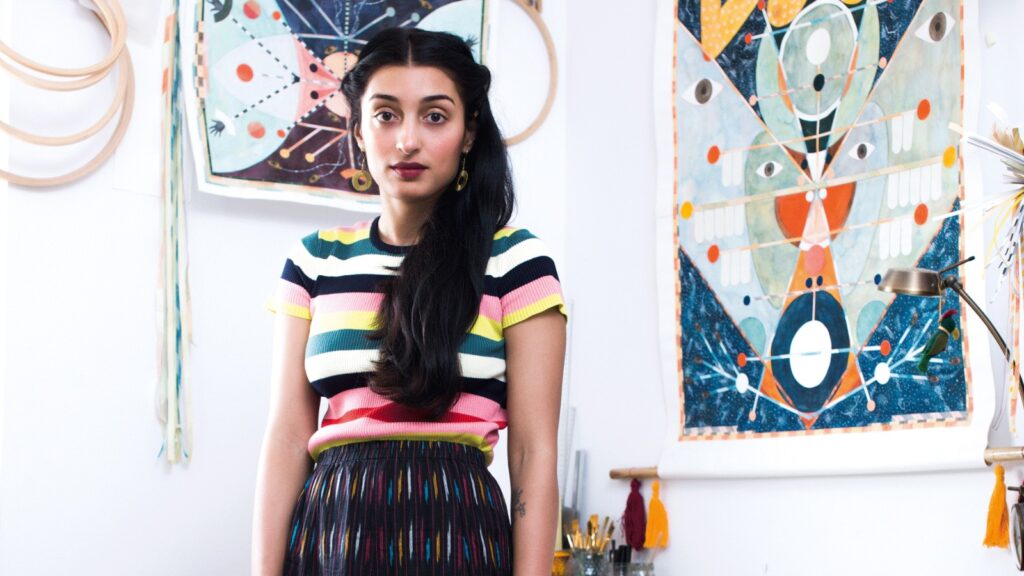 The creative synergy between Merchant and Natacha was also apparent in the collection. The two women worked together to create a collection that was both timeless and modern. The dresses were inspired by the past, but they were also updated with a modern twist.
The collaboration between Rithika Merchant and Natacha Ramsay was a success. The collection was well-received by critics and consumers alike. It was a testament to the power of art and fashion to come together to create something truly special.
Womanhouse by Judy Chicago and Miriam Schapiro
Judy Chicago and Miriam Schapiro were two of the most influential feminist artists of the 1970s. In 1972, they collaborated on a project called Womanhouse, which was a feminist art installation and performance space. Womanhouse was the first public exhibition of art centred upon female empowerment.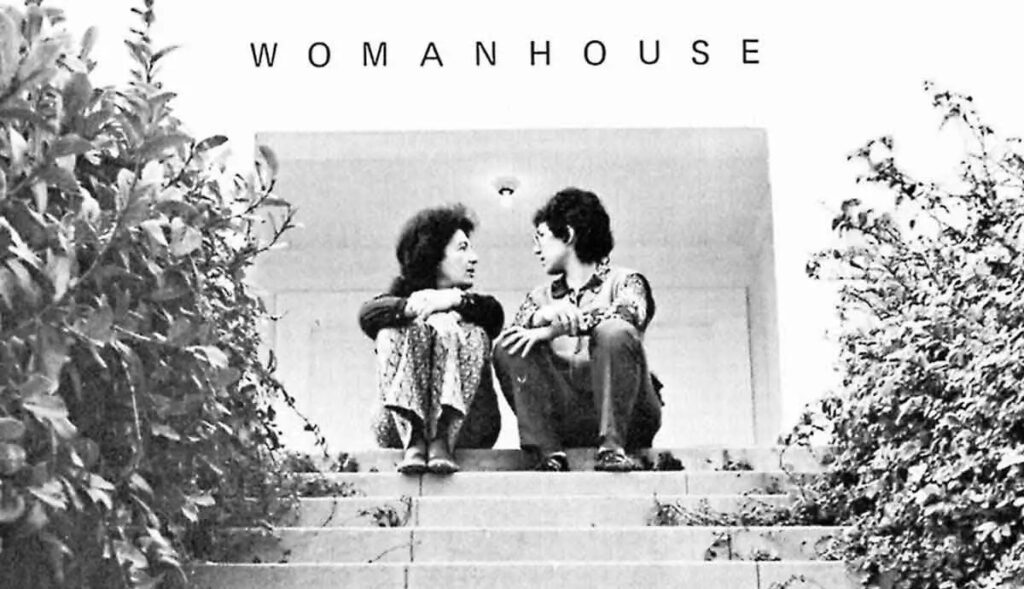 Chicago and Schapiro encouraged their students to use consciousness-raising techniques to generate the content of the exhibition. Together, the students and professors worked to build an environment where women's conventional social roles could be shown, exaggerated, and subverted. Only women were allowed to view the exhibition on its first day, after which the exhibition was open to all viewers.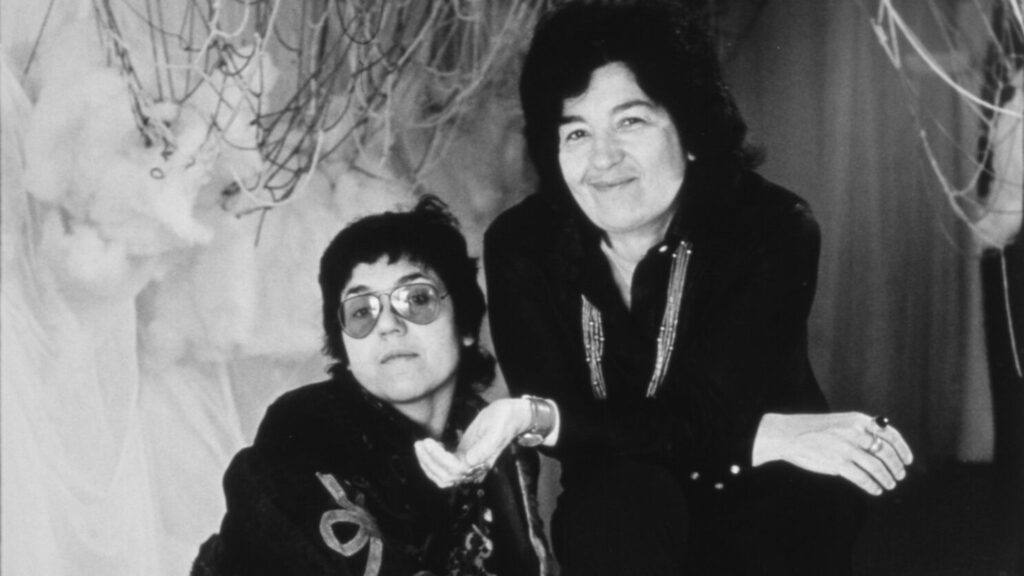 Womanhouse was a critical and commercial success. It was praised for its innovative use of space and its powerful exploration of women's experiences. The exhibition also had a significant impact on the cultural landscape. It helped to raise awareness of feminist art and to challenge traditional notions of gender roles.
Judy Chicago and Miriam Schapiro worked together and left a lasting impact that is still felt today. They fearlessly explored what it means to be a woman and stood strong for women's rights. Their work has become an important part of art history. Womanhouse shows how powerful it can be when artists come together and challenge the way things are usually done. It reminds us that collaborations can bring about big changes and have a long-lasting influence.
Frida Kahlo Museum by Frida Kahlo and Marcela Aguirre
Frida Kahlo and Marcela Aguirre were two remarkable individuals who came together to honour the legacy of Frida Kahlo and share her incredible life and artwork with the world.
Frida Kahlo was a renowned Mexican artist who is celebrated for her vibrant self-portraits and captivating storytelling through art. Marcela Aguirre recognized the importance of preserving Kahlo's legacy and worked closely with the Kahlo family to establish the Frida Kahlo Museum, a space dedicated to showcasing Kahlo's artwork and personal belongings.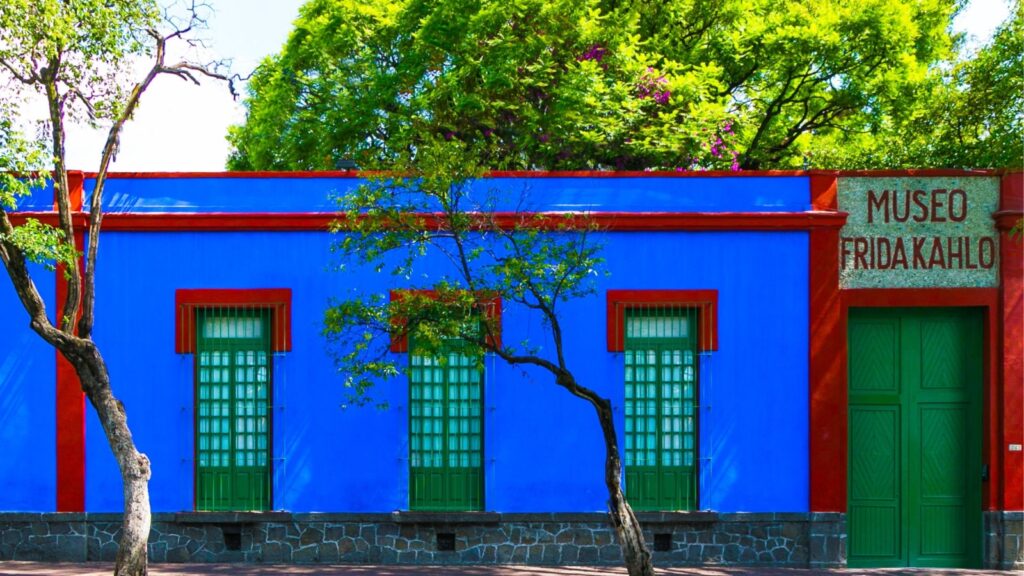 The Frida Kahlo Museum serves as a window into Kahlo's life, allowing visitors to immerse themselves in her unique artistic vision. Aguirre's collaboration with the Kahlo family ensured that Kahlo's essence and spirit were captured within the museum's exhibits and displays.
Their partnership resulted in a rich and immersive experience for art enthusiasts and admirers of Frida Kahlo. The museum not only showcases Kahlo's iconic artworks but also provides insight into her personal life, struggles, and triumphs. It offers a deeper understanding of Kahlo's artistic journey and the influence she continues to have on the art world.
We've seen how the power of collaboration and support can lead to amazing things. When women artists come together, they can create something truly special. They can share their talents and ideas, and they can inspire each other to achieve great things.
These five collaborations are just a few examples of the many ways that women artists are working together to make the world a better place. Through their solidarity, they are breaking down barriers and making it possible for more women to succeed in the arts.
So let's continue to collaborate, support each other, and conquer the world. We can do anything we set our minds to as long as we work together.
Thank you for your time, ATH readers. We'll be back next week with another inspiring topic. In the meantime, keep creating, keep supporting, and keep conquering!
The images in this article are sourced from:
https://www.pxpcontemporary.com/en-in/pages/about
https://www.vogue.in/magazine-story/rithika-merchants-work-explores-the-commonality-between-cultures/