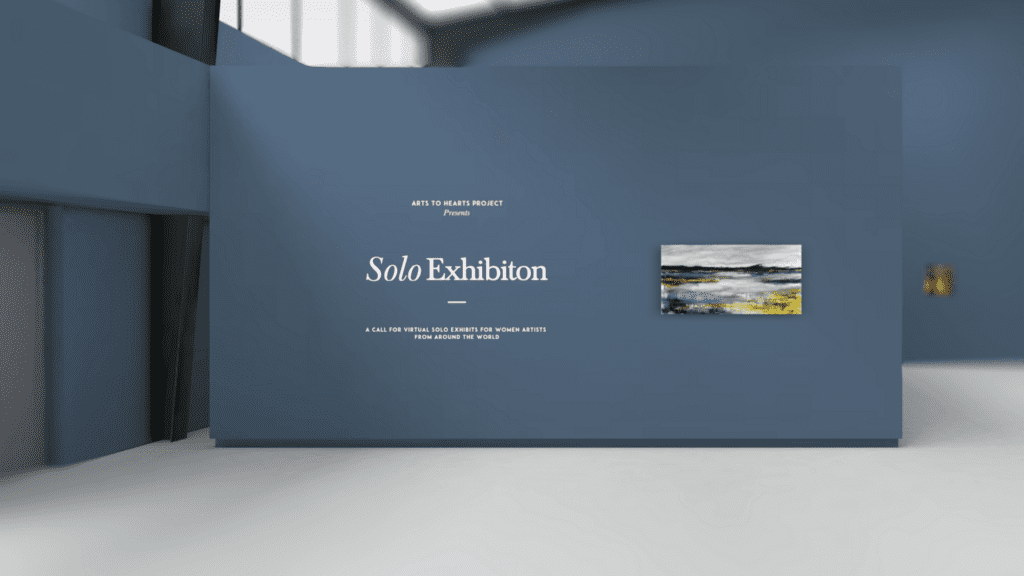 Open Call For International Solo Show
Hosted by
Arts To Hearts Project
Ends on April 27th, 2022 – $55.00 USD
Open For Women Artists across the world working in painting, drawing, photography, mixed media etc.
Want to be a part of the exhibit?
Let's celebrate life & moments!
Get featured in a Solo Online Exhibition hosted in collaboration with Arts to Hearts.
Show your work to over 10,000 readers and followers around the world, including leading galleries, art fairs, collectors, curator's, writers, art consultants, and more.
Open to all artists 18 years and older.
Visual art mediums allowed are painting, mixed media, drawing, collage, digital paintings, photography & sculpture.
All subject matter allowed.
The artwork must be a cohesive body of work with the same distinct style, consistency and theme. No political, profanity or nudity allowed.
The artist must have at least 6 cohesive pieces for the solo exhibition, however, the artist may present up to 10 for jury review and selection.
Two artists will be chosen for online summer shows (each single person show) for the 2022 – 2023 season.
Selected solo show artists will receive
1. One month/ 4 weeks online solo show hosted on www.artstoheartsproject.com
2. Dedicated URL with artist images, features, bio, statement & personal links.
3. A feature in the studio visit series and Book
4. A custom designed catalogue of the show
5. A solo show video produced by Arts To Hearts Project
6. A virtual opening of the show hosted by ATH
7. Marketing & PR show support by ATH
About Arts To Hearts Project
Arts to hearts project is a contemporary Arts & Community Platform dedicated to create more opportunities & visibility for women artists.Our passion is to help fellow women artists with a goal to create a welcoming community through our initiatives. We promote artists on our website, social media and connect them to multiple opportunities and gallery exhibitions. 
We dedicate the publication to a variety of artists selected by guest curators through our calls for art and artists. We regularly feature submissions and strive to promote the work from all communities, geographies, and artistic styles. Arts to Hearts Project has been featured by All SHE Makes, The Art Queens, Art Mums United, and guests in our project include Svitlana Martynjuk, Victoria Fry, Shelby McFadden, Gita Joshi and many more!
Eligibility and Requirements
ELIGIBILITY
We welcome all women artists from all countries and nationality to apply in painting, mixed media, collages and other mediums.
SUBMISSION REQUIREMENTS
• Artists will be required to send high quality photographs of your work not more than 1MB in size
• Artists must send in their Artist Bio, Artist Statement, Links to social media handles etc.
SUBMISSION INFORMATION TO REMEMBER
• Submission fee is $55 for the Exhibition (non-refundable)*
• Artist Bio word limit is 300
• Artist Statement word limit is 300
• Number of Artworks that can be added is 3 upto 1MB per Image
IMPORTANT DATES TO REMEMBER
Entry Deadline: April 27th, 2022, 11:59 pm EST.
All artists will be notified of the decision by the May, 2022. If your application is selected, you will receive further information at that time.
SUBMISSION FEE
$55 for 3 images of individual artworks (non-refundable*)
*What is my fee used for?
Arts To Hearts Project is an organization run by independent artists and artists who are motivated to build a community. The application fee will fund in the organization of podcasts, running the platform, backend expenses, and bringing in curators for the show.
Once an artist is selected, they will not be required to pay any additional fees.
By applying for Call for Art, you enable us to provide opportunities and support artists, curators, writers, designers, and creators on their journey.
If you cannot afford the fee due to financial reasons, we will be happy to try to accommodate you. Kindly email us at [email protected]. Additionally, you are welcome to submit to our free blog as an Artist Feature. Your efforts are highly valued.
SELECTED ARTISTS
If your work is selected, you will be a part of an Online Exhibition hosted on www.artstoheartsproject.com and selected artists will also be featured on our upcoming book aka magazine & Arts to hearts instagram account. The Online Exhibit will include your artist biography, artist statement, website, social media handles etc.
Selecte artists will be sent a complimentary digital issue and will be listed as a participating artist in your issue on Arts To Hearts Project, Newsletter and Social Media. We also promote artists individually via the blog and social media posts. All featured artists will automatically be considered for any upcoming curatorial projects, not limited to art fairs, exhibitions, and gallery projects organised by our team.
All artists will be notified of the final decision by May 2022. If your work is selected, you will receive further information at that time.
AGREEMENT
Arts To Hearts Project the right to use images of the artwork, and all the required documents on their website and social media. By submitting artwork via this call, the artist agrees to the terms outlined above. Artist retains full copyright of the work. Images will not be used by Arts To Hearts Project and Photo trouvee magazine aside from the Exhibit, Website, Social Media accounts, and Newsletters.
Submitting artwork to the Call for art of our website requires a nonrefundable fee of $55. A submission fee does not guarantee that your work will be selected.