About the Artist
Cristina Mora is a Latinx fine art photographer based in Atlanta, GA. She earned her Bachelor of Fine Arts in Photography from Savannah College of Art and Design in 2019. Cristina specializes in historical photographic printing, darkroom processes, and paper-making. Her work often explores mental health, identity, and nature.
Artist Statement
Through self-portraits, Back in My Body gathers the leftover overwhelming inner feelings that come with the ending of a romantic relationship and analyzes them. While searching for peace through introspection and remote landscapes, this series showcases a passage of time and fragments of memories from the relationship.
I altered the historical photographic printing process, the cyanotype, to print each image on a mirror by hand. The arduous printing process on a mirror mimics how the emotions felt at the time. The deep blue from the cyanotype quite literally represented how I felt when making this series. In the end, the result was quite striking; the brilliance of the deep blue plays with the light and reflections in the mirror. The ephemeral quality of the finished mirror print now holds all of those feelings, leaving me back in my body once again.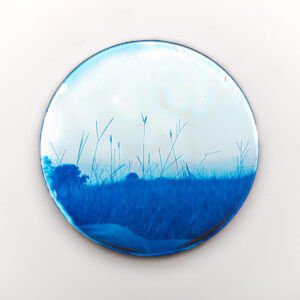 What are your "Treasured moments" & how do you connect it to your work?
In a few ways, this photo series, Back in My Body, is one of the most treasured works I've created. This series focuses on the memories and feelings I experienced during a romantic relationship that I did not want to let go of when the relationship ended. Through self-portraits of my revisiting the places we shared, I found peace in how I felt and created a body of work that would hold those emotions and memories for me. The particularity of the process I used to create these images is also treasured. It took me one year of experimentation in altering the cyanotype chemistry to make sure the photo would remain on the non-porous surface, a mirror. In my work, I convey my own experiences while giving space to let the viewer think of their own.