Arts to Hearts Directory is a unique space that celebrates creativity and connects hearts. Our artist directory is designed to help you find talented women artists from all over the world who are passionate about their craft and dedicated to sharing their vision with the world. Our directory features a wide range of artists working in various mediums, from painting and sculpture to photography and digital art. Here, you'll find established and emerging artists, each with a unique perspective and a deep passion for their craft.
Bringing together a global community of women creatives, enthusiasts, and collectors who share a love for the transformative power of art. By working together, we can connect hearts, create new opportunities, and help shape the art world's future.
We understand that finding the perfect artist for your project can be challenging, and as artists, the struggle to find suitable collectors and buyers for your work. This is why we've created a perfect way to match-make via an easy-to-use search function that allows you to filter by medium, style, location, and more. Whether you're seeking a commissioned portrait or looking to add to your collection, our directory has something for everyone.
We welcome women artists from all backgrounds and cultures, and we celebrate the unique perspectives that each artist brings to the table. Our directory is a safe space where artists, art collectors, enthusiasts etc. can connect, collaborate, and support each other.
As a member of the Arts to Hearts Directory, you will gain access to many benefits designed to elevate your art career and provide a robust support system: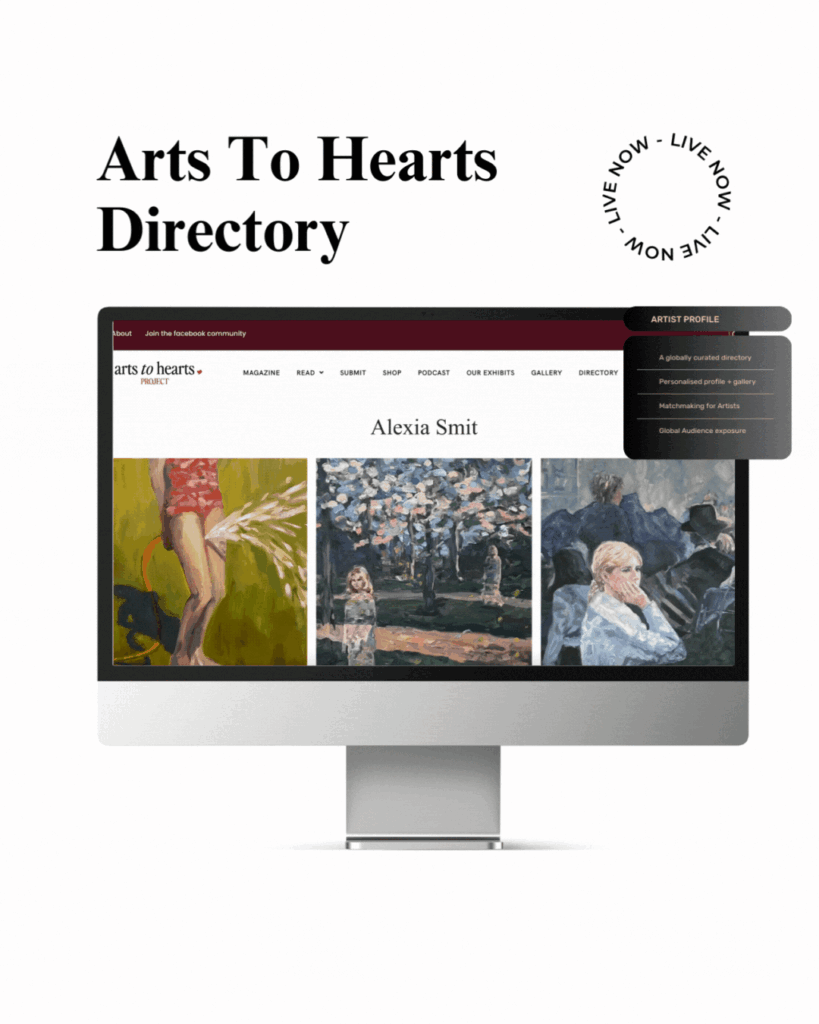 • An individual profile and gallery on our website for 12 months, specially curated for you. You have the opportunity to showcase your work, connect with potential clients, and share your story.
• An in-depth artist statement highlighting your preferred mediums, art styles, and subject matter to enable your viewers to understand your creative process better. The profile also includes links to your social media accounts, website, and exhibiting galleries to provide a seamless experience for potential clients.
• Our powerful social media channels are a robust platform to amplify your work's reach, as your artwork will be shared with our engaged followers. Additionally, you will have access to our Pinterest Board, with over 200,000 monthly views, which can increase your artwork's visibility to a broader audience.
• As a member, you will also be featured in a particular email newsletter that reaches over 20,000 subscribers monthly. It is the perfect channel to showcase your new artwork and exhibitions and share insights into your creative process. This newsletter provides an ideal platform to attract eyes to your artwork and potentially land new clients.
• The opportunity to join our private Facebook community is exclusive to members of the Arts to Hearts Project. It is a place to connect with other artists, share ideas, skills, your new work, and exhibition details, and even seek advice. This community creates a supportive network where you can discuss ideas, share your journey, and know you belong.
• Every week Arts to Hearts Project will feature one of our members in our Directory Member Spotlight. The Spotlight provides a dedicated place for our members and their artwork to receive more exposure to our growing audience.
• As a member of the Arts to Hearts Directory, you will be invited to two quarterly meet-ups. Through this, you can network, connect with other members, and take advantage of mentorship opportunities.
• Arts to Hearts Directory also offers valuable resources for artists to improve their skills and grow their careers. Our directory offers access to exclusive workshops, webinars, and mentorship programs where emerging artists can gain invaluable insights from industry experts and receive guidance in their chosen fields.
These benefits provide unparalleled value to professionals and emerging artists alike, providing a strong foundation and support system for their art careers. 
Whether you're an emerging artist just starting or an established artist looking to expand your reach, our platform provides a space for all artists to celebrate creativity and connecting hearts