A selection of international open calls and opportunities for contemporary art-related competitions, prizes, exhibitions, awards, proposals, and grants for artists, writers, and curators
About Artist Opportunities & Call For Artists
This is a curated selection. We publish a selection of open calls from a pool of submissions and editorial research. Only open calls we believe offer meaningful benefits to applicants at different stages of their careers will be published. We email thousands of art practitioners weekly with selected opportunities. Make sure you are on our email list to be one of them.
Applying for a call for Art, open calls, and submitting your work can be tricky and taxing work. We at Arts To Hearts Project have been creating resources and opportunities for Artists for the past two years. We have so far organized over 8 editions of our International Call For Art. But, we don't want you to ever feel limited in where you want to apply. Hence, every month we bring you a quick round-up of 5 hand-picked opportunities for Artists.
1- Studio Visit Book Vol. 2 – Arts To Hearts Project
The Arts to Hearts Project strives to empower and elevate the voices of women artists, giving them a platform to have their work seen and appreciated by a larger audience. Through this opportunity, these talented creators can gain recognition for their work, expanding the visibility of their art and the boundaries of what is accepted in the contemporary art scene.
Theme:
There is an Open Theme for the Studio Visit Book Vol. 2
Eligibility:
Women Artists of all academic disciples are welcome to apply. This includes painting, sculpture, photography, installation, Digital etc. . Works must be submitted in a printable format. High res images.
.Application Fee: $35
Deadline: 17-July-2023
Are you an emerging artist looking for a platform to showcase your work to the world?
Arts To Hearts Project offers an incredible opportunity with our Studio Visit Book, Volume 2.
Studio Visit Book V.2 will be shared with galleries, curators, publications, and art institutions around the globe and be available for purchase at Barnes and Noble and Amazon.
Selected artists will have a personalized and beautiful 4-page spread of their work, juried by none other than the renowned Artist & Curator Ekaterina Popova, Artist, Curator, Author & Founder of Create! Magazine & Art Queens. With over 66.8K Instagram followers on her personal Instagram and 208k and 18.5k on Create! Magazine and Arts Queens, respectively, Ekaterina has been carefully handpicking outstanding creative work for a decade, establishing herself as a leading name in the international art scene.
Apply to have your work seen and appreciated by a global audience – Submit Now to be featured in Arts To Hearts Project's Studio Visit Book, Volume 2, and take a step towards showcasing your creativity to the world!
2- The Healing Power of Elements: Earth, Water, Air, Fire
The Healing Power of Elements Online Exhibition
About The Healing Power of ART & ARTISTS and Our Mission
The Healing Power of ART & ARTIST is an initiative of Manhattan Arts International, based in NYC, NY. We believe ART has the power to heal, inspire, provoke, and challenge. We raise awareness about how art is a catalyst for positive change and enhances the well-being of individuals, society, and the environment through our artist membership gallery, online art exhibitions, and articles.
About "The Healing Power of Elements: Earth, Water, Air, and Fire" 2023
The exhibition "The Healing Power of Elements" 2023 will take place September 4 – November 4, 2023. The purpose is to promote artists whose art inspired by the elements has a positive impact on the viewer. The art will be accompanied by the artists' statements and links to their websites.
In addition to the physical forms the four elements expressed in art provide symbolic references to various aspects of life, such as emotions and spiritual aspects. They are significant in our healing process.
Open to all artists worldwide.
All styles and all 2-and 3-d art mediums including painting, drawing, sculpture, mixed media, collage, photography, printmaking, digital art, and art created with recycled materials. (No installation art, videos, or AI-generated art)
Benefits to Artists
This exhibition will give selected artists widespread exposure to our international audience via social media and subscription-based email newsletters. They will receive opportunities for global recognition to advance their careers. They will experience many potential rewards from participating in an important and powerful artistic initiative.
* 50 or more artists will have one of the entries selected with their artist's statement and link to their website.
Special Recognition Art Awards
Several Artists will be selected to be featured in articles or interviews on The Healing Power of ART & ARTISTS website and the Manhattan Arts International website.
20 or more Artists will have their art in the exhibition video produced on the Manhattan Arts International YouTube channel
10 or more Artists will have their art promoted on social media announcing the exhibition
10 or more Artists will have their art remain on this website after the exhibition
More to be announced
Selection Process: The finalists will be selected from the artists' JPEG entries and their artist's statement using the online entry form. Visits to their websites will also be made to view their overall body of work and professional history.
Location: The Healing Power of ART & ARTISTS website https://healing-power-of-art.org
Deadline: August 17, 2023
Entry Fee: $25 for 1-2 entries
3- OPEN CALL – NATURE INTERNATIONAL EXHIBITION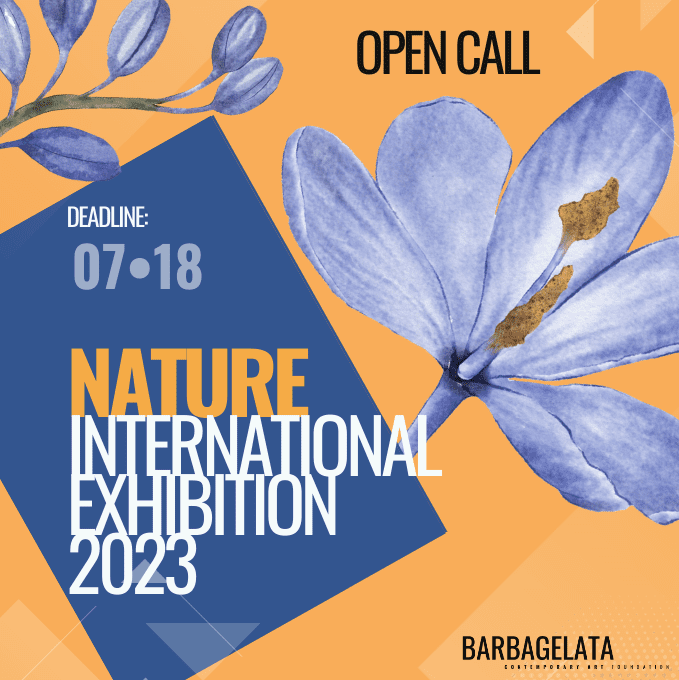 We're inviting artists from all over the world to participate in our international exhibition and share their creative ideas on the topic of #NATURE!
Deadline: 18 July 2023
Exhibition dates: 30 July – 15 August
Entry fee: 10€
Your participation includes:
➡ Poster and flyer of the exhibition.
➡ Publication in the online gallery of the exhibition.
➡ Publication in our Art Magazine.
➡ Promotion of your work on social media.
➡ Certificate of participation.
—
Open to artists of all nationalities.
With your registration and payment, you have the right to exhibit your work.
Only good-quality images with the artwork clearly visible and in focus will be accepted.
Maximum image size 5 MB in .jpeg format file.
Submitted artworks must be original works by the artist related to the theme of the exhibition.
Open to all fine art media (oil, acrylic, watercolor, gouache, pastel, sketch, printmaking, mixed media, photography, sculpture, fiber, wood, digital art, etc.) except video.
—
What is nature? Defining nature is somewhat complex since it is a broad concept that groups together things that already existed in the world or that appeared on their own. Nature is in charge of creating the conditions for life to emerge, this concept covers everything from the climate, flora, and fauna to the geography, geology, and hydrography of a place. 
With its intrinsic beauty and diversity, nature is also a source of inspiration, not only for art, but also for the design of machines, houses, and many innovative solutions.
We depend on nature. All of the things that we have, that we consume, and that we need, come from it: medicines, food, fibers, and many other things. If nature is affected, the consequences are inevitable: we are all affected.
4- An Abstract View
On View Aug 24-Sept 30 | Opening Night Reception: Thursday, Aug 24, 6-8 pm
This show encompasses all forms of non-representational art from Cubism to Abstract Expressionism to Minimalism and beyond. The juror is Tre Michel, Co-Owner, State of the Arts Gallery, Sarasota.
Abstract art is art that does not attempt to represent an accurate depiction of a visual reality but instead uses shapes, colors, forms, and gestural marks to achieve its effect.
Some noteworthy abstract artists include Kazimir Malevich, Hilma af Klint, Helen Frankenthaler, Sam Gilliam, Pablo Picasso, Barbara Hepworth, Robert Delaunay, Piet Mondrian, Willem de Kooning, Mark Rothko, Lee Krasner, and Cy Twombly.
Submissions are welcome in all media including painting, drawing, photography, printmaking, mixed media, digital arts, and sculpture.
Artists of all media are encouraged to submit!
Submission Dates: May 9 – July 23, 2023, 11:59 pm
Prize Summary: $1,000 in Award Prizes
Prizes Details: 
1st Place: $500
2nd Place: $300
3rd Place: $200
Merit Awards (2) & Honorable Mention (4)
With permission, all 9 Award Winners will be celebrated for an additional week at DreamLarge in the Rosemary District from Monday, October 2 – Sunday, October 8 with Abstract After Dark on Thursday, October 5 from 7-9pm.
Location: Art Center Sarasota 707 N. Tamiami Trail Sarasota, FL 34236
Deadline: 23/July/2023
Entry Fee: Yes
5- 27th Annual NO DEAD ARTISTS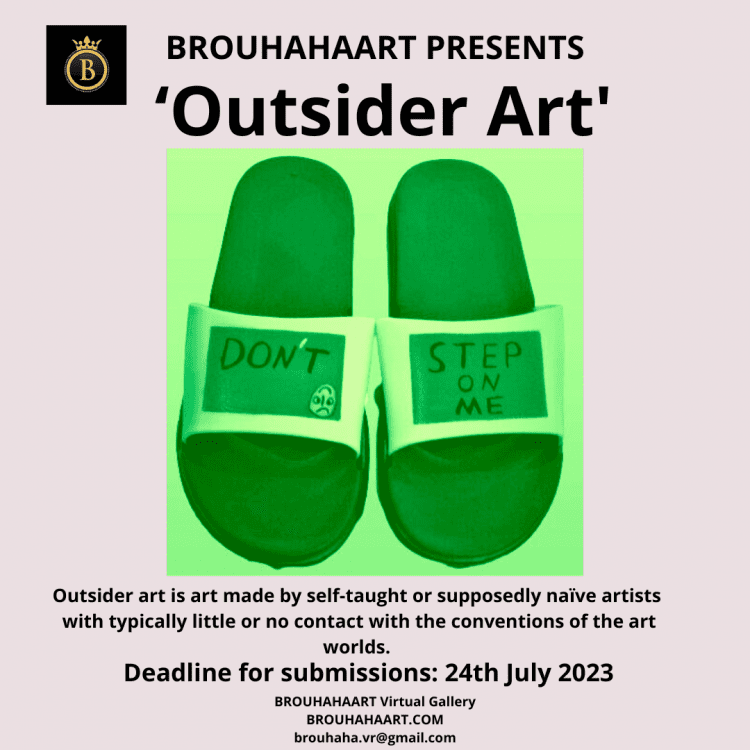 Worldwide Artist Open call
BROUHAHART Presents 'Outsider Art
We are now accepting submissions for our Virtual Exhibition 'Outsider Art
Outsider art is art made by self-taught or supposedly naïve artists with typically little or no contact with the conventions of the art world.
Any artist from any background can submit any of their work.
There is no charge to submit your application, please feel free to share your work with us.
[A small fee (£30) is applied per artist once they have been selected for the exhibition].
The team will review all applications and the selected works will be announced.
DEADLINE for submissions: 24th July 2023 [6pm London time]
EXHIBITION DATES: 4 August – 18 August 2023
'Outsider Art' is a 3D Virtual reality Art exhibition, so we do not need physical works of art.
Artists are also free to sell their works, we take 0% commission, and any sale inquiries will be directed back to the artists.
Please email all the following information to [email protected] and quote 'Outsider Art' on the subject of your email.
If selected, you will receive an Invoice requesting online payment for the submission fee. Per artist, not per artwork.
Do not send images of your work that contain watermarks.
Works will be judged based on creativity, originality, quality of work, and overall artistic ability. Winners will be chosen based on the quality of a single entry as well as the quality of overall work.
Submitted works will be promoted to our social media & newsletter if desired.
Copyright Artist retains the sole copyright for the images
Submitted images can be available for public viewing on BROUHAHAART's website and social media, including in relation to promotional activities for the contest and the business.
All display images will be credited with their artist's name.
FEES Virtual Gallery • £30 per artist, not per artwork.
Prize Summary: Solo virtual exhibition
Prizes Details: 
We will run an art contest during the exhibition!
1st Prize – Solo virtual exhibition [up to 20 artworks]
2nd Prize – Solo virtual exhibition [up to 14 artworks]
Competition results posted on BROUHAHAART and promoted to our wide-spread social media.
Location: International- Online
Deadline: 24/July/2023
Entry Fee: Yes
Fee Detail: £30
· How to Apply:
•              Up to 2 Artwork images by email (jpeg format, up to 3MB for each image).
• Please name each file with the title of each artwork (e.g., "Untitled. JPEG")
• [No political, pornography or hate artworks will be accepted].
• Details of the artwork (title, size, medium and price). (e.g., "Untitled", 50 x 70 cm, Oil on Canvas, price.
•              A brief bio about the artist/artwork (100 words max, preferably written in the 3rd person)
• Send us your website and social media (if applicable)
• Statement confirming you are the author of the original artwork and it does not infringe the rights of any third party.