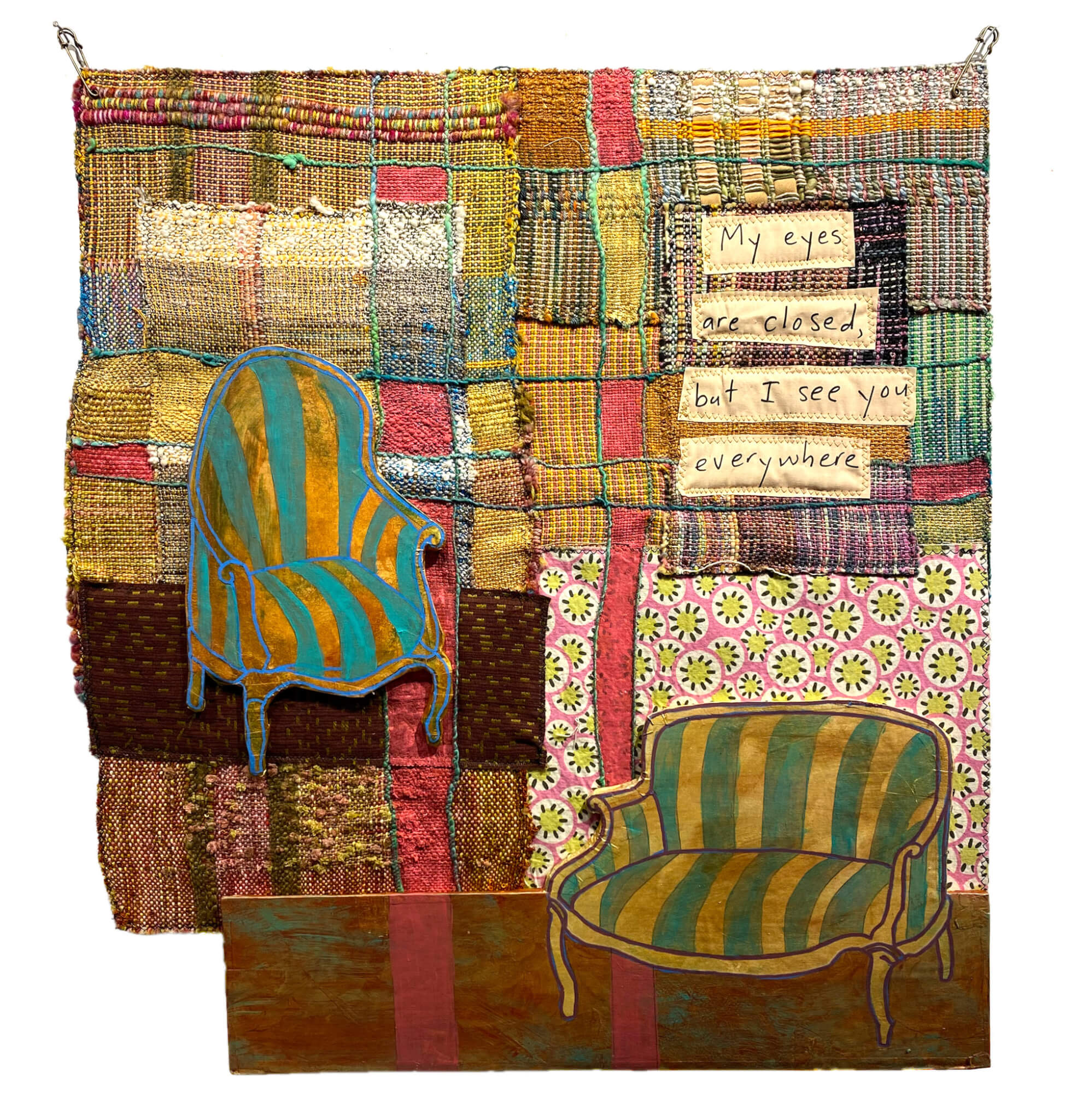 Juliet Martin
Juliet Martin has a BA in Visual Arts from Brown University, a MFA in Computer Art from the School of Visual Arts, and is a member of the Saori Leadership Committee based in Japan. 
Her career as an artist began with creating web-based art pieces recognized around the world, including by SIGGRAPH and The New York Times. Challenging how people saw websites, she added irony to the medium.
But her fingers on the keyboard grew weary; she needed touch. Ironically, it was through online searching that she found textiles. She discovered a weaving studio whose Japanese philosophy is "there are no mistakes." Eventually she asked herself, If there are no rules, no mistakes, is awareness the only indicator? 
As in her digital practice, she challenges the function of the medium. Her process focuses on aesthetics instead of rules. She cuts up and put back together her weavings. She takes something precious and recontextualizes it.
For years she had asked, "Can you see me through the computer?", using interactivity to show how she felt internally. Now, she asks the viewer to see her through the loom.
For the past 9 years she has been a part of the fiber community, having solo shows including at Ivy Brown Gallery, New York City; Chashama, New York City; Living Room, St. Peter's Church, New York City; Sumei Center, Newark, NJ; Creative Arts Workshop, New Haven, CT; Garrison Art Center, Garrison, NY; Artworks Gallery, Trenton, NJ; and Saori Kaikan Gallery, Osaka, Japan.
I sculpt fiber memoirs. I combine weaving, writing, and illustration to tell my stories. I use humor as a sling for heavy subjects. Combining my illustration and fabric is my bipolar-influenced mix of aggressive icons with deceptively comforting backgrounds. 
After I was diagnosed at 18, I had years of intensive therapy, of focusing on myself. So much of my life has been talking about my feelings that making personal narratives comes naturally. My process of structuring my thoughts and greater issues balances satire and sincerity.
I use my loom to create a foundation. I do not disguise my process. I weave colors and textures that don't play well together. Driven by the aesthetics and the concept, I cut up my weavings, mix them up, and sew them. My weaving reveals how I feel while I am working as well as how I physically work. You don't have to touch it to feel it. Weaving becomes my noun and my verb.
I illustrate everyday objects, taking advantage of their immediacy. When you look at the drawing, you don't think "What do I see?" You know. I also write fictional journal entries to accompany the illustrations. The images and text become a self-evident entrance to my message. I manipulate the text and imagery on the computer, my modern-day print shop. After printing them on fabric, I sew them on chopped-up weavings.
Risking everything, I deconstruct what I make into something provocative. These situations are my emotional vocabulary.
About Garden of Nostalgia
Dearest,
In this garden of nostalgia, household items remind me of you.
I draw portraits of our home. The still life is the only life I may have. I make end tables out of burlap, wallpaper out of scraps. I weave backgrounds because I can touch them.
When you leave the apartment, I am afraid you won't come back. I am making portraits of my household items, memories that can be touched. The loveseat doesn't replace you, it is a reminder of you.
I see furniture instead of people. My relationships are with my dining set. And fruit bowl. I look in my studio and stare at my desk. It looks me in the eyes. 
For my portraits, I combine my handwoven fabric with store-bought samples to not forget what each has to offer. I use machine-made fabric because an assembly line is a luxury. When did I know touching your hand would be a memory?
Images of objects are sewn into the fabric and journal entries are scrawled onto the background. The drawings and the text are a conformation, a quiet voice, a whisper. The composition makes it clear.
I'm alone before you are gone.
Sincerely yours.