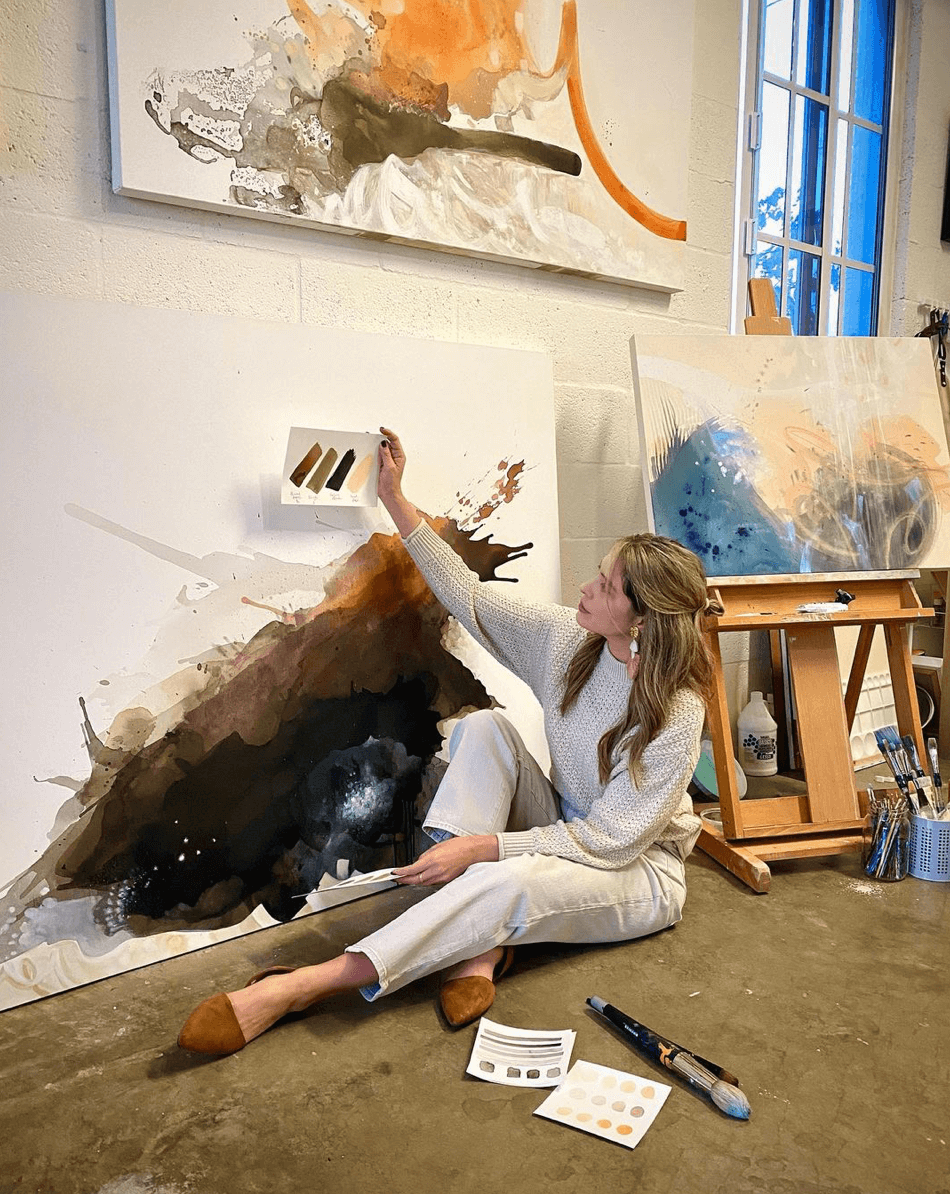 "Speaking my truth through colours": Heart Talk with Nicolle Cure
About Nicolle Cure
"My name is Nicolle Cure. I am a Colombian-American artist based in Miami, Florida. After experiencing sudden sensorineural hearing loss in 2017, I felt the urge to share my isolating and painful experience with unilateral deafness; therefore, I created a collection of vibrant mixed-media abstract works titled The Colors of Sound. In this collection, I interpret sound in a visual form through layers of fluid and highly-pigmented acrylic paints and other media types such as graphite, charcoal, and oil pastels."
About her work
"My background heavily influences my work – the folklore, the rich colors, and the rhythms of my Colombian-Lebanese roots combined with Miami's multicultural vibes inspire my vibrant and dynamic color palette.
Throughout the years, I have created several art collections often drawn from personal experiences. Each series consists of abstract and surrealist artworks portraying emotions and events that have profoundly impacted my life.  My latest series of abstract works, The Colors of Sound, was born during a time of much-obliged self-isolation and severe anxiety caused by my sudden unilateral hearing loss. More at https://www.nicollecure.com/artstatement"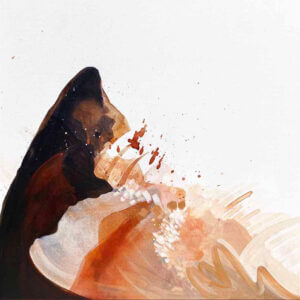 Q. What does art mean to you? What does being an artist?
A. Art is the fuel that ignites my passion for helping others. I use my art as a tool to create beauty around me and support the causes I believe in. Art has always been therapeutic throughout the many changes and stages of my life, especially after experiencing shocking and unexpected unilateral deafness.
Q. What kind of art do you do/make? And, why?
A. I consider myself an Abstract and Surrealist artist at heart with deep love and admiration for both movements. My recent collection, The Colors of Sound SUPERNOVA, captures and illustrates the life cycle of stars in light and dark studies. Created out of acrylic and ink washes, these colorful portraits of supernovas depict the beauty and rebirth that come from the greatest cataclysms in the known universe. These works are companions to my series The Colors of Sound, where the main focus was to use painting as a way to reconnect to sound. The paintings were synesthetic interpretations of sounds, as well as stops along the way on my therapeutic journey.
The Colors of Sound SUPERNOVA Series intends to return to that painting approach, but with the outlook I have now, standing on the other side of a battle with Hyperacusis and Tinnitus caused by my hearing loss. Supernovas became a way for me to discuss my passage through an ending to the other side. In the aftermath of the supernova explosion, the colors hang in space for a time, like the gravestone of a star or the birthmark of something new. At first, it is inconceivable that even stars can die. But once gone, they leave behind this gift of renewal. The supernova, for all of its power, is silent — speaking only in color, heat, and force. The supernova sounds the way it looks because you can only hear it through the eye.
Q. Tell us a little about earliest memory of making art!
A. A vivid memory that I treasure dearly is seeing my dad painting in our home garage in Barranquilla, Colombia. I would spend hours admiring him while created large oil paintings and beautiful watercolor scenes on paper. I was just a little girl, but these were my beginnings as an artist because I would start drawing next to him. My dad used to take me on his trips to the local art supply store, which became my favorite place immediately. My parents often tell me that I always preferred art supplies over toys and knew that art was going to be a fundamental part of my life.
Q. Tell us about the first time you called yourself an artist.
A. Art has always been a fundamental part of my being, and I can't' recall a specific moment when I called myself an artist for the first time. Being an artist is just a part of me like an arm is a part of my body. It is the skin that wraps my soul. Art is an intricate part of my thoughts and emotions. I don't think there is a time when I have not considered myself an artist.
Q. What do you enjoy the most about being an artist?
A. I like being an artist because it allows me to spend more time in silence, reconnecting with my inner self. I am an anxious person by nature, so the "me time" that being a painter provides genuinely helps me relax and carve time from my day to put things in perspective. But I have to say that what I love the most about making art is that I get to connect with many fellow artists, art lovers, collectors, and other beautiful souls worldwide. Being an artist is truly a blessing.
Q. What have been your biggest struggles as an artist so far?
A. I would say the marriage between the craft and the business side of being an artist sometimes clashes. It is solely an art to keep the right balance between being a painter, a creator while also being an entrepreneur, or an Artpreneur like we artists call it now. Also, keeping a demanding corporate day job while running my art studio has been both challenging and rewarding.
Q. What inspires you to make art?
A. Connecting with others, speaking my truth through colors and shapes when words fail, and finding peace within.
Q. What does "Within Isolation" mean to you?
A. Within isolation, it means embracing a mindful state of mind beyond physical isolation; it is the deep connection between my heart and my thoughts and emotions.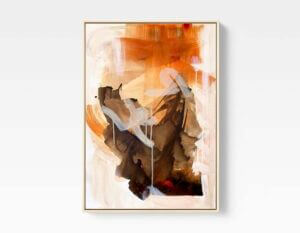 Q. How has the idea of isolation evolved for you in 2020?
A. Isolation has always been a part of me, even more so after my hearing loss occurred. Because of this, isolation was not a strange concept when the pandemic hit.
Though I enjoy being around people, and I am very chatty when I am in a public setting, as an empath, I need to release that heavy and sometimes negative energy one can absorb from others. For that, I need to be in complete silence. I need space and solitude to recharge, and fortunately, painting allows for that. When the quarantine began, I didn't feel like I was missing out on being out in the world, if that makes sense. Working full time in a corporate setting by day and keeping a busy studio practice nights and weekends can be extremely stressful at times. Still, as problematic and scary as it has been, the quarantine has allowed me to take a breather and spend more time in the studio.
Q. As a community, we all have experienced within isolation in one form or another; how have you come out as an artist and what are you looking forward to this year?
A. I've been more connected with other fellow artists during the pandemic, ­and I like that. I have built beautiful friendships with artists around the world, which has been a blessing. The common thread of this pandemic has been learning to appreciate and find joy in the little things. Learn that we can find treasures and connect with like-minded individuals even in the middle of the struggle. So reaching out for help and providing comfort to one another has been a true blessing during this time. Something I am still learning to do.
Q. Your message for other artsy hearts
A. My message will always be, whether you are an artist or not: Please be kind and compassionate to one another; there are so many struggles that we don't get to see on social media or even in real life, so let's try to be patient and empathic.
Q. Artist's on your heart list you would like to shout out!
A. There are way too many to list!! I love and admire Charuka (Founder of Arts To Hearts), because of her constant drive and your endless creativity. Also very grateful for Ekaterina Popova, for all the inspiration she provides daily and artists like Halie Torris, Shawna Gilmore, and Laura Fedorowicz, to name a few. But I feel it is unfair because there are too many.
Also, I am grateful to art curators like Alicia Puig and Tam Gryn for sharing not only their fascinating views but for helping us discover other notable artists.
Other shout outs go to:
Connect with Nicolle on her
Instagram: @nicollecure_art  https://www.instagram.com/nicollecure_art/
Website:  www.nicollecure.com