5 Contemporary Artists Creating Eye-Catching Mixed Media and Collage Artworks
Collage has been an ever-loved form of art because of its how versatile it is. The different layers of each work explores the multifaceted journey in the artist's lives. The collage does not only combine images in a beautiful manner, but brings forth an amalgamation of memories, thoughts and feelings.
Here are five contemporary collage and mixed-media artists whose art speaks volumes. They showcase their life, culture, and identity entrapped in their layers of creativity and form the perfect works for your collection! 
1. Njideka Akunyili Crosby
Nijideka is a Nigeria-born collage artist working in California, USA. Her art "negotiates the cultural terrain between her adopted home in America and her native Nigeria, creating collage and photo transfer-based paintings that expose the challenges of occupying these two worlds"
Akunyili has spent a great time experimenting with figure painting, postcolonial history, and diasporic studies. She is known for promoting and supporting emerging African artists. Her work is an amalgamation of photographs from Nigerian Magazines and family photographs. She also uses fabric, acrylic paint and charcoal in her work to develop her unique style.
Find Njideka here: http://www.njidekaakunyili.com/
2. Gherdai Hassell
Hassell is a contemporary artist whose work is developed through a process of auto – ethnography connecting her own experience and academic research to larger, cultural, historical, political meanings and understandings.  Her work is inspired by childhood imaginings and investigates memory and nostalgia to create unexpected narratives surrounding identity.
Her work is interesting, and a must've in a collection if you're looking to buy! She deals with an Afro-Futurist perspective showcasing Black female bodies. Her work is rich in colour and conveys stories.
Find Gherdai on: https://www.instagram.com/hassell_free/
3. Clotilde Jiménez
Clotilde is a multimedia collage artist based in Mexico City. His work reflects intricate aspects of his life through visual narratives. "Most of my work is autobiographical, so collage allows me to tell several stories at the same time", Jiménez states. His work is a door to his thoughts and universe of fantasy and dreams. There lies a rather complex-simplicity in his works which leaves the views intrigued. His work also represents gender performance, sexuality, social justice, and racial equality.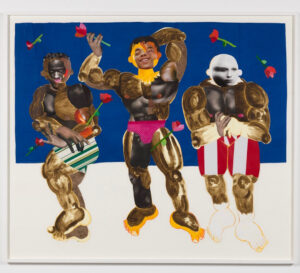 Find Clotilde here:http://www.clotildejimenez.art
4.Wangechi Mutu
Wangechi Mutu is a Kenyan-American visual artist and primarily works with painting, sculpture, film, and performance. Her work directs the female body as subject through collage painting, immersive installation, and live and video performance all the while exploring questions of self-image, gender constructs, cultural trauma, and environmental destruction as well as notions of beauty and power. The variety of mediums including collage, video, performance which investigate themes of gender, race, and colonialism pull out a depth in her work. She extensively works on themes of violence and misrepresentation experienced by Black women in contemporary society along with her various depictions of femininity. She uses the feminine subject in her art, even when the figures are more or less unrecognisable, whether by using the form itself or the texture and patterns the figure is made from.
Mutu's work constantly makes one question existing narratives in society. Her refined work and play of details along with colour makes it the most unique piece to add to your collection!
Find Wangechi here: https://www.instagram.com/wangechistudio/
5. Barbara Castañeda
Barbara is a mixed media artist who works with natural and found objects. Her work showcases landscapes which are inspired by memories and music.
" Memories can be so foggy, unclear, distorted and almost like a static on a screen. Obscured within each piece are song lyrics, poem verses or simply something I remember hearing someone say. These words make up the feel for each piece. Some remain visible while others are hidden among the skies and land" says Barbara.
Barbara's abstract work brings together bits of reality intertwined with her dreamy memories. Her work is evergreen and would be a soothing piece in your collection!
Find Barbara here: https://www.instagram.com/barbara_castaneda_art/